Egor Zamula
2017-18 Team: Calgary Hitmen (#9)
Date of Birth: March 30, 2000
Place of Birth: Chelyabinsk, Russia
Ht: 6'3″ Wt: 170 lbs
Shoots: Left
Position: Defenseman
NHL Draft Eligibility: 2018 first-year eligible

Rankings
It's often a challenge to project import players, and doubly so when they have a small sample size in North America or have had an uneven junior experience. Russian defenseman Egor Zamula has just one season under his belt in the Western Hockey League, and that one season was split between the powerhouse Regina Pats and the rebuilding Calgary Hitmen. While there was progression, it's a challenge to conceptualize what the "real" Zamula could be.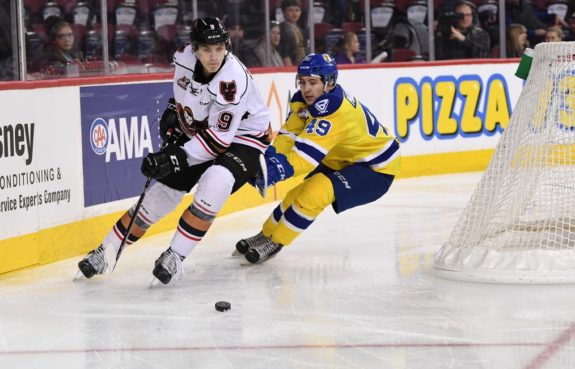 Zamula was selected by the Pats in the 2017 CHL Import Draft and spent the first half of the 2017-18 season with the Pats. With the Pats, he was on the third pairing of a fairly stacked team and his opportunities to play special teams were limited. When the Pats acquired Libor Hajek from Saskatoon, he was placed on import waivers and claimed by the Hitmen. With the Hitmen, he was higher in the rotation and frequently played in the top two pairings and on both sides of special teams. Moving to the Hitmen was huge for his development.
While his time with the Hitmen hinted at a higher offensive ceiling than he showed with the Pats, Zamula was consistently a smart, responsible two-way defender. If nothing else, he's a reliable meat-and-potatoes defender. He showed a willingness to jump into the rush to create offense with the Hitmen, the offensive side of his game remains under-developed and lacks dynamism. (Case in point: the only times he turned over the puck was occasions where he jumped into the rush and over-handled the puck trying to force a pass or shot.) He also struggles at times against fleet-footed attackers, but generally he can rely on his smarts and positioning to anticipate attacks and aid his goaltender in defending.
Related: THW's 2018 NHL Draft Guide
Zamula's smarts and reliability make him a fairly attractive 2018 NHL Draft commodity. His time with the Hitmen suggests that he has some undeveloped offensive potential, but it's difficult to project his ceiling based on a 31-game sample size with a larger role. While it's difficult to be passionate about Zamula because his game lacks flash, his defensive game and his low-risk nature will probably win him advocates in many NHL war rooms.
Egor Zamula – NHL Draft Projection
Zamula could be selected anytime between the fourth and sixth rounds of the draft. His offensive potential likely nudges him towards the earlier side of that range, but the developed nature of his game probably ensures that he gets selected at some point (even if he slips to the late rounds).
Quotables
I really like what I've seen from Egor Zamula tonight. Controlling the play with clever passing and sound decision making. Not a picture perfect skater however he's really difficult to enter the zone against due to his instincts and smarts. #2019NHLDraft

— Donesh Mazloum (@DMaz16) March 3, 2018
"He appears to be really good with the puck — his poise and the plays he sees and the passes he can make… That's his strength. Sergey was just a little greener overall and came to understand and develop the role of shutting down another player or another team. It's the same result on the scoreboard — produce a point, stop a point. I think they're going to end up being quite a bit different players but we know Sergey was a real valuable player to us and I think Egor has a good future." – John Paddock, Regina Pats head coach and general manager, comparing Zamula to former Pats defender Sergei Zborovsky
Strengths
Smart situational awareness, particularly away from the puck
Accurate passer
Effective positional defender
Under Construction (Improvements to Make)
Could stand to shoot the puck more often
Sometimes struggles to defend against faster offensive players
Needs to bulk up a bit to survive pro-level physical battles
Other 2018 NHL Draft Profiles
NHL Potential
Zamula projects as second or third pairing shutdown defender who sees penalty killing time.
Risk-Reward Analysis
Risk – 1/5, Reward – 3/5
Fantasy Hockey Potential
Offense 7/10, Defense 8.5/10
Awards/Achievements
Zamula represented Russia in the Under-18 World Championship.
Interview/Profile Links
Videos