With the 2018 Stanley Cup Final now set both teams playing for the championship have a small connection to the New Jersey Devils. For the Eastern Conference champion Washington Capitals, they have winger Devante Smith-Pelly, who played a season and a half in New Jersey and signed with their division rival after his contract was bought out last June 30. The Vegas Golden Knights have Jon Merrill on their roster after the Devils left him unprotected for the expansion draft.
Golden Merrill
Merrill was a second-round pick of New Jersey's (2010 NHL Draft, 38th overall) and saw action in 216 career games before he was selected by Vegas last June. This season in 34 games with the Golden Knights the 26-year-old blueliner had three points (1g-2a) in 34 games. His lone goal was the game-winner on December 14 when Vegas knocked off the Pittsburgh Penguins 2-1; he snapped a 1-1 tie scoring on a one-timer with 11 minutes left in Marc-Andre Fleury's first game against his old team.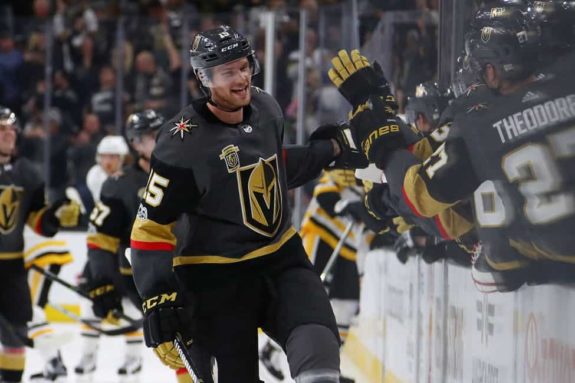 Three of Merrill's six career goals with New Jersey were of the game-winning variety. But he was never able to hold onto a regular spot in the lineup over his four NHL seasons with the Devils, be it because of various injuries or inconsistencies in his game when he was healthy. So far in these playoffs, Merrill played in the first eight games (zero points, ten penalty minutes) for Vegas over the first two rounds before Lucas Sbisa returned from injury and replaced him in the lineup. 
DSP in DC
Smith-Pelly was acquired by the Devils at the 2016 NHL Trade Deadline from the Montreal Canadiens in exchange for Stefan Matteau (who is currently with the Golden Knights AHL affiliate). Although he wasn't able to help New Jersey make the 2016 playoffs, it wasn't for lack of trying – as he tallied 13 points (8g-5a) over his first 18 games with the Devils. Six of those goals came over his first seven games following the trade.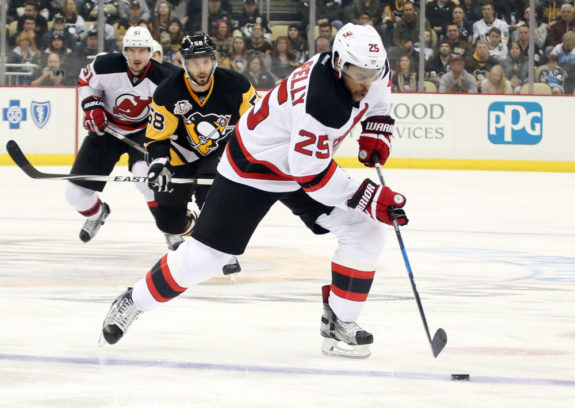 That was good enough to earn him a two-year extension in New Jersey, but he only managed nine points (4g-5a) in 53 games before missing the end of the season with a leg injury. Despite the earlier mentioned buyout it didn't take the winger long to find work as he inked a one-year deal with the Capitals on July 3.
This past season Smith-Pelly registered 16 points (7g-9a) in 75 regular season games with Washington, and in the postseason he has five points (4g-1a) in 19 games. During the East Finals, he scored two goals and also had two goals in the opening round series win against Columbus.
Smith-Pelly sealed it for Washington, who forces a Game 7. pic.twitter.com/WoYm3cTQMc

— Sportsnet (@Sportsnet) May 22, 2018
While neither player played a prominent role with the Devils, they were both on the team at the end of last season and at the end of this season, one of them will have their name etched on the Stanley Cup.