Last season at this time Marc-Andre Fleury was in the same spot. Two rounds complete in the Stanley Cup playoffs, eight wins down and eight to go, and Fleury was the odds-on favorite to take home the Conn Smythe Trophy. But that was in Pittsburgh. He was eventually replaced in net and the Penguins went on to capture the Stanley Cup for the second year in a row.
Now with the expansion Vegas Golden Knights, the three-time Cup champion is halfway to a fourth Stanley Cup and has four shutouts in his eight wins thus far. *This spring he doesn't have to worry about Matt Murray replacing him in the crease again, as Murray and the Penguins bit the dust in round two against the Washington Capitals. Yep. That was as strange to type as it was for you to read. 
Only they can keep the 3 peat dream alive pic.twitter.com/KhlyEUlqcv

— Sidney Crosby's Ego (@SidneyCrosbyEgo) May 8, 2018
*After seeing what the Knights have done this season, nothing should shock us at this point. Even if it was Malcolm Subban taking over in net and guiding Vegas to the Cup. But the only way that likely happens is if Fleury gets injured.
Vegas Baby
It truly is remarkable that the 33-year-old netminder has dominated the 2018 postseason, but motivation is something that can never be measured, or underestimated. Cast aside and deemed expendable by their former teams, there is certainly a fire burning inside all of the Golden Knights. But only one of them was dumped after helping his team win three Stanley Cups.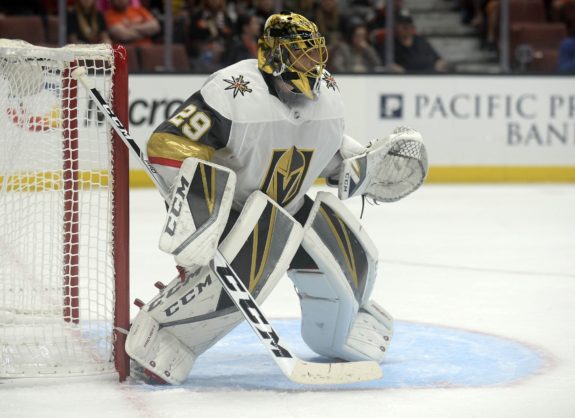 Just about every player on Vegas' roster is having a career-year. Unified as misfits and cast-offs. They've worked hard and been relentless just about every night. They went from being looked at as an easy victory in October, to a moral victory if your team hung around in a game against them, or won a playoff game against them.
Pretty soon there could be some company on that 'Do You Believe in Miracles?' top shelf. The Hollywood ending would have had Fleury topping his old teammates, ending their bid for a Threepeat and giving the grinning goalie his third Cup in three years. At this point though, no matter what happens, this likely will be made into a movie somewhere.
Fleury's smile sustains me pic.twitter.com/cG1LgtrEgd

— Gregory Balloch (@GregBalloch) May 7, 2018
Flower In Bloom
Fleury's numbers are downright ridiculous at this point. In ten games, in addition to his four shutouts, his save percentage is a robust .951 and his goals-against average is a minuscule 1.53. Remarkably with an expansion team, he had the best statistical season of his career, and that trend has continued in the playoffs as he has been light years better than any previous playoff season with the superstar-laden Penguins.
Currently, the top-five point-getters in the NHL playoffs have all been eliminated. Of the remaining teams Fleury's stiffest competition will come from Washington's Alex Ovechkin and Braden Holtby, Nashville's Filip Forsberg, Tampa Bay's Nikita Kucherov, and Winnipeg's talented trio of Dustin Byfuglien, Mark Scheifele, and Blake Wheeler.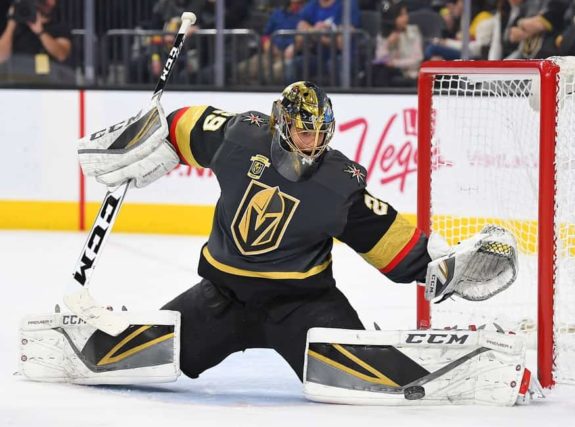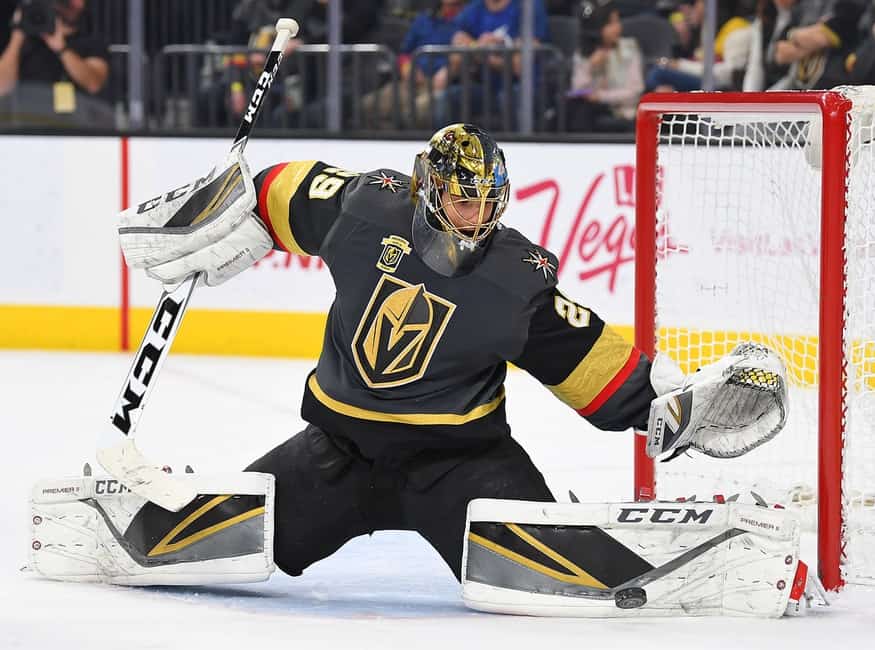 Fleury has given the Golden Knights instant credibility from day one. He's been the face of the franchise, much like he was in Pittsburgh prior to the arrivals of 87 and 71. With many games to still be played, many battles still to be won and lost, but right now – almost 15 years after being the first overall pick at the 2003 NHL Draft – Fleury is the clear choice to have his name announced as the winner of the Conn Smythe Trophy as the MVP of the 2018 NHL playoffs. 
Dan Rice is in his 9th year of reporting for THW & has covered NJ Devils home games for 15+ years at various websites. He began his journey working for legendary broadcaster/writer Stan Fischler from 2002-04 & completed an internship at the ECHL; he also has been writing features for the NWHL (nwhl.zone) website since 2016.