The Washington Capitals had found themselves in the same situation before: Game 6 sudden death overtime against Pittsburgh. However, they've always found themselves on the other end, usually falling in defeat as the years of heartbreak and second-round woes find the team over and over again. However, that all changed Monday.
A little over five minutes into overtime, Alex Ovechkin poked the puck away and started to bring it up the ice, but made the decision to pass to Evgeny Kuznetsov, who was already in front of the Penguins' defenders and scored quickly on the breakaway. The Capitals then flew into a huge group hug, howling in celebration, as a 20-year drought was finally put to an end.
"Please score, just f—ing please score," Ovechkin told Pierre McGuire when asked what went through his mind when he made the pass to Kuznetsov.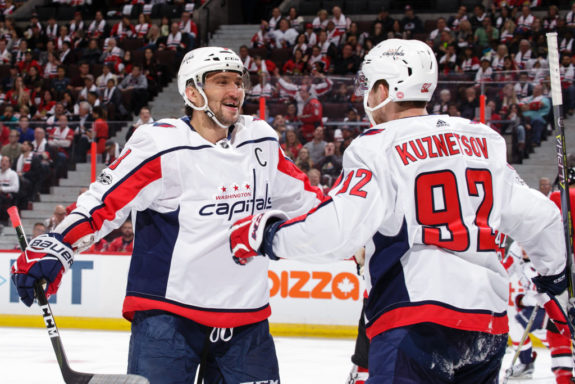 The Capitals hadn't made it past the second round since 1998 when they advanced all the way to the Stanley Cup Final against the Detroit Red Wings. To give a glimpse into how long it truly has been, Armageddon and Godzilla were blockbusters just released in theaters, Google was founded, Apple unveiled the iMac and nearly everyone was watching friends.
Since then, Washington's experienced the playoff heartbreak year after year, and even with the rise of the Ovechkin era and a variety of different coaches, players and approaches, they hadn't been able to find much success in the postseason. However, this year's Capitals has a certain resilience, a different mentality than years' past, and they understand what they need to do to move forward and smash that broken record.
"One day it have to happen," Ovechkin said in regards to playing Pittsburgh again. "If we want to get success, we have to beat Pittsburgh and move forward."
It was a series of rivalry and physicality, and though there was hesitation in regards to the Capitals finally shaking the monkey off their back and advance, their resiliency and depth are just two reasons why they are finally moving forward.
Capitals' Youth Comes Up Big
Heading into the playoffs, the Capitals were somewhat of the underdog, despite winning the Metropolitan Division again this season. Their lineup has incorporated a lot of young players this season, including four rookies in forwards Chandler Stephenson and Jakub Vrana and defensemen Madison Bowey and Christian Djoos.
This postseason, the Capitals have lost Andre Burakovsky to a week-to-week injury, Tom Wilson to a  three-game suspension that kept him out of the rest of the Pittsburgh series and Nicklas Backstrom to an upper body injury in Game 6.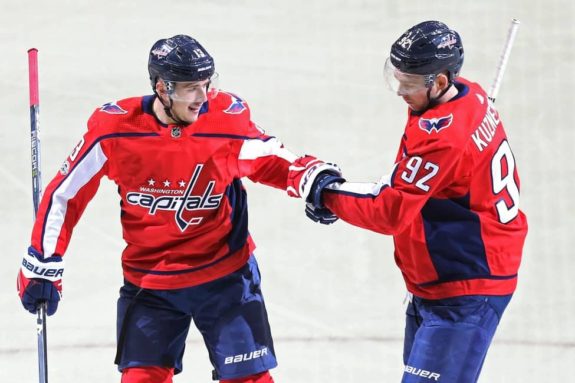 In Monday's victory, the Capitals were significantly shorthanded, but put trust in five first-year players entering the Game-6 lineup. Travis Boyd took over as the third-line center and Nathan Walker, who registered an assist in his playoff debut Monday, drew in on the fourth-line wing,. After a dominant performance in Game 5, Vrana kept his spot n the top-6 and skated over 20 minutes, alternating between the first and second line at different points during the game.
"Anybody you play with, everybody's really helpful and they help me a lot as a young guy," Vrana said of his versatility on the top-6. "I just try to go out there and do my best."
Capitals Believe in Their Group
Ultimately, what truly got Washington this far was not just their excellence on special teams, or their top players stepping up, but truly the mentality in their locker room. This year's team is built differently than it has been in the past; the room is not full of star players or veterans, but instead has a lot of young players who are still trying to transition to the NHL, with the star players helping out in any way they can and serving as mentors.
Seeing that the team has been plagued by injuries and suspensions throughout the playoffs so far, the Capitals didn't falter in the face of adversity, and relied on the young players to answer the call, which they did without hesitation or too much difficulty.
"There's been some bumps in the road, some injuries, and I think it's good for us that we're staying positive through a little bit of adversity," T.J. Oshie said. "We got some guys stepping in some big roles that have been doing a great job, but we're still confident… we still got a lot of grit and a lot of determination in this locker room."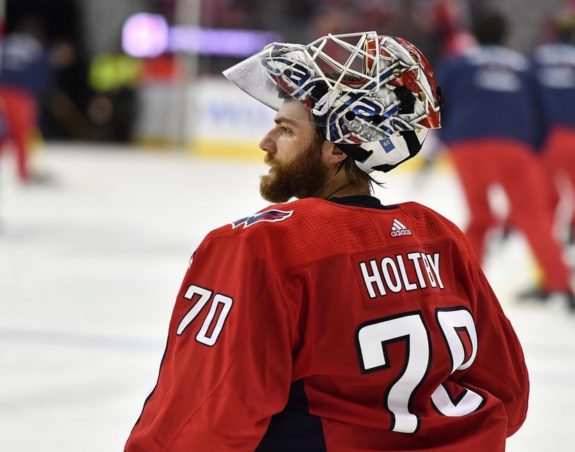 Holtby said that some of the fans and critics have fallen into saying "here we go again," when it comes to the Capitals, especially when they fall into trouble during their playoff games. However, he said that Washington this year has proved them wrongs and wants to show them that they are not falling into that mentality that has become cliche at this point.
"We're thinking of pushing forward, we're focusing on the moment," Holtby said. "This group in here believes in ourselves."
Washington will face the Tampa Bay Lightning in the eastern conference finals, looking to capitalize on their last two series en route to reaching what their franchise has never reached before: a championship.