The New York Rangers have let it be known to all that this is not an all-out rebuild. The word that the organization is using to refer to this process is "re-tool." General manager Jeff Gorton sent a letter to fans on Feb. 8 which thanked them for supporting the team and that a transition was about to transpire. In the letter, the club expressed their hopes of building a roster around young, competitive players that combine speed, skill, and character.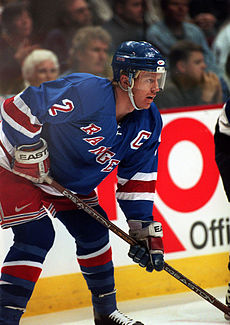 The Rangers haven't selected inside the top-five since 1999. If they don't strike a deal to move up inside the top-five of the first-round then the club will make their first pick at nine. It is important to note that the franchise snagged Brian Leetch at nine in the 1986 draft. This idea that you must have a pick inside the top-five to snag a franchise talent is not always true.
Gorton noted to The Athletic's Craig Custance, that he would be open to moving one of his three first-round picks. The team will also select at 26 thanks to the trade with the Boston Bruins for Rick Nash. The pick acquired from the Tampa Bay Lightning in the Ryan McDonagh trade will be even lower, as the team is one round away from competing in the Stanley Cup Final.
Pat Hickey of the Montreal Gazette suggested that the Montreal Canadiens should move their third pick for a top center. The Rangers have Mika Zibanejad. However, it is unlikely the Habs will send that pick to the Rangers. What Gorton should do is call Carolina Hurricanes general manager Don Waddell and propose a list of possible trade packages for the second pick.
Here are some possible moves the Rangers could make to move up in the draft.
Zibanejad to Carolina
Let's kick off the proposals with a legit one. The Rangers would send the Hurricanes Zibanejad and the ninth pick for the second pick in this year's draft. This proposal was put forward by Anthony Scultore over at Forever Blueshirts.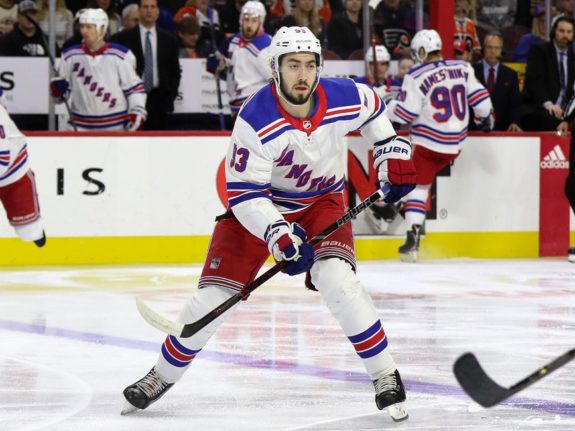 Both teams are in a similar situation with their centers. Zibanejad is 25-years-old and possesses all the tools to one day be a bonafide top-line center. In 72 games, he finished with 27 goals and 47 points. In two seasons with the club, he has registered 84 points in 128 games. The only knock on the Swede is his consistency and injury history, the latter has caused him to miss 36 games over two seasons.
In 2016-17, he got off to a hot start putting up 15 points in his first 19 games. He suffered a gruesome injury sliding into the boards in overtime against the Florida Panthers on Nov. 21 and missed the rest of November and December before returning in January. His season concluded with 22 points in his final 37 games.
Again, the next season "Z-Bad" was off to another raging start for the club, displaying his "elite" scoring touch. With 22 points through his first 24 games, he had taken the next step in his development and was ready to take the reins as the team's top-line center. Phil Kocher believes Zibanejad is essential to the Rangers' rebuild and it is hard to disagree with him. He is streaky and when he is hot he is scorching. However, when he returned on Dec. 20 he didn't look like himself for quite awhile.
After returning from a concussion that caused him to miss nine games, Zibanejad registered 25 points in his final 43 games. That could be attributed to the concussion but it was the second year in a row he had started hot, was injured and then came back to produce numbers that weren't indicative of a top-line center.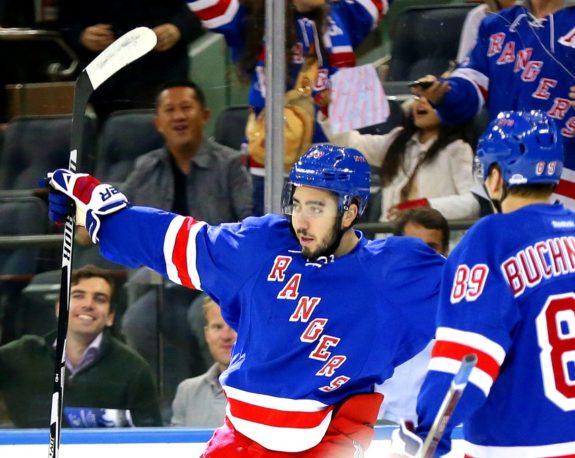 The upside is still there for him to still be an elite center and the Rangers could look to cash in on his value. With Filip Chytil, Lias Andersson, Kevin Hayes, Vladislav Namestnikov, and Ryan Spooner as center options, the club could look to move Zibanejad in the "right deal."
Namestnikov as a Possible Centerpiece
I am sure you saw what I did there. When Gorton and co. acquired Namestnikov from the Lightning, they saw him as a center. He immediately slotted in there and played a majority of his minutes as a Ranger up the middle. However, he rode shotgun with Nikita Kucherov and Steven Stamkos when he was with the Lightning and the Russian center put up 44 points in 62 games on the wing.
After displaying an underwhelming four points in 19 games with the Rangers, Larry Brooks noted that Namestnikov, Hayes, and Spooner are unlikely to all return as they are due for raises this offseason. The Hurricanes possess two young centers in Elias Lindholm and Victor Rask, but do they consider any one of them a future top-line center?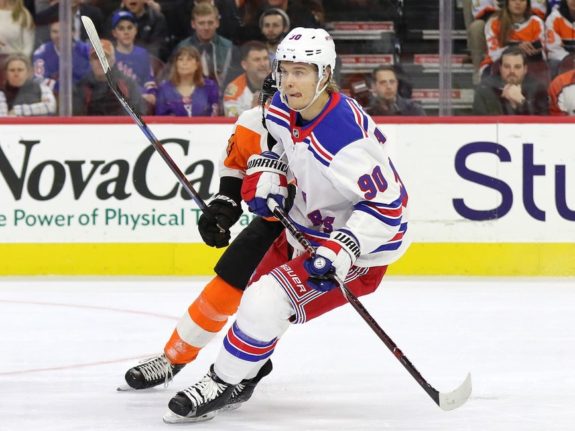 Namestnikov's skill game is evident but he is also defensively responsible. Would Waddell consider him in a package? Would the skilled center from Russia plus the ninth pick and the Bruins' pick be enough to land the second overall pick? If Waddell says yes, then Gorton has to pull the trigger.
Could Hayes Entice Carolina?
With the Hurricanes possessing many small, speedy forwards such as Teuvo Teravainen, Sebastian Aho, Jeff Skinner, and Rask, could they be enticed to add a big, strong center in Hayes? Hayes is listed at 6-foot-5 and weighs 217 pounds. From Dorchester, the recently turned 26-year-old is coming off a career-high in goals. His 25 goals finished behind Zibanejad's 27 for second-most on the club.
One benefit of the tall American center, is the fact that he can also play wing which adds to his versatility. Having spent most of his career as a Ranger at center, Hayes was tried towards the end of the year on the wing. A center-wing who can score 25 goals while winning 50.5% of his face-offs (career high in 2017-18) could prove to be a valuable commodity for any team. Not to mention he was the top penalty-killing center for ex-coach Alain Vigneault this season.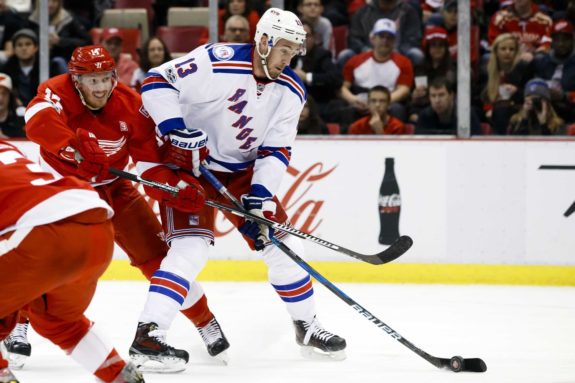 Waddell could pull the trigger on a deal if the Rangers are comfortable throwing a package together consisting of Hayes, the ninth pick, Jimmy Vesey and the 26th pick. Could Gorton look to add Vesey as a sweetener considering the 24-year-old winger is due for a pay raise this summer and is set to become a UFA in 2019-20?
The Hurricanes would be adding 42 goals between both players, the ninth pick which is still going to bring back a top-tier talent, and another first-round pick at 26. Mike Valvano believes Vesey is key to this Rangers rebuild so perhaps management believes it is best to keep him.
Is Kreider Part of the Rebuild?
The final proposal is one that will grab the rest of the NHL's attention. It is no secret that Chris Kreider is a major key to the team's success going forward. In 2016-17, the Massachusetts native potted 28 goals which set a career high. He spent the majority of the year on injured reserve as he was diagnosed with a blood clot that caused him to miss significant time. After missing 24 games, the strapping, speedy scoring winger will look towards 2018-19 as a year to continue developing into not only a game-changer but a leader.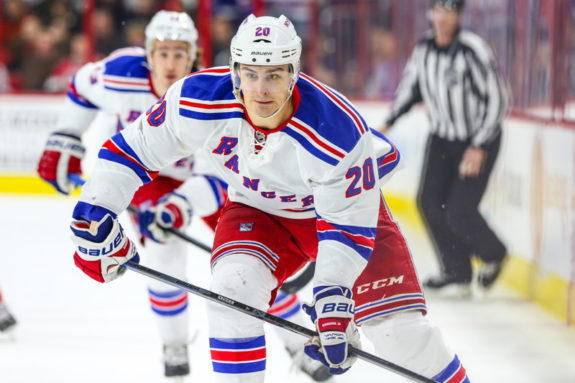 Vigneault slapped an "A" on "CK20's" sweater towards the end of the year and he went out and lead by example. Kreider finished with 15 points in his final 21 games after returning to the lineup in February. Would the Rangers consider shipping him along with the ninth pick for the Hurricanes' second pick? Would the Rangers even have to package the ninth pick or could they possibly package "Kreids" with the 26th pick, the Lightning pick and a combination of picks between rounds two and three?
The club has four picks between rounds two and three. It is probably a long shot that Gorton and co. won't have to package that ninth pick with whoever else is part of the deal in order to obtain that second pick. At 26-years-old Kreider will most likely never hit 40 goals in a season, but he could provide the Hurricanes with leadership and a big, physical, goal-scoring presence on the wing.
With two legit superstars available with that second pick, the Rangers must find a way to entice the Hurricanes with a package that can help them land either Czech winger Filip Zadina or Russian winger Andrei Svechnikov. Both 18-year-olds look like franchise talents that the Rangers haven't homegrown since arguably Brian Leetch. Will Gorton stand pat at nine and hoard his picks or try to cash them in with the hope of landing a new face of the franchise for the next 15 years?
My guess is that Gorton will call Waddell and offer a proposal. Zibanejad or Kreider will most likely be the ones going if a deal is struck. If no deal is struck, the team should feel comfortable selecting at nine. If the organization hits big in this upcoming draft combined with the young talent they already possess, it shouldn't be long before they're competing for a Stanley Cup again.