It would be revisionist history, if not outwardly disingenuous, to offer that the New York Rangers' rebuild began when the Blueshirts sent Derick Brassard to the Ottawa Senators in exchange for Mika Zibanejad in the summer of 2016. On its face, it meets the criteria, as the Rangers sacrificed a productive veteran for a younger asset with higher upside, but it's not a factually accurate suggestion.
The biggest roster cuts were made by New York at the trade deadline this year, officially marking the "start" of their rebuild following February's letter of intent. But for all intents and purposes, it was actually the Derek Stepan trade in the summer of 2017 that truly marked the genesis of their transformative efforts. That deal not only removed the Rangers' first-line center, but gave them their first top-10 draft pick—used to select Lias Andersson, a hopeful future linchpin—since the Dylan McIlrath debacle of 2010.
Yet, ironically enough, despite the inability to point to the Brassard-for-Zibanejad deal as the prime mover, it's Zibanejad—now the Rangers' de facto first-line center—who could actually be the key to just how quick and effective this facelift can be.
Zibanejad Paying Dividends Despite Injuries
Now all-in on reinventing a roster bound to miss the playoffs for the first time in eight years and for just the second time since the 2004-05 lockout, the Rangers can expect to be filling important roster holes going forward. If Zibanejad, who will turn 25 this April, maintains his pace, finding a reliable first-line center won't be among them.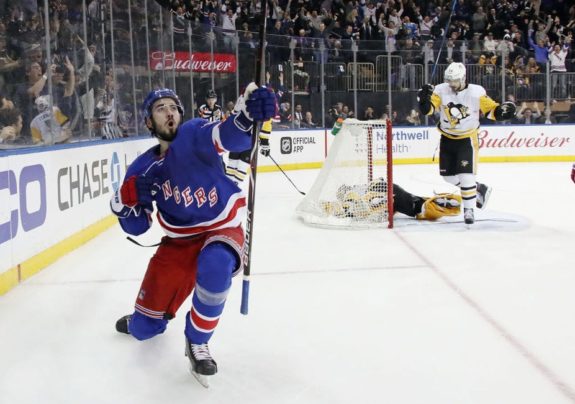 "…you take every experience and keep evolving. You have to figure out why things went wrong. This is a lesson. You have to deal with it and learn from it. You're playing for pride and for the logo, but also for yourself. You want to show what you're made of," Zibanejad told the New York Post late last week.
When this season ends, the super Swede will have completed the first year of the five-year extension carrying a $5.35 million annual average value he signed last July. Despite the result on the year being less than desirable for the Rangers, it could mark the first time the dynamic pivot will score 30 goals in his NHL career – a personal achievement worth lauding.
Related: Rangers Top 5 Defensive Pairs Since Cup Run
Zibanejad's currently sitting on an already career-high 27 with six games left this season. Should he reach the 30-goal mark—one not eclipsed by a Blueshirts center since Eric Lindros did so with 37 in 2001-02—he'll have done so despite missing nine games and nearly the entire month of December due to a concussion suffered in late November.
"When you have a concussion, it takes over your whole life, not just hockey," Zibanejad said regarding his struggles to get back to form following the injury.
Yet it seems entirely plausible the 24-year-old will accomplish the feat. Just as he began the year, he's one of the Rangers' hottest players as this season winds down. Prior to his concussion on Nov. 30, he had 11 goals and 22 points through his first 24 games – a 0.92 points-per-games-played (P/GP) pace. Since Feb. 28, he's scored 10 goals and 15 points in 13 games – good for 1.15 P/GP.
While neither pace paints a sustainable long-term production rate for Zibanejad, both lend to his ability to put up the kind of points over large stretches of games required of a top-line center in today's NHL. It's a role he's grown into with strong, progressive offensive growth in each season since he joined the league in a full-time capacity in 2012-13. This year, in fact, his 0.70 pace would extrapolate to 57 points over a full 82-game campaign.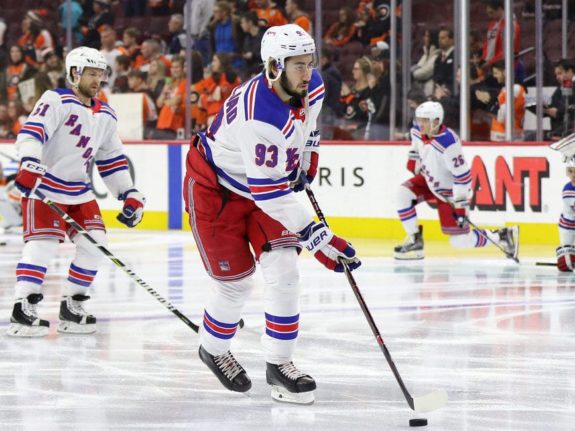 Over the last four years, his P/GP pace has increased by an average of 0.06 P/GP per season. That rate could theoretically push his 2018-19 pace to at least 0.76, which would equal 62 points over a full year. With an injection of talent this summer—paging Ilya Kovalchuk—it's not inconceivable to expect a fully healthy Zibanejad to encroach on 70 points, especially given his role as the driving force behind the Blueshirts' man advantage.
Zibanejad's Scoring is Running the Power Play
Though the Rangers probably envisioned Kevin Shattenkirk, who they signed to a four-year contract last summer, as the future catalyst to their power play, it's actually Mika Zibanejad who has taken the reins on special teams, as The Hockey Writers' own Mike Valvano recently wrote:
When he is shooting well and creative at the the right faceoff circle, the unit clicks. Regardless of who else is on the roster, the power play numbers have been largely dependent on him.

That was plainly apparent when Zibanejad missed nine games at the end of November and in December with a concussion. Over that stretch, the Rangers had a PP% of just 18.5, ranking 19th in the league. Before then, they ranked eighth at 22.8% and, though it took time for Zibanejad to regain his form, they've converted at a 23.2% clip, good for ninth in the league, since his return. Simply put, with Zibanejad in the lineup, the Rangers have a top-10 power play in the league. Without him, they're in the bottom third.
Assuming those numbers don't regress, or regress significantly, they should only lend to Zibanejad's ability to boost his numbers, as he's grown into a strong man-advantage performer.
From 2012-13 to 2015-16, Zibanejad is tied with Sean Monahan for 34th among centers in even-strength scoring with 111 points in 272 games. His 37 power-play points (PPP) over that span ranked him tied for 38th alongside Martin Hanzal and Sam Gagner. Yet since his trade to the Rangers in 2016, he's tied for 16th among NHL centers with Ryan Getzlaf and Eric Staal with 32 PPP in 122 games. In other words, roughly 26 percent of his total scoring the last two seasons has occurred on the power play.
Plus, with Kevin Shattenkirk presumably healthy to start the year next season, Zibanejad's power-play numbers might even increase. The duo combined for eight power-play points through the first four games to start the year. Zibanejad also leads all Rangers' forwards in PPP this season with 21 in 66 games while Shattenkirk leads all Blueshirts defenders in the same category with 12 in 46 games.
Zibanejad Gets the Job Done
In an ideal world where the Rangers can lay claim to the kind of generational center capable of scoring at a point per game pace or better, Zibanejad would be a stellar second-line center, capable of giving a theoretical future Blueshirts' squad a makeup similar to that of the Pittsburgh Penguins, Florida Panthers, or Washington Capitals—all of whom are home to two centers that rank in the top-20 among league pivots in total scoring the over the last three years.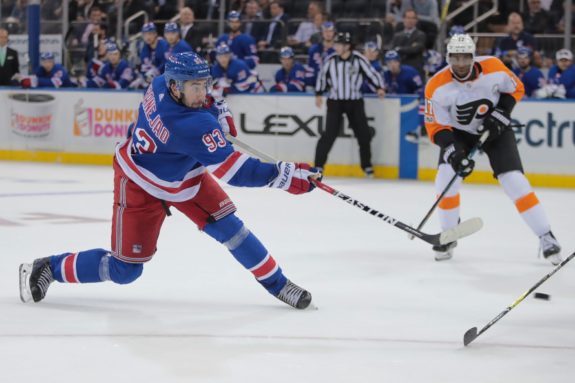 But even if the Blueshirts don't manage to luck their way into selecting one as they enter the draft likely to pick in the top-10 for the second time in as many years, Zibanejad is more than capable of respectfully filling the role of first-line center for years to come. Let's not mince words here. He is a first-line center, even if his total scoring is a bit on the lower-end of that spectrum, much like Stepan's was.
Related: These Rangers Could Be Gone Before 2018-19
"I want to be the No. 1 guy," he told The Post last week. "This is the first year I've been in that position where my line is against the other team's top line or checking line, and I think I'm learning how to handle it."
If he hasn't yet, Zibanejad will be entering the prime of his career in which the next two years could see him post career totals, just as he has in goal scoring already this year.
"I want to prove the Rangers did the right thing by trading for me and then giving me that assignment. And I want to prove to myself that I can be that guy, as well," Zibanejad said.
Except he's already proven it. These coming seasons should only reinforce that fact.