After scoring his 40th goal of the season in the Washington Capitals' Stadium Series matchup against Toronto, Ovechkin was happy to hit that number but wasn't ready to settle.
"Forty is nice, but 50 is better," Ovechkin had said.
Heading into this season, the expectations were higher for Washington Capitals captain Alex Ovechkin. After finishing with 33 goals last year, which trends on the lower side for him, the Capitals were counting on him to make more of an impact on offense, given they parted ways with top-six performers Marcus Johansson and Justin Williams.
So far, he's done that – and more. The 32-year-old winger leads the league with 45 goals this season, marking his ninth year with 40-plus goals. He also hit the 600-goal mark this year and is five goals away from 50 goals, which would be the eighth 50-goal season of his career.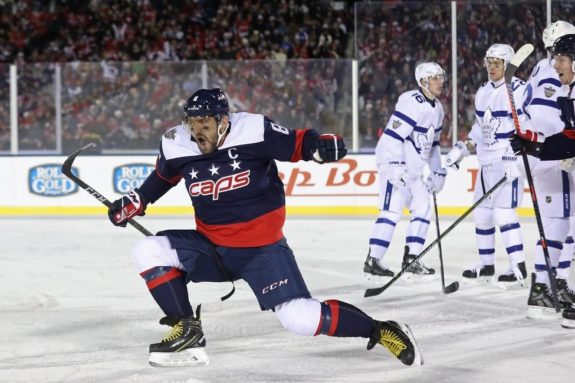 "He is a shooter," Capitals goaltender Braden Holtby said of Ovechkin. "He probably has the best goal-scorer shot of all time… he's blessed with that ability."
Last season, 17 of Ovechkin's 33 goals came on the man advantage, as well as around 38 percent of his 69 points. He struggled at times to find the back of the net consistently, and T.J. Oshie had tied him for the team-lead in goals, leading many to wonder if Ovechkin would come back with a stronger performance this season.
Ovechkin Still on the Rise
So far this season, Ovechkin has improved on those numbers; only 15 of his 45 goals are power-play tallies, and he has 83 points through 76 games. He's also shown tremendous chemistry with Nicklas Backstrom and Evgeny Kuznetsov this season and has been more of a threat at even strength.
Holtby said he has also seen a difference in Ovechkin's play and believes that it has benefitted the team greatly.
"I think this year, he's using his teammates a bit more, creating a bit more, not just waiting for it to come to him," Holtby said. "In order for him to be effective on our team, that's where we need him to be, atop the league in goals. That's his game."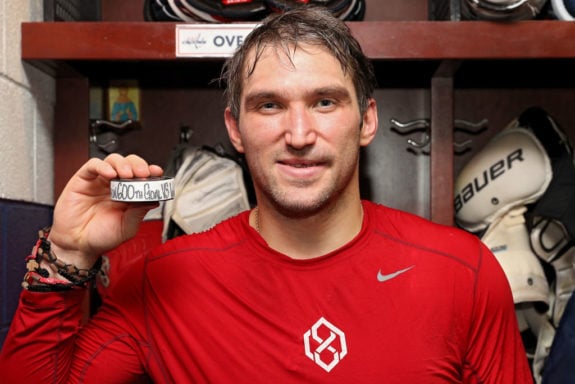 Getting the chance to play alongside Ovechkin this season, Tom Wilson said that the Russian winger has consistency throughout each season that is not easy to find throughout the league.
"I think it's pretty rare that you have a player on your team [like that]," Wilson said. "There's not many guys around the league where you can go automatically, 'it's gonna be 30 goals minimum, maybe 40, maybe 50. That's pretty rare and I think it speaks for himself… there's guys around the league that are showing up for a really good career year, and he's doing it every year."
Oshie described Ovechkin's "natural" knack for scoring, saying that his ability to shoot the puck and generate chances from certain parts of the ice makes him stand out from other wingers in the league.
"I think [goal scoring is] different for different guys. I think Ovi is a guy that he naturally just goes to areas [where] either the puck's gonna come or where the puck's gonna be," Oshie said. "He sees, a lot of it is very natural to him. He sees open ice and he gets there very quick."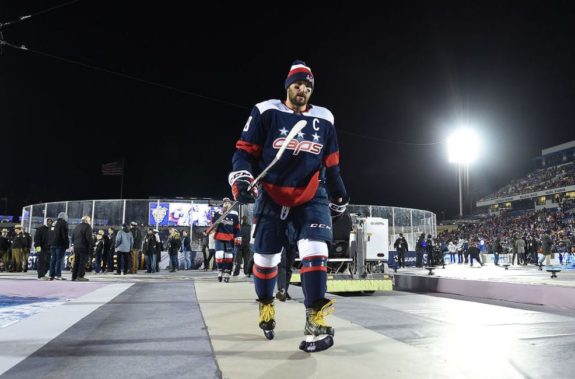 Not only has Ovechkin has been a fun player for fans to watch, but his teammates have also had a fun time playing alongside him, thanks to the momentum he brings to the table, leadership and on-ice performance.
"I think he's got a lot of energy. He's shooting the puck really well. I think he's doing the little things, and it's been a fun year when the puck's going in the back of the net," Wilson said. "Everyone that's a part of it is having fun.
"He puts it in the back of the net like kinda no one around the league, and it's fun to be a part of," Wilson said. "I think he's got a lot of energy. He's shooting the puck really well, I think he's doing the little things and it's been a fun year when the puck's going in the back of the net Everyone that's a part of it is having fun. He's a leader, he goes out there and like I said, he's a game changer. If he's going, if he's doing the little things, if he's shooting the puck, that's what this team needs."