ANNAPOLIS- Despite harsh wind that swept over the Northeast, the 2018 Stadium Series would continue on at the Navy-Marine Corps Memorial Stadium. Members of the Brigade of Midshipmen marched in around the rink, and bagpipers led the Washington Capitals and Toronto Maple Leafs into the stadium. And from that moment forward, it was an unforgettable experience for both teams.
As the U.S. and Canadian flags were sprawled proudly across the ice for the National Anthems, fireworks and fighter jets shot across the sky, and following the festivities, the U.S. Men's Olympic Curling Team demonstrated their skill, getting a stone featuring the ceremonial game puck right to center ice.
"It was unbelievable, my heart was beating a little bit," Jakub Vrana, who played his first outdoor game Saturday, said. "Just a special national anthem and those little things around you. I was a great experience for me, I really enjoyed it."
Following the ceremony, Washington kept that momentum going, as star players Evgeny Kuznetsov, Nicklas Backstrom and Alex Ovechkin all helped carry the Capitals to a 5-2 win over the Toronto Maple Leafs.
Caps Fight the Elements
The windstorm that took over Maryland Friday resulted in canceled practices and outdoor skates for the Capitals and Maple Leafs and also eliminated their morning skate prior to puck drop. Despite the conditions, and fears that the rink wouldn't be ready for the game, Matt Niskanen didn't think the weather played too much of a factor in the game.
"It was a blast. It was really fun," Niskanen said. "Conditions were great, I didn't really think the wind was a factor that much. Ice was awesome, crowd was having fun."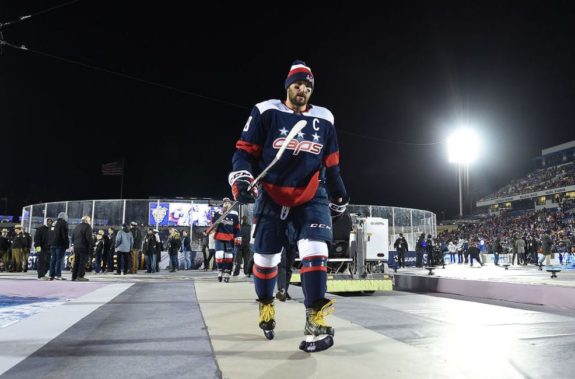 Nicklas Backstrom said that although it was "pretty warm during the day," he was slightly concerned about the conditions heading into the matchup, but ultimately said it was "honestly the best ice I felt."
As previous outdoor games would have it, both teams went to switch sides in for the final 10 minutes of regulation, when the stadium suddenly went dark, the power going out.
Backstrom joked that the first thought that popped into his head was, "Oh no… do we have to wait?"
"It was actually nice, we started pretty quick, we didn't have to wait too long," Backstrom said. "It was good for the players and the fans."
In the meantime, fans whipped out their phones out and turned on their flashlights as the teams waited for the stadium lights to come back on.
"Even when the lights went out, everyone was singing," Niskanen said. "Everybody on the bench was positive. It was a great experience for everybody, we'll remember it."
Washington's Stars Steal the Show
Kuznetsov scored the first goal of the Stadium Series early in the first on the power play, followed by Alex Ovechkin scoring his 40th goal of the season, marking the ninth time he's done that in his career. He's now two tallies away from 600 career goals.
After getting helpers on Washington's first two goals, Backstrom added a goal of his own toward the end of the first period, already capitalizing on a three-point night.
Ovechkin said he felt the early power play helped Washington gain a lot of momentum to score early and often, and that the team was ready from the get-go.
"The power play helped us a lot to get into the game. We shoot the puck more than our opponents and we scored two big goals," Ovechkin said. "And when you get the lead, you just feel it right away and it helps a lot."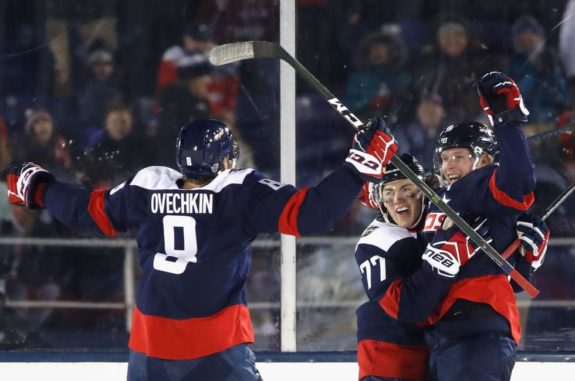 Along with Backstrom, Kuznetsov and John Carlson also scored a goal and added two helpers each for respective three-point performances. While Backstrom acknowledged an impressive performance from Washington's star players and top-6 forwards, he said that they were just trying to play hockey as they should.
"We weren't trying to put on a show, we were trying to play our game," Backstrom said. "We were just trying to play our game, we knew this game was important, we just wanted to get two points."
Vrana also scored, ending a 25-game goalless drought on a memorable breakaway goal, which he called "a big relief."
A Memorable Experience to Build On
It was easy to see from the opening ceremonies that the game would be one to remember, but head coach Barry Trotz said the Navy helped make the experience what it was.
"The coaching moment for me was just being in this event," Trotz said. "Right at the start, the anthem and the planes going over and the service people and the Midshipmen and looking at all these young men who serve us and give us the privilege to do what we get to do, the freedoms that we have."
Oshie agreed, saying "you can't appreciate enough," and that he thanks the Navy "for a lot of things like this, experiences like this."
Ultimately, the game was big for Washington in terms of building on it and taking a step in the right direction, and Oshie said playing outdoor helped.
"I think we weren't real ra-ra amped up in here. We were pretty calm, pretty loose, and it seemed like from the get-go we were pretty direct" Oshie said. "Everything felt like had a purpose out there and we played a very complete game. Obviously not our usual home ice, but it was home ice for us and I think we protected it well."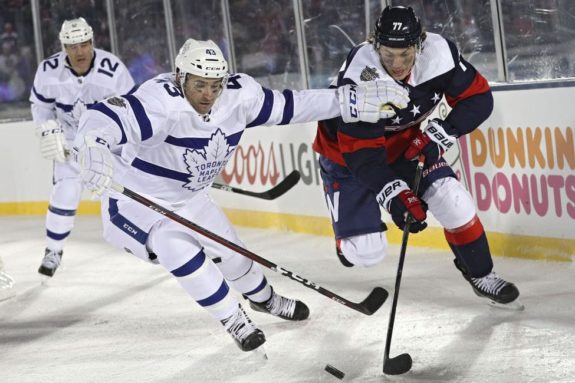 After playing on a stage like the one they had Saturday, Backstrom said it should build confidence and help the team moving forward. Washington has won just five of their last 10 games and the team is still seeking consistency.
"You get confidence out of this," Backstrom said. "I feel like last couple of games we've been playing a little bit better as a team and we're talking about it every day, we want to get better and better. We should never get satisfied. Outdoor game like this, we can hopefully get confidence out of this."
Washington will head west for a California road trip this week, where Ovechkin said it is crucial for Washington to pick up points as the Metropolitan Division race heats up.
"We need the points, we need to collect the points," Ovechkin said. "It doesn't matter if it's two or one, we have to guard the points and move forward. Obviously [this game] is a huge one. And we'll take it and move forward."