The Playoff Picture
After this weekend, there remains just two weeks in the OHL regular season. Where did it all go?
While there are still some things to figure out, we generally know which teams will take part in the playoffs. The seedings are still up in the air. Let's start at the top and see what we could have coming in round one.
In the East, Hamilton leads the way. Their magic number to clinch the Eastern Conference is four on the Barrie Colts. These two teams play in Hamilton on Wednesday night. Unless the wheels fall off the Colts' bus, Hamilton/Barrie will be one and two in some order.
Remember the first tiebreaker in the OHL is the win column. If that's tied, then head to head points rules the day. Barrie wins that tiebreaker with a 2-0-1 record against Hamilton as of this writing.
Whomever finishes first gets a likely date with the Mississauga Steelheads. They're a hard team to figure out. They have all that talent but haven't put it together most of the season. Still, imagine a first-round matchup playing against the McLeod's, Tippett, Hague and company? Good Lord. If they figure it out, what a tough out for the conference winner.
The fourth-seventh seeds are within three points with Oshawa, Niagara, North Bay and Ottawa all in the mix. The seventh place team draws either Hamilton or Barrie. Sixth likely draws Kingston in round one. The other two play in the four/five matchup.
Is there a clear favorite? I don't think so. I think any of the top three could go on. Mississauga could go on a late run with their talent too. If I had to choose a team today, I'm taking Barrie. I love what they did at the deadline.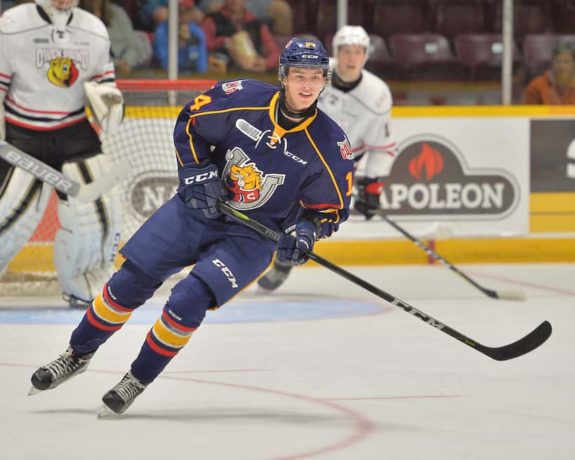 The West
The Western Conference is mostly set. The Erie Otters stayed alive on life support with a 9-3 win on Saturday. Windsor needs one more point to clinch. Saginaw needs two more points. Both can get in with one more Erie regulation loss.
The Sault Ste. Marie Greyhounds will own home ice advantage in the playoffs. They are a ridiculous 51-6-2-2 on the season. They are the favorites to come out of the West.
Kitchener owns the second seed. Sarnia is third. London and Owen Sound are destined to meet in the first round with home-ice up in the air. The sixth-eighth seeds are still a battle.
Guelph, Windsor and Saginaw are within two points of each other. The winner of this group gets Sarnia. The loser gets Sault Ste. Marie. The middle team gets Kitchener.
It's hard to see anyone but the Greyhounds come from this conference. If anyone can do it, it's Sarnia and maybe Kitchener. I just don't see it though.
If It Were a 1-16 Format
Now let's look at this if the league used a 1-16 format. Many are calling for it. Would it be better?
Sault Ste. Marie vs. Mississauga
Hamilton vs. Saginaw
Kitchener vs. Windsor
Barrie vs. Ottawa
Sarnia vs. Guelph
Kingston vs. North Bay
London vs. Niagara
Owen Sound vs. Oshawa
Personally, I'm all for the 1-16 format. You get different matchups you don't see as often and you reward teams who have great regular seasons. I hope it becomes a thing in the future.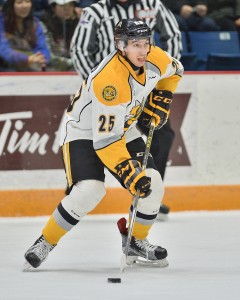 Scanning the Leaders
As great a season as Jordan Kyrou is having, he doesn't lead the league in scoring. It really puts in perspective how special a season Barrie's Aaron Luchuk is putting together.
Recall Luchuk was traded from Windsor to Barrie. He's continued his incredible scoring pace despite the emotional farewell from the Spitfires. Luchuk has 45-60-105 to lead Kyrou by three points for the scoring title. The Greyhounds Morgan Frost became the third player to reach 100 points. A fourth could join this list if Nick Suzuki finishes with a bang.
Luchuk and his teammate Dmitry Sokolov lead the league in goals. They have 88 goals between them. Kyrou leads in assists with 67.
The guy I want to highlight is London defenseman Evan Bouchard. He is eighth overall in league scoring. He's a draft eligible defenseman. He has 21 goals and 77 points. He runs the show in London and has clearly distinguished himself from Ryan Merkley as the first defenseman to go in the NHL Draft. Bouchard has 258 shots on goal which is second overall in the league to Jason Robertson.
Many are going to see Bouchard's stats and instantly declare him better than Merkley. Just a word of caution. Be careful how you evaluate this. Bouchard is an October 1999 birthday and Merkley is an August 2000 birthday. Both are really good, but I fear Bouchard will go too high and Merkley too low.
I still think Merkley's offensive upside is higher but Bouchard is the better two-way player. Both should hear their name in the first round of the draft.
The Top-4 Picks in Draft
Ah yes, the Quinton Byfield sweepstakes. The worst record wins the right to choose him. Sudbury is two points in back of Flint for last.
The question you have to ask is will Byfield report if either team picks him? Rumors always come around when a top prospect is available. Remember many thought Connor McDavid wouldn't play in Erie and look what happened. He called it some of the best years of his life.
Let's not judge anything until we get to the draft. He could be the player to change the fortune of each of those franchises.
Erie and Peterborough are fighting for third and fourth overall picks. The Otters won 9-3 Saturday. As a result, the Petes are two points back of the Otters for the third pick.
No matter the order, these four teams are getting a really good player. This upcoming draft is somewhat top-heavy. Byfield is by far the best available. Underneath him is names like Cole Perfetti, Antonio Stranges and Dylan Peterson. If a team wants defense, Jamie Drysdale and Owen Power are both highly regarded.
Stan Butler's 700 Wins
Big congrats to North Bay coach Stan Butler for becoming just the fourth coach in OHL history to win 700 games. He is the only coach in Battalion history. His thank you message on Twitter was short and simple, about what you'd expect from Butler. "Just like to thank all my players past and present."
Butler was Matt Duchene's coach from 2007-09. He was also current Kings' player Mike Amadio's coach from 2012-16. Butler has five division title and two conference crowns in his time.
Otters' Future on Display
The Erie Otters have played better hockey of late. The kids are showing what kind of promise they have for future seasons. Coach Chris Hartsburg addressed this postgame Saturday specifically talking about Hayden Fowler and Jack Duff. Both players have stood out in recent games.
Hartsburg called Fowler one of the up and coming players in this league. With Kyle Maksimovich suspended, Fowler got a look on the top line and top power play. Pretty good praise for a 16-year old.
Hear what @erieotters coach Chris Hartsburg said after Erie's 9-3 win over Peterborough. We talked playing shorthanded, their work ethic, Hayden Fowler, Jack Duff, Ivan Lodnia and more. https://t.co/dKHE7RiIPh

— Mark Scheig (@markscheig) March 4, 2018
Duff has played well on the defensive end even seeing some time on the top pair thanks to injuries. Hartsburg said Duff has handled that well and continues to develop as someone he can trust in bigger situations.
Although it was an overall down year for the Otters, there are signs of good things to come, including the coach. Hartsburg has them working hard and they're seeing results. It will be interesting to see how he does for a full season with more talent on it.