The runaway freight train rumbled through Madison Square Garden again Wednesday night, rolling past a two-time defending Stanley Cup champion that couldn't handle him and eventually gave in for a Rangers overtime victory.
Chris Kreider's team can only hope that at some point, that train starts to run on something of a regular schedule.
Kreider was simply dominant in powering the Rangers to an exhilarating 4-3 overtime victory over the Penguins, leading the Blueshirts back from a 2-0 deficit to their fifth win in eight games. All of his rare gifts – the great strength and size, the ridiculous speed for such a big player, the deft hands – left the powerhouse Penguins searching for answers.
With his team trailing by two after being dominated in the second period, Kreider gave the Rangers a pulse with a power-play goal at 8:42 of the third, planting his 6-foot-3, 224-pound frame in front of the net and putting home a rebound. He then set up linemate Mika Zibanejad for the tying goal late in the third with a beautiful charge to the net and a perfect cross-ice pass, and then hit Zibanejad with a blind backhand feed in the extra period that allowed the center to walk in and end the wild game.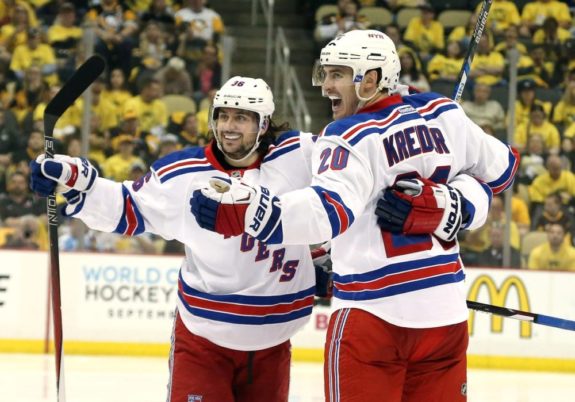 "I kind of came late into the zone," Zibanejad told NHL.com. "(Kreider) rolled up and I think my guy went to him and he made a great pass."
Despite Flashes, Rangers Still Waiting on Kreider
It wasn't just the goal and three assists, though. Kreider was a wrecking ball all night long, barreling hard to the net and forcing the Penguins back on their heels as they tried to stay with him.
It's why many believe he should have developed into a franchise forward by now. Yet seven years into his career, all of that ability – should a guy that big really be able to skate that fast? – hasn't resulted in that becoming a reality.
"It's a group of professional athletes," Kreider said after the win. "Guys aren't gonna quit, right? So it's one game at a time, one day at a time."
We've seen this before, of course. The freight train blew through MSG in the third period of Game 6 of the Rangers' second-round playoff series against Ottawa in May, as Kreider scored 53 seconds into the period to pull the Rangers within one. He was a physical force for the rest of that period, the Senators struggling to defend him just as the Penguins did Thursday.
It wasn't enough then, of course, as Ottawa held on to win and eliminate the Rangers, but it seemed to hold the promise of Kreider finally achieving the level so many have predicted for him.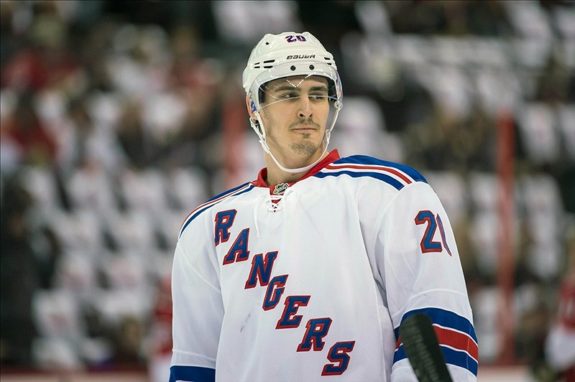 As has been the case throughout his career, though, little changed. Kreider went without a goal for the first eight games of 2017-18 and was turning in his typically-productive-but-less-than-spectacular season before a scary brush with a blood clot in his arm kept him out for nearly two months. He had struggled with timing, rust and stamina since returning, managing one goal in nine games before the breakout against the Penguins.
Will Blood Clot Prove Beneficial to Kreider's Career?
So why would this time be different? Perhaps the health scare.
It's been well-documented that Kreider is a thoughtful guy – perhaps to his detriment. A theory that's consistently advanced by observers is that he overthinks the game, and when he's able to get out of his own way – as he did that night against Ottawa and Thursday against Pittsburgh – and just play on instinct, he turns into a monster.
Maybe the cerebral big fellow is seeing things differently after the episode, which resulted in surgery on the clot and to fix two fused ribs that had contributed to its formation.
"It really puts things in perspective," Kreider told NHL.com after returning to practice Feb. 14. "I don't think I took (playing hockey) for granted ever, but it definitely makes you grateful for everything you have."
With that physical issue corrected and Kreider admittedly playing at a lower weight as the result of the surgery, his jump against Pittsburgh was undeniable.
Anyone who watched Kreider in the 2012 playoffs predicted stardom for him then, as the nervous 20-year-old rookie who joined the Rangers for the postseason after his season at Boston College wowed with his blazing straight-ahead speed and big shot. He recorded five goals and two assists in 18 games to help the Blueshirts reach the Eastern Conference finals.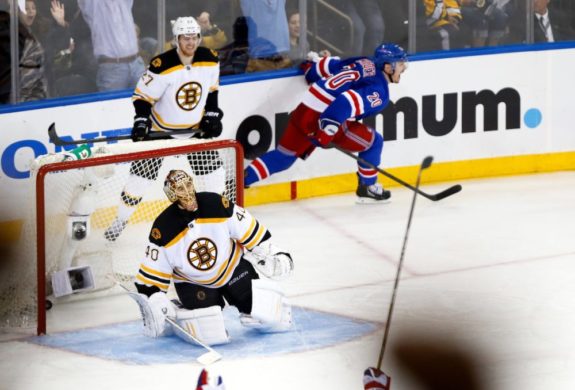 And yet, the production has failed to match the talent ever since. He recorded career highs of 28 goals and 53 points in 75 games last season, but Kreider has been a good-to-very-good player in his six regular seasons, not a great one. His playoff line approximates a typical season for him – 23 goals and 14 assists in 77 games.
But with performances like Wednesday's, can one fully dismiss the possibility that those heights are still on the horizon for the 26-year-old?
Maybe now, armed with a new outlook on life and career, Kreider could finally develop into a player that the rebuilding Rangers can in fact build around. It seems unlikely he's going anywhere in the offseason, with two years left on his contract that carries an annual $4.625-million salary cap hit.
"I don't think the gravity of the injury hit me initially, and then I had several people reach out talking about how they had lost loved ones – family members, friends, because of (blood clots)," Kreider said in an emotional interview on NHL.com posted Thursday.
"Then at that point I was really just worried about my health and ready to do whatever it took to get better. … This is free hockey as far as I'm concerned. Playing with house money at this point, just being back and being able to do what I love for a living and to be healthy."
Rangers Fell Off in Kreider's Absence
The Rangers don't seem inclined to trade him. A look at their season with and without Kreider might fully convince them not to do so: The Blueshirts were 20-13-4 when the blood clot was discovered. They proceeded to go 7-16-1 with him sidelined and are 5-4-1 since Kreider's return, including 5-2-1 in the past eight.
That surge has plenty to do with the pre-trade deadline teardown no longer hanging over the heads of the "nothing to lose" group that remains. If management discounts Kreider's impact, however, it does so at its own risk.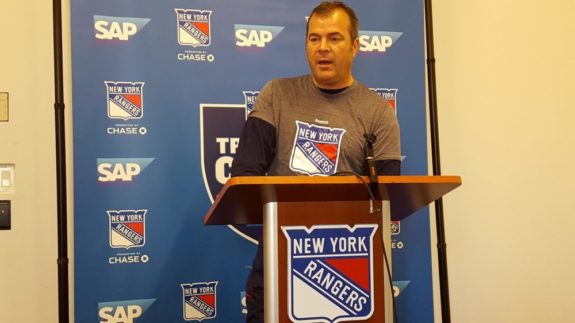 "I'm not taking playing in the NHL for granted, I'm not taking being able to play hockey for a living for granted," Kreider said during the NHL.com interview Thursday.
It's too early to give up on Kreider becoming a superstar. Those words – and efforts like Wednesday's – are all the proof one needs.