At the Buffalo Sabres locker cleanout day and at general manager Jason Botterill's season-ending press conference, there was a lot of talk about change coming to the Sabres. And for good reason. The team finished dead last in the 31-team NHL, missing the playoffs for the seventh straight season.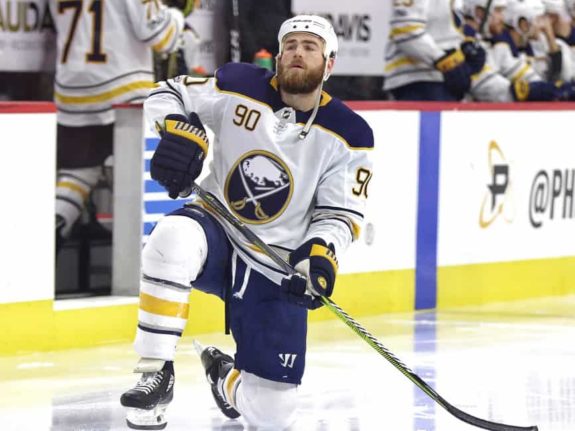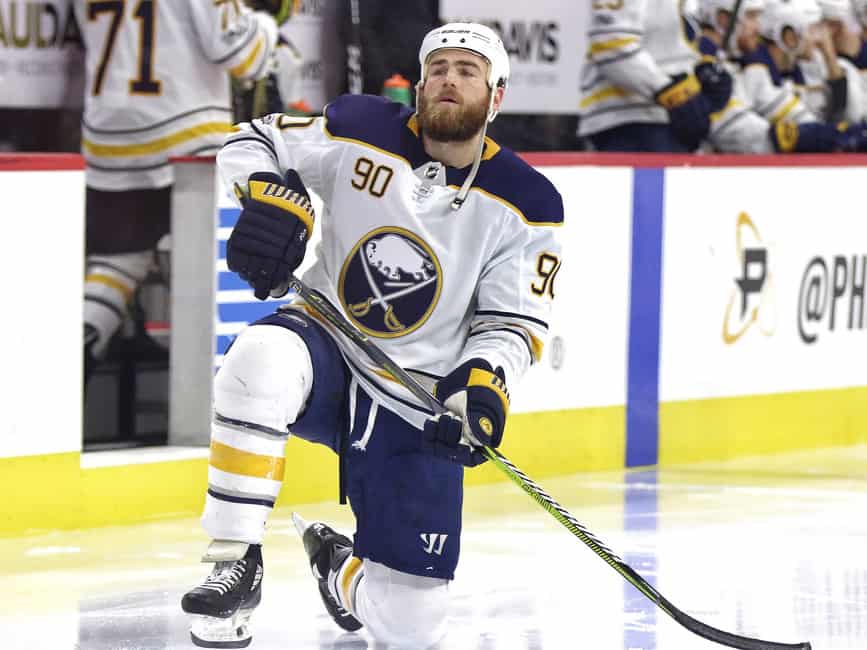 For comparison sake, their previous record was three years, from 2002 to 2004. Those were the low years, when owner John Rigas was headed to the slammer and the franchise was declaring bankruptcy.
Sabres Season to Forget
By every metric, the team was dreadful this year. Here are a few Sabre stats to chew on:
League Futility
They scored the fewest goals (199) of any team.
They scored the fewest number of goals at five-on-five (119).
They had the worst goal differential (-81).
They scored the fewest number of first-period goals (46).
They had the fewest wins at home (11).
They had the worst winning percentage (.111) of any team when allowing the first goal.
They had the second worst winning percentage (.324) in one-goal games.
They had the third-worst goals-against average (3.35) and third-worst save percentage (.896).
Franchise Futility
Their 11 wins was tied for the fewest in franchise history with the 1971-72 Sabres team.
Not one player appearing in more than six games finished with a positive plus-minus rating.
They lost 45 games (nearly 55% of the season) in regulation–the third most in franchise history.
They allowed the third-most shorties (10).
They lost 23 games by three or more goals (a quarter of their games!)–tied for the most with the Vancouver Canucks and Ottawa Senators.
Changing the Sabres Roster
With a salary cap in place and many inherited contracts for underachievers, Botterill has a lot to consider when trying to overhaul this roster for the 2018-19 season.
As the saying goes, one man's trash is another man's treasure. There will always be a few general managers willing to take a flier for an underperforming player with potential. And for some players, it only takes a change of scenery to thrive.
The biggest and most dramatic impact to the roster will be the Sabres 2018 first-round draft pick. While all arrows point to defenseman Rasmus Dahlin, until his name is called, it's still speculative.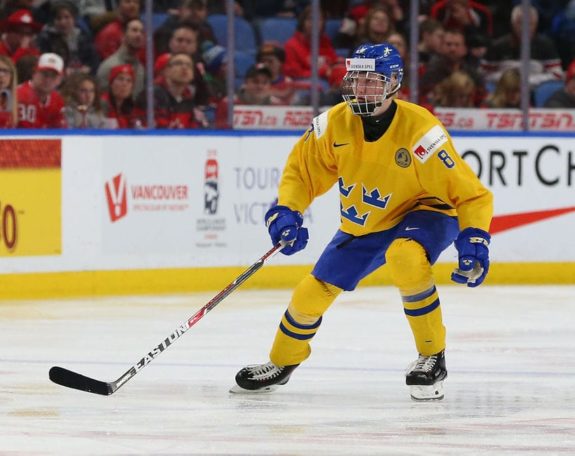 Sabres Forwards
There are 17 forwards under contract:
Jack Eichel ($10 million through 2025-26)
Ryan O'Reilly ($7.5 million through 2022-23)
Kyle Okposo ($6 million through 2022-23)
Jason Pominville ($5.6 million through 2018-19)
Matt Moulson ($5 million through 2018-19)
Zemgus Girgensons ($1.6 million through 2018-19)
Johan Larsson ($1.475 million through 2018-19)
Casey Mittelstadt ($925,000 through 2019-20)
Andrew Oglevie ($925,000 through 2019-20)
Alex Nylander ($894,166 through 2020-21)
Victor Olofsson ($767,500 through 2019-20)
Cliff Pu ($759,166 through 2020-21)
Eric Cornel ($695,000 through 2018-19)
Vaclav Karabacek ($685,000 through 2018-19)
Evan Rodrigues ($650,000 through 2018-19)
Kevin Porter ($650,000 through 2018-19)
Kyle Criscuolo ($650,000 through 2018-19)
Okposo, the big fish of free agency a few years ago, currently has a no-movement clause. On July 1, the deal transitions to a modified no-trade (he can submit a list of 15 teams to which he will not accept a trade).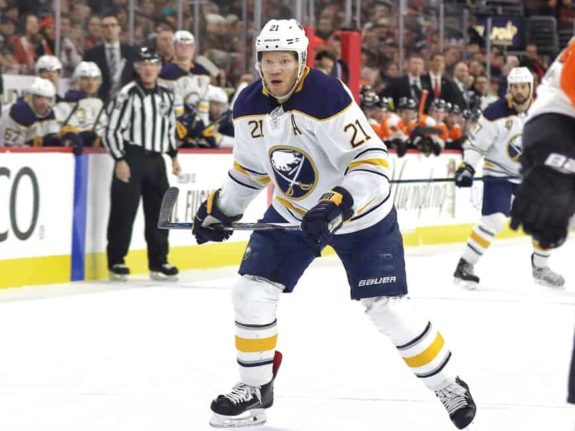 O'Reilly, one of former GM Tim Murray's key acquisitions, has consistently produced at the 55-60 point level since wearing blue and gold. When playing well, he's a beast. His comments at locker room cleanout day painted a bleak picture for the struggling centerman. Botterill knows it's tough to find good centers, so he isn't likely to move O'Reilly unless he gets what he wants in return. He may need to bite the bullet of his overpriced, inherited contract.
The Sabres could buy out Moulson, but the savings would be minimal due to the rules of the buyout procedure.
There are nine Restricted Free Agents (RFAs):
Sam Reinhart
Justin Bailey
Nick Baptiste
Hudson Fasching
Seth Griffith
Sean Malone
Danny O'Regan
Scott Wilson
C.J. Smith
The Sabres will likely try to come to terms with Reinhart. The big question is term and dollar amount. Reinhart had a Jekyll and Hyde season — in the first 44 games of the season, he averaged .29 points per game. Then, as if flipping a switch at the midpoint in the season, he went on a roll. In the second half of the season, he more than tripled his average to .92 points per game.
Of the remaining players, Bailey, Baptiste and Fasching will all require waivers to be sent to Rochester next season. It begs the question of whether they're ready for full-time spots in the NHL or plied as trade bait. The team sorely needs forwards that can finish, yet it remains to be seen if these youngsters can do that at the NHL level. Prospects develop at different rates, and by the time these three are 25-years old they could be very good bottom-6 players. They could also be moved out and become another team's development projects.
There are three Unrestricted Free Agents (UFAs):
Jacob Josefson will be heading back overseas to play for Djurgarden of the Swedish Hockey League.
Benoit Pouliot chipped in 13 goals and 6 assists, but it's unlikely he'll be in Buffalo next year.
Jordan Nolan's contract is up and it's highly unlikely he'll be in Buffalo next year. Or for that matter, in the league at all.
Sabres Defense
There are 12 defensemen under contract:
Rasmus Ristolainen ($5.4 million per year through 2021-22)
Zach Bogosian ($5.14 million through 2019-20)
Marco Scandella ($4 million through 2019-20)
Nathan Beaulieu ($2.4 million through 2018-19)
Jake McCabe ($1.6 million through 2018-19)
Will Borgen ($864,166 through 2020-21)
Casey Nelson ($812,500 through 2019-20)
Devante Stephens ($743,333 through 2019-20)
Brendan Guhle ($697,500 through 2019-20)
Brycen Martin ($685,000 through 2018-19)
Matt Tennyson ($650,000 through 2018-19)
Taylor Fedun ($650,000 through 2018-19)
Even after a massive overhaul of their weak, slow and ineffective defensive corps of the 2016-17 squad, the blue line remains the number one area with significant needs. Botterill has to work some magic here to move a few players that just aren't cutting it.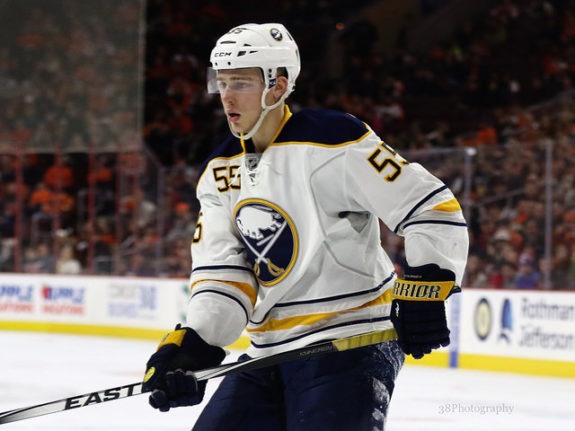 Ristolainen is overused and stands to be much better if his minutes are reduced. He was out of position and to use Housley's favorite term, "cheating" too much on too many plays. The brittle Bogosian only played in 18 games this season and barely half of the Sabres games since joining the Sabres in 2015.
There is one RFA:
Victor Antipin has decided to return to play in the KHL.
There are three UFAs:
Justin Falk
Josh Gorges
Zach Redmond
Sabres Goaltending
There are two goalies under contract:
Linus Ullmark (signed for $750,000 through 2018-19)
Jonas Johansson (signed for $759,167 through 2019-20)
Ullmark has earned his shot to join the Sabres next season. He'll enter the season vying for the starter in the crease. Johansson will likely play in Rochester or Cincinnati.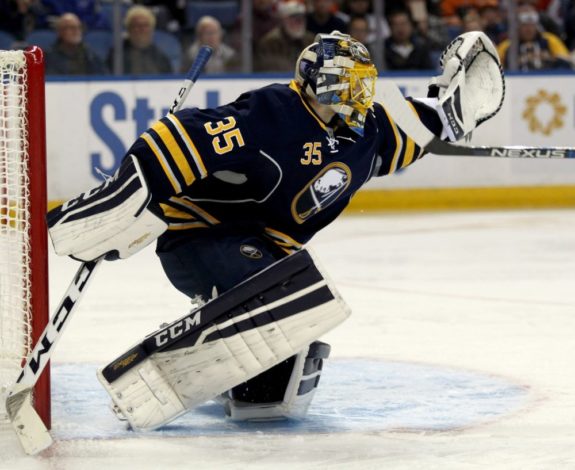 There are two RFAs:
Robin Lehner
Jason Kasdorf

Lehner, has been social media's whipping boy ever since Tim Murray gave up a first-round pick for him in June of 2015, and will be due a qualifying offer of $4 million. He's had stretches of decent play, but Botterill may walk away from the intense 26-year old or package him as part of a trade.
There are two UFAs:
While well-liked in the locker room, Johnson's numbers were off this year. In context of how bad the team played, a lot of his numbers can be forgiven. He has stated he's interested in returning to Buffalo but has to be shown the team is willing to make changes. "I have to see the change, whether it's through players or somehow convince me through contract, through whatever it is, to come back," said Johnson.
Change is Coming
Botterill knows this lineup needs to be changed. And he'll need to be a shrewd businessman to get out from under some of the contracts he inherited. Several forwards have significant multi-million dollar contracts while six defenseman have term left to theirs.
Despite spending to near the salary cap last year, it didn't yield any results.
"When you finish where we were, you have to look at everything," said Botterill. "That means looking at even changing up some of our core players. From a free agent standpoint, we'll be involved in free agency. But I'm a believer that you just can't build a team just through free agency. It has to come from within our organization."
One thing's for certain: change is coming.