Roughly seven years ago, the new owner of the Buffalo Sabres, Terry Pegula, wrote a letter to fans sharing his vision to have the team's name inscribed on the Stanley Cup.
Yesterday, Sabres season ticket holders received an empathetic letter from Pegula, embarrassed that his team stinks.
The six-paragraph, one-page, carefully crafted letter was a mix of frustration, appreciation, accountability and hope. The only hard news from the owner was the statement that ticket prices for season ticket holders will not be raised. Admittedly, everything else, was "just words."
Fans Deserve Better
Pegula's letter was both candid and honest. Just as his team's general manager, Jason Botterill, expressed at his season-ending press conference, he's not happy. He's disappointed in his team's performance and for missing the playoffs yet again.
"When we decided to go through our rebuild, the expectation was that we would be competing for a playoff spot by now. That simply hasn't happened," he wrote.
Seven years in, and Pegula's goal is a "playoff spot." That's an interesting way to put it. Back on Feb. 22, 2011, he confidently stated, "From this point forward, the Buffalo Sabres' reason for existence will be to win the Stanley Cup."
The Sabres Terrible Season
Pegula didn't point the finger at anyone for his team's 31st-place finish. He didn't cite any specific reasons for winning just 11 of its 40 home games. He didn't harp on any players or coaches for regressing while scoring the fewest number of goals in the league.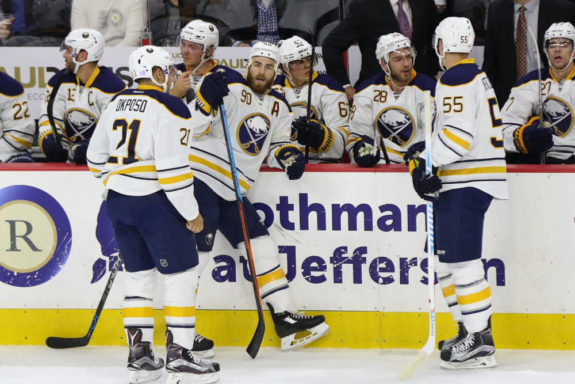 Instead, he issued a blanket of blame. Moving forward, he's holding himself and everyone in the organization accountable for making changes. Rather than making excuses or pointing out past mistakes, he's "challenged everyone in the organization to be better… in everything we do."
It sounded similar to exit interviews from the player's locker cleanout day.
Ticket Prices
This year, the Sabres ticket packages ranged from $30 to $121 per game. They've been raised by approximately five percent every year since the multi-billionaire bought the team.
To show their disdain for the product on the ice, many fans simply didn't bother showing up this year. For some games, complete rows were empty. Sections in the corners of the 300 level were often filled with only a smattering of fans.
On some nights, the no-shows were significant–likely in the thousands. In a blue-collar city like Buffalo that demands an honest effort, fans weren't feeling it, and chose to spend their money elsewhere, skipping the trip downtown. As a result, the Sabres announced their lowest attendance average since the 2005-06 season.
Personally, they should lower ticket prices because of the CRAP they have put on the ice. I am still dropping my season tickets…..I'm done

— Tom Fish (@FishTR0498) April 19, 2018
League-wide, the Sabres 2017-18 regular season median price is $83, which ranks them 27th out of 31 teams. Only the Florida Panthers ($81), St. Louis Blues ($78), Arizona Coyotes ($78) and New York Islanders ($73) are less expensive. Topping the list are the Toronto Maple Leafs ($275), Chicago Blackhawks ($229) and New York Rangers ($225). The full list can be seen here.
Pegula's Leadership with Sabres
Pegula has been a big hockey fan since the franchise's early years. At his introductory press conference, he sniffed back tears of joy while recalling his love for the team and his hero, Gilbert Perreault. He held Sabres season tickets from 1980-1998 at both the Memorial Auditorium and the HSBC Arena (now KeyBank Center).
On the day he assumed ownership, he wrote a letter to Sabres fans on the team's website, "As a longtime Sabres fan, I have followed all the great players who represented our city. Along with each player and fan, we have all shared a vision…to have the Buffalo Sabres name inscribed on the Stanley Cup."
Despite his passion, things haven't quite fallen in line like Pegula had hoped.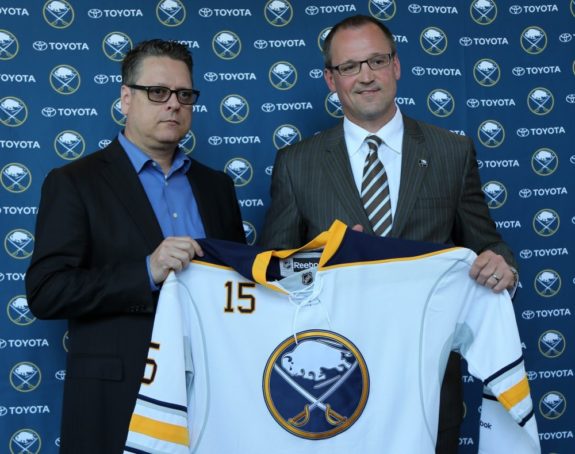 With Pegula at the helm, the team has cycled through three general managers (Darcy Regier, Tim Murray and Jason Botterill) and five coaches (Lindy Ruff, Ron Rolston, Ted Nolan, Dan Bylsma and Phil Housley).
The Sabres haven't exactly had any measure of success since Pegula has been their owner.
2017-18 31st place (out of 31)
2016-17 26th place (out of 30)
2015-16 23rd place (out of 30)
2014-15 30th place (out of 30)
2013-14 30th place (out of 30)
2012-13 22nd place (out of 30)
2011-12 19th place (out of 30)
Hope for Sabres
Ever a fan, Pegula nodded to the team's future. "We have players in our system at all levels of the organization–NHL, AHL, juniors, European leagues and the NCAA–and I am confident they will make us consistently competitive."
He ended his letter by saying, "This may not mean much. Until we win, it is just words. I just want you to know that I'm in it with you."
It's been a tough year all around for this franchise. One can only hope that better days are ahead.
Jeff has been covering the NHL for over a decade for various sites. He's been with The Hockey Writers as a lead Sabres writer three years, while also writing a satire column called "Off the Crossbar."