There were moments when Buffalo Sabres general manager Jason Botterill's frustration was palpable. At times, steam could almost be seen emanating from his ears and nose. He often bit his lip and thought before answering question after question about the team's–his team's–last place finish.
As he put it, this year "sucked."
Botterill was visibly angry today and he should be #Sabres @WKBW pic.twitter.com/2pQOeUAt1q

— Matthew Bové (@Matt_Bove) April 12, 2018
At the Sabres' end-of-year news conference on Wednesday, Botterill threw around his fair share of clichés…just as many of his players did night after night, during a season that ended with a whopping 57 losses in 82 games.
The difference, though, as poorly as his team played, is that Botterill is the one in charge. He's the one who built this team; the one who needs to figure out how to re-invigorate this once-proud franchise. He's the one who needs to make some roster moves, not just to shake things up, but to right the ship. And he's the one who needs to re-earn the trust of an alienated fan base.
Botterill's Team
Make no mistake about it, this is Botterill's team. While Botterill inherited some terrible contracts for underachievers, he also brought in his fair share of mediocre players, including Nathan Beaulieu, Chad Johnson, Jacob Josefson, Jordan Nolan, Jason Pominville, Benoit Pouliot and Matt Tennyson. It's no wonder they couldn't win.
Of course, he also hired rookie head coach Phil Housley. Housley brought a winning pedigree with him from Nashville but had to work with a sub-par roster this year.
From First to Worst
Botterill came to the Sabres following back-to-back Stanley Cup championships with the Pittsburgh Penguins. He was part of three championships in his 10-year stint in the Steel City. His Sabres team is light-years away from that.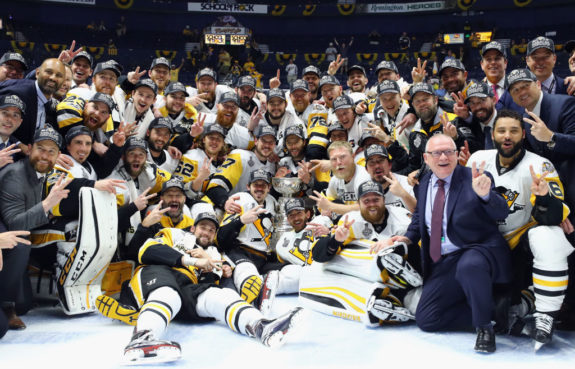 Dwelling in the basement of the league instead of in the penthouse is new real estate for Botterill. "Going through exit interviews on April 9th and tenth flat-out sucked," he said with conviction and a visceral tone. Like the fresh memory, if not the words, were actually acidic in his mouth.
While no player asked for a trade, he said many were disappointed with the season. He didn't want to hear about that. He wanted to know what each player was going to do to change. "When I talked to the players over the last little bit here, I don't want to hear about how disappointed they are, I want to hear about what's going to change, what is the action plan moving forward here," he said, clearly agitated.
On one hand, much like their irritable and increasingly apathetic fan base, it was an encouraging sign that Botterill doesn't want to dwell on the negative or hear excuses.
On the other hand, as he pointed out, this team has an abundance of young players still in the beginning of their careers. "We have younger players that have been part of this organization now for three, four, five years who can't sit in the background anymore. [They] have to be a part of it. We have to have a stronger leadership group."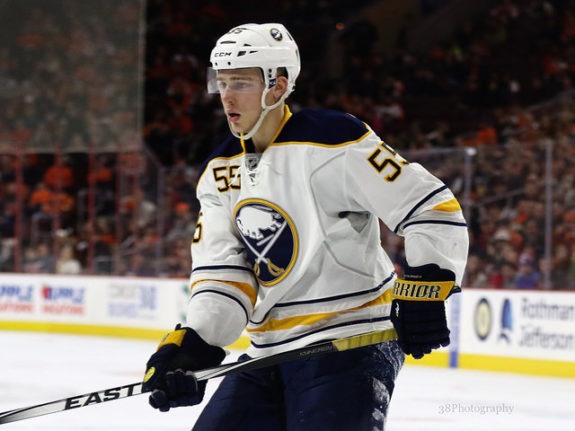 Some of these players are still teenagers and early twenty-somethings. If they really knew what it takes to win, things probably wouldn't "suck" so badly. And while they can all improve, it's Botterill's and Housley's job to give each player an action plan beyond "be ready to play." Each interview was an opportunity to give clear feedback and direction for turning things around. For example, "Player X, we thought you did L, M, N, O, P well, but Q, R, S, and T were inconsistent. We need you to do A, B and C over the summer to improve and help the team."
One can only hope that these conversations are happening behind closed doors. Botterill's candid assessment of the team's losing culture was spot on. "We finished 31st. We deserved to finish 31st," said Botterill.
Speed on the wing? What is this concept that you speak of? #Sabres @WKBW pic.twitter.com/abeflsPx2H

— Matthew Bové (@Matt_Bove) April 11, 2018
Losing Culture and Lack of Confidence
Botterill grasped the reality of his team's dreadful, underachieving roster and losing mentality immediately.
"I noticed it right off the bat. In tight games, I felt – and there were certainly times, and you could go back to our first long road trip – I felt we had some good efforts in San Jose and some good efforts in LA, yet … we found ways to lose. And to me in those tight situations and those tight games, we did not have a lot of confidence. Someone can always say, well, once you win a few of those games you build confidence as a group. But it's hard finding a way to win those games and that's what we have to improve on as an organization." –GM Jason Botterill
It begs for a follow-up question: "Why didn't he do anything about it?" He couldn't have truly believed that Scott Wilson was going to cure this team's ills.
At locker cleanout day on Monday, and for that matter, throughout the year, hearing a veteran like Jason Pominville or Kyle Okposo say, "We have to find a way to…" or "We have to be better" or "I have to improve" or "We have to work harder…" is both maddening and deflating for fans to hear. Those phrases suggest that they have no idea how to get out of their hole.
Time for Botterill and Housley to Step Up
It was downright painful watching Ryan O'Reilly's interview admit he's so lost. These players need direction, guidance and coaching.
If Botterill and Housley can't clearly see that O'Reilly, one of the Sabres' best players–or at least one of their most expensive assets–is spinning out of control, then this organization is more dysfunctional than ever.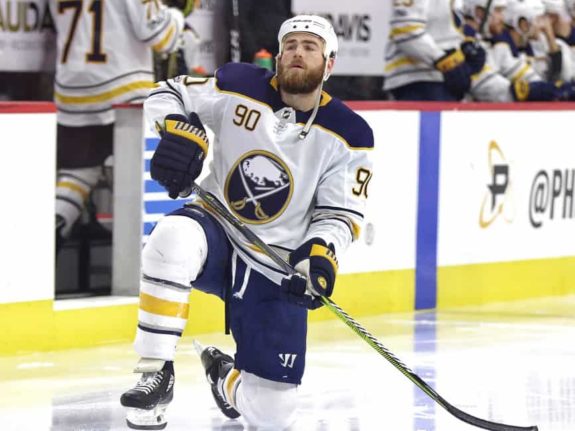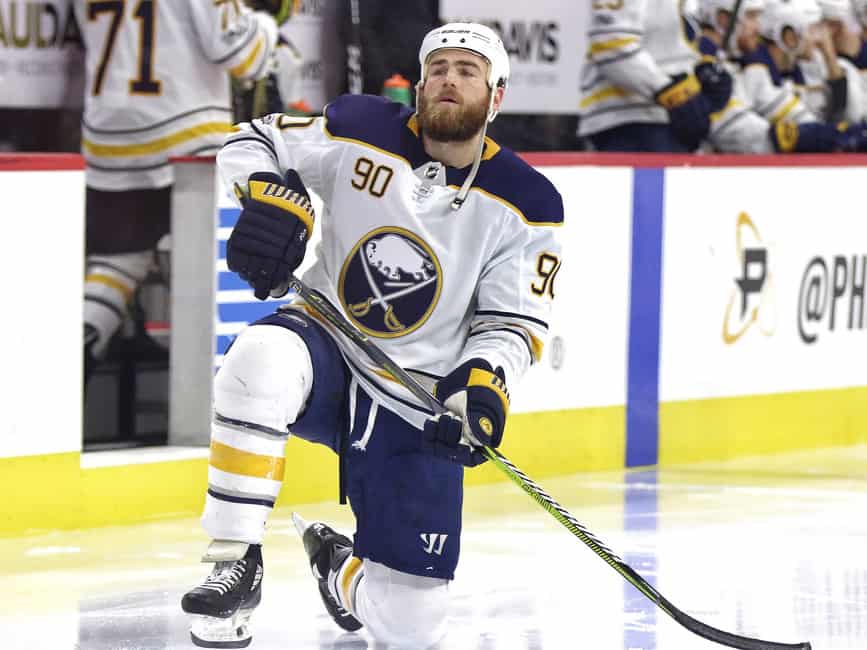 Eichel is beyond talented; laden with both speed and skill. But he alone cannot lead the team out of this abyss of misery. He doesn't know how. He's only ever known success. He'll be one of the guys who executes the plan to get out of the hole but he won't be the guy who comes up with the plan. Watching his interview; it's clear that as much as he wants to apply himself, he doesn't know what needs to be done.
It's very similar to the situation with the Oilers' Connor McDavid in Edmonton. They've missed the playoffs this year, the second year in McDavid's first three, despite his monstrous 108-point campaign. A team can have all the talent in the world but that's only the engine. The stars are Formula 1 cars creeping along in second gear because they're in a cloud of fog and darkness. They need a map and guidance to get to the finish line while taking advantage of their speed and skill.
It's imperative that a bona fide star with experience be brought in to help. That, and a few new more experienced assistant coaches. That said, even if a Hart or Norris Trophy winner were to be brought in, without the map, they would get sucked down into the hole with the rest of the trapped players.
Here's an old story that helps put things in perspective:
This guy's walking down the street when he falls in a hole. The walls are so steep he can't get out. A doctor passes by and the guy shouts up, 'Hey you. Can you help me out?' The doctor writes a prescription, throws it down in the hole and moves on.

Then a priest comes along and the guy shouts up, 'Father, I'm down in this hole can you help me out?' The priest writes out a prayer, throws it down in the hole and moves on.

Then a friend walks by, 'Hey, Joe, it's me can you help me out?' And the friend jumps in the hole. Our guy says, 'Are you stupid? Now we're both down here.' The friend says, 'Yeah, but I've been down here before and I know the way out.'
The truth is that the guy who jumps down to help should be Botterill. At least Housley. The problem is, neither have been part of a turnaround of this magnitude.
An Action Plan
Botterill barely shifted his body while facing a barrage of questions in the 20-plus minute interview. For much of it, he had a look of determination and resolve. "This can't be about words. We have to have better results," said Botterill.
Again and again, he stated things need to change. He admitted Team owner Terry Pegula is boiling with anger. "I don't blame him. I've been here for one year and I was pretty upset throughout the year," said Botterill. "I guess I could be articulate but I will just say it sucks we won't be in live playoff hockey right now. It will just all be on TV."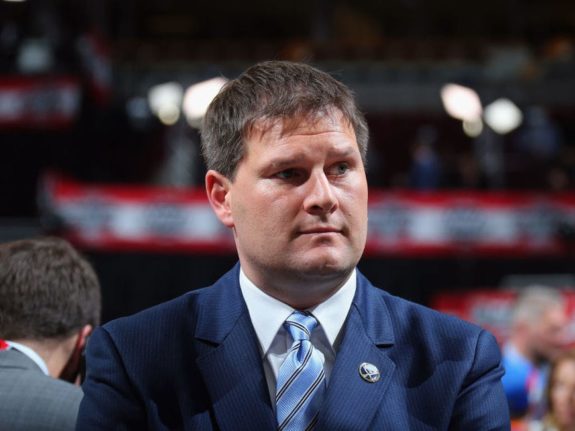 It was refreshing to hear Botterill's anger and honesty. He wasn't reading a prepared script, unlike Islanders owner Jon Ledecky.
"When you finish thirty-first, you pretty much need to improve in every category," Botterill said frankly. "If we think that we just maybe work a little bit harder in the summer or have a couple of conversations and all the results will come next year, then we're kidding ourselves."
He quickly glossed over a few team needs–like more speed up front, building a winning culture in Rochester and promoting from within rather than free agency. Other than landing a top-four draft pick and creating some internal competition, it would have been nice to hear some specifics for his plan that will get his team into the playoffs and back to relevancy. He wanted as much from his players, why not of himself? It's a lot easier to find a treasure with a map.
Publicly, he never says-nor does coach Phil Housley or any of the players-exactly what they are going to do to execute the changes.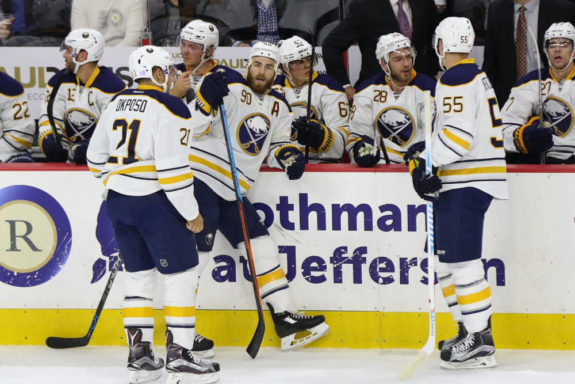 Two days earlier, the players all said it was about "working harder" and "bring prepared." Fiddlesticks. That's just air. Botterill must have a plan. Housley must have a plan. Practices must be made important and meaningful. Time spent at the rink has to have specific steps that lead out of their last-place hole.
Not All Doom and Gloom
Botterill noted he was pleased with the way Jack Eichel has developed and matured, both on and off the ice this season. "As excited as we are about Jack moving forward as a leader, it's imperative that we have more players in that locker room step up from that standpoint," he said. "This game cannot have one player lead the entire team. It's imperative that we have stronger bases in there."
"I do believe in some of our core players and our star players, and what excites me is they're still very young. There's a situation of developing them as players. It's also a situation where we're developing them as leaders."
A Lost Season
Back in February, during the second period of an afternoon game against the Los Angeles Kings, Botterill yelled something in frustration then slammed the door to his KeyBank Center suite. The sounds echoed throughout the press area and the 300 level. He was really ticked off. And for good reason: the Sabres were listlessly skating and already down 2-0.
Botterill wanted a response from his team after losing the previous game in a 7-1 no-show against the Dallas Stars. It just wasn't there.
Yesterday, once again, Botterill slammed the door on the 2017-18 season.
Jeff has been covering the NHL for over a decade for various sites. He's been with The Hockey Writers as a lead Sabres writer three years, while also writing a satire column called "Off the Crossbar."