On Monday in downtown Buffalo, the Sabres conducted their usual exit interviews during locker clean out day. Players spoke about playing harder next year, being more mentally prepared, being committed, playing consistently, hating to lose and doing whatever it takes to win.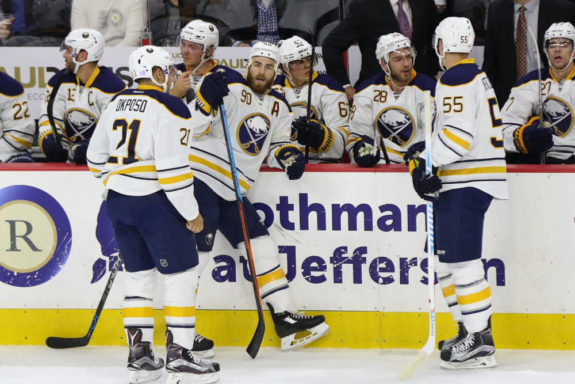 The mix of frustration, head shaking and clichéd soundbites felt shallow as they were spouted by every stoic face.
"It's tough, really hard. It's frustrating," said Jack Eichel, who was the first player to hold court in the locker room for the media. "You kind of look back and it feels like yesterday I started here and to be three years into my career and yet to really make the impact that I'd like is frustrating for sure."
A Different Eichel
After the 2016-17 season, Eichel's demeanor during clean out day could only be described as immature. For the first few questions, he chirped one-word answers and gave the vibe of a teenager who was told he had to take the garbage out in order to earn his allowance. He had every right to be upset about his team's disappointing season but he wasn't acting the part of a leader.
Say what you want about the #Sabres struggles but it's very obvious that Jack Eichel has taken a big step this year. I think you're looking at the next captain of the Buffalo Sabres. pic.twitter.com/qgGUDVoZJB

— Matthew Bové (@Matt_Bove) April 9, 2018
Monday at KeyBank Center was a different story. Following another dismal season, Eichel was every bit as frustrated but his outlook and disposition were dramatically different. He sounded like a leader. His one-word answers were replaced with honest, heartfelt thoughts. He took difficult questions in stride, with a resolve to turn things around. He sounded like a captain.
Eichel: "It feels like yesterday I started here and to be three years into my career and yet to make the impact that I'd like is frustrating for sure" #Sabres @WKBW pic.twitter.com/q3hOUCEkf2

— Matthew Bové (@Matt_Bove) April 9, 2018
"I've figured out a better way to communicate with you guys," Eichel said. "We talk every day so we might as well make our relationship a good one. Last year I was frustrated, bitter, a bit upset. Not at you guys at all, but at the way things went. I think I probably didn't handle things the right way."
Related: Buffalo Sabres Brass Analyzing Assets
Change Coming to Sabres
Eichel's grasp of the team's situation was the same as every other player in the locker room. But he was one of the few that spoke to a fan base desperate for success.
"We have to communicate a message to our fans, our organization, our city that as bad as things were, we're going to change," said Eichel with a hint of optimism. "We're going to change things around here."
He referred to the Colorado Avalanche as proof that it's possible to turn things around from one season to the next. "Coming back this year, they had a bit of a new mindset," Eichel said of close friend Nate MacKinnon and the Avs. "They felt refreshed and ready. You have success, you start believing in yourself and in the process and good things happen. You can't sit here and feel sorry for yourself or feel sorry for the team."
Head coach Phil Housley also mentioned the Avs: "There's a group of players there that got together and said, 'We need to change. We need to do things differently. We need to listen. We need to be coachable.' And you can see the result. It requires a big commitment. There comes a part in your career where you have to realize what's important – obviously, winning."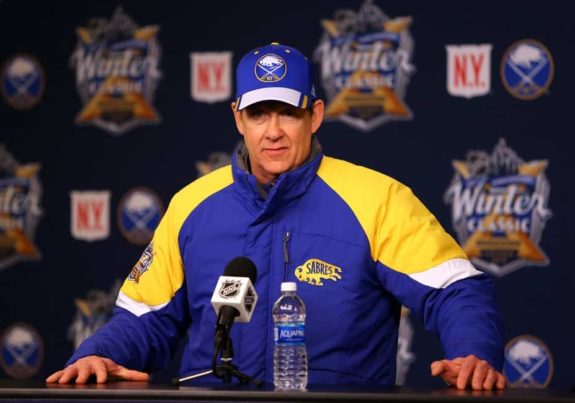 Winning has been in short supply for the Sabres for nearly a decade. Housley didn't just mean 'winning' but likely 'professionalism': to carry oneself like a champion at all times; to work hard every day and twice as hard on the days that one doesn't feel like it or seem to have it; to believe the best in oneself and one's teammates; to march confidently forward into war expecting to win, knowing that even if battles are lost, there will be no loss of determination and no regret.
Everyone Can Be Better
Eichel talked about the need for change in the dressing room. "Everybody obviously needs to look at themselves and figure out what they're doing and change it. Myself, whatever I've been doing hasn't been working. What we've been doing as a team hasn't been working."
He had a decent year, scoring at about a point-per-game pace. With better linemates, he can likely be a 1.25 point-per-game player or more. However, there were games in which it looked like he could have played with more energy and more passion.
"It starts every day at practice. The best teams, best players, best organizations, they're consistently doing it every night and every day. We need to find a way as an organization, as a group inside this room, to get out of whatever rut this is. It's tough. It's a lot easier said than done."
Elite Expectations for Eichel
While Eichel's body language and communication skills have come a long way in one season, the team hasn't. The Sabres will miss the postseason for a seventh consecutive year, well beyond Eichel's career with the team.
"It's been a tough three years but I'm fully invested in this team, this organization, this city. I'm here for a while and I'm excited about it. I'm excited about the future. Things will get better."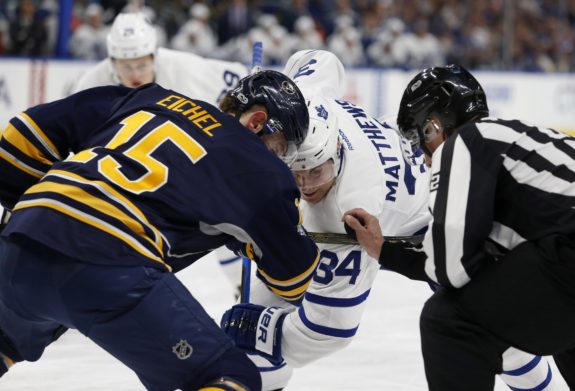 With 177 points in 209 games, Eichel has played well since being chosen second overall in 2015. He's averaging 24 goals and 59 points per season. From this point on, playing well won't cut it. Eichel's eight-year, $80 million contract kicks in next season. Expectations rise substantially when a player is worth $10 million a season vs. $925,000.
"We've got to take the next step and honestly it starts now in your preparation for next season," said Eichel. "Sixteen teams are going to play in the playoffs for the next few months and we're not going to do anything. We've got to get ready for next season."
Captain Jack?
With all due respect to the following players, leadership has been in short supply for the franchise since Chris Drury wore the 'C' from 2005-07.
Captains since 2007:
Brian Gionta (Oct. 2014-Apr. 2017)
Steve Ott (Oct. 2013-Feb. 2014)
Thomas Vanek (Oct 2013)
Jason Pominville (Oct. 2011-Apr.2013 and March 2008)
Craig Rivet (Oct. 2008-Feb. 2011)
Jochen Hecht (Feb. 2008 and Oct. 2007)
Jaroslav Spacek (Jan. 2008)
Brian Campbell (Dec. 2007)
Toni Lydman (Nov. 2007)
A year ago, before Housley made the decision to have a Leadership Team, the question was who would be the Sabres' next captain. The two obvious candidates were Jack Eichel and Ryan O'Reilly.
Yesterday was further proof that Eichel is the face of the franchise, even before O'Reilly's admission of his fragile mindset and lack of success this season. "It's disappointing. It's sad. I feel throughout the year I've lost the love of the game multiple times. You need to get back to it because it's just eating myself up and eats the other guys too," said an ashen O'Reilly. The faceoff specialist seemed lost, not even the leader of his own psyche let alone other men.
Ryan O'Reilly with some pretty powerful comments. "It's sad, I feel throughout the year I've lost the love of the game multiple times…" @WKBW #Sabres pic.twitter.com/rzqBdcHltt

— Matthew Bové (@Matt_Bove) April 9, 2018
Eichel gave a stock, albeit honest answer, when asked point-blank if he wanted to wear the 'C' next season. He insists it's not something he dwells on. "Whether or not you have a 'C,' an 'A' or nothing, you can always be a leader," said the 21-year-old. "You can always bring different things to the table. For me, I just try to be myself every day. When there's a time to say something, stand up and say something. But I don't think you need a letter to do that."
Related: Sabres' Night of Milestones
Despite two significant injuries, Eichel has more points than any other Sabres player over the last three years and he's scored the most goals. He's the player his teammates and the coaches turn to for a clutch play. Anyone can read between his lines. Eichel will ultimately be the guy to lead the team out of the basement and into the playoffs. It's time to make the face of the franchise the captain of the team.