You can now add All-Star to Jack Eichel's list of achievements.
For the first time, Jack Eichel was selected as the Sabres representative for the NHL All-Star game. The announcement came Wednesday morning.
Congrats to @JackEichel15 on being named an #NHLAllStar – he'll represent at All-Star Weekend Jan. 27-28 in Tampa! ⭐️ pic.twitter.com/YqPqGlxDrF

— Buffalo Sabres (@BuffaloSabres) January 10, 2018
Eichel's Star Power
Eichel is by far the Sabres most impactful player. The face of the team is still on his entry-level contract, but is as much of a household name as anyone who has donned the blue and gold in recent memory.
On a team of underachieving multimillionaires, the 21-year-old is finding a way to make an impact. Despite a lukewarm start to the season, he's often been the Sabres' lone bright spot. He brings excitement, scoring opportunities and defensive responsibility to every shift.
The center is on pace for the Sabres' first 30-goal, 70-point season since Jason Pominville hit the mark in 2011-12 with a 30-goal, 43-assist season. If Eichel continues his recent success, it's fair to say he's on an 80 or even 90 point pace.
What Took So Long?
Eichel already has 65 goals and 152 points in 185 career NHL games.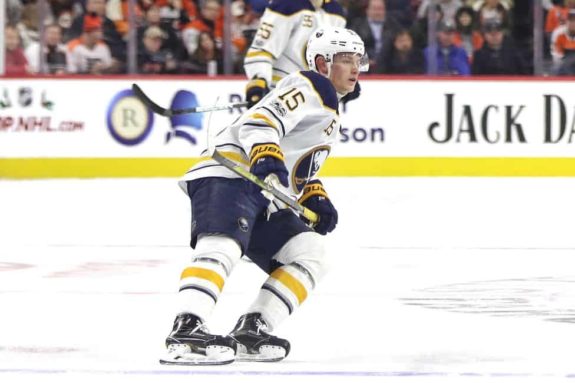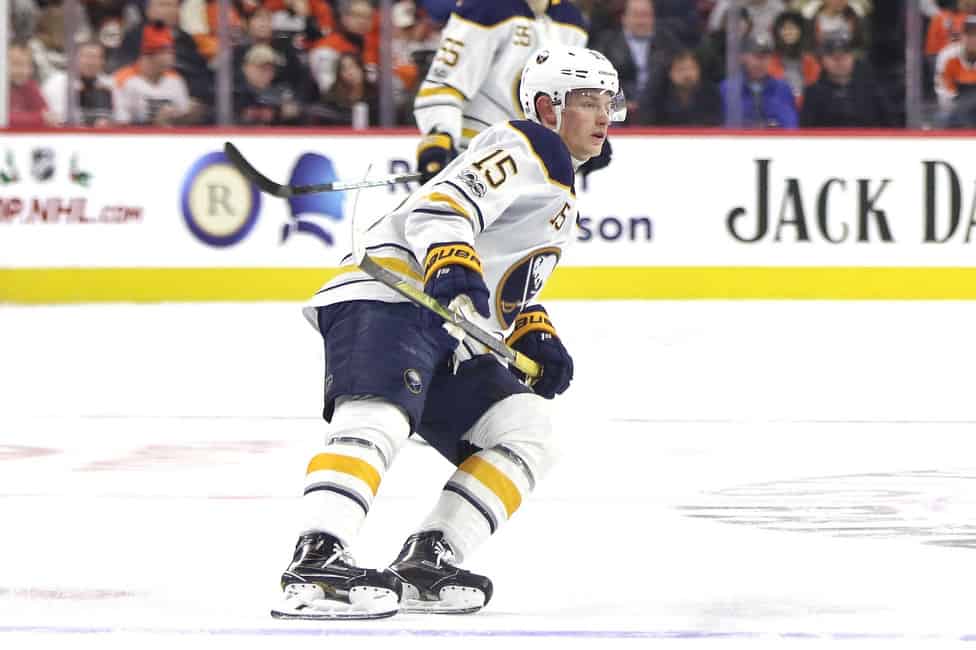 In Eichel's rookie year, 2015-16, Ryan O'Reilly was the Sabres' lone All-Star game representative. While watching the Sabres regression over the last two seasons, it's almost hard to remember that O'Reilly was a near point-producing forward with a killer instinct. This year he's floating without confidence and scoring well under his usual frequency. It's as if someone stole his beast mode.
Last year, Kyle Okposo received the honor to represent the Sabres. Through the first 44 games, he put up 30 points while Jack missed the first 21 games of the season due to an ankle injury.
A December to Remember
Eichel dazzled in December, piling up an impressive 16 points in Buffalo's 13 games. He tallied five multi-point games and did not go pointless in back-to-back games. His success pulled the Sabres with him as the team went 4-5-4 for the month. While four wins in 13 games is nothing to write home about, it was the team's most successful month of the year, earning 12 out of a possible 26 points. Baby steps of progress for the team.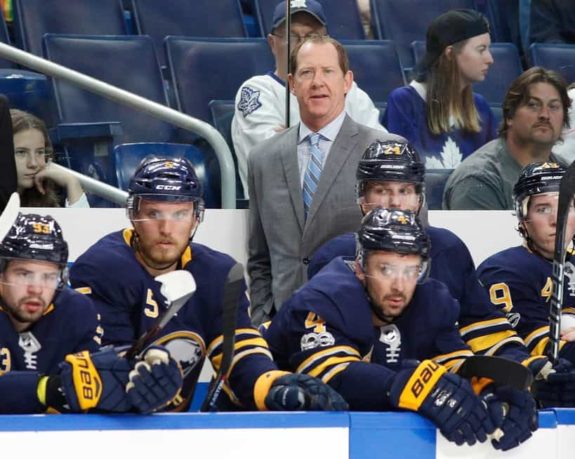 "[Jack's] play away from the puck is getting better," said Sabres coach Phil Housley. "You look at that goal he saved on the power play, where he just put his head down [to catch up to and thwart a breakaway] and you could see how his speed is so valuable to our team
"And when he does get the puck and he's attacking through the neutral zone, he's a very deadly player."
Where He Ranks
Eichel is Buffalo's leading scorer. For the year, the elite center has 39 points, which is tied for 32nd among all NHL players.
His 17 goals are more than Sidney Crosby (15), Connor McDavid (15) and Jonathan Toews (14). His 22 assists are more than Alex Ovechkin (19).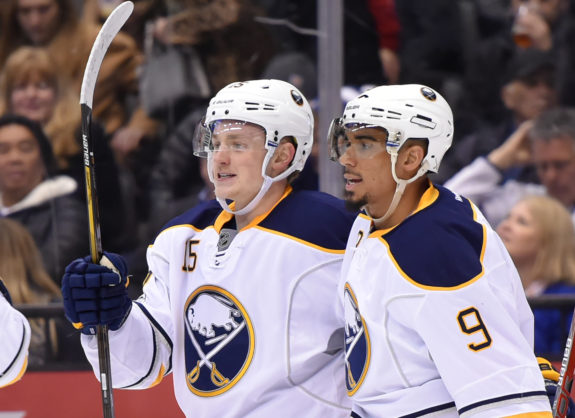 In barely half a season, Eichel is just 16 points shy of the career-high he set in last year's injury-shortened campaign and he's already surpassed his goal output for last year. And he's already matched his career-high for even-strength goals (16), set in 81 games as a rookie in 2015-16.
The 2015 second overall draft pick is finding success on a truly awful team. He has points on 39 of the team's 96 goals (41%) and has been on the ice for 54 of the team's 96 (56%). If that doesn't say team MVP, nothing will.
No. 1 at 5-on-5
Eichel is just one point shy of his career-high for primary points at 5-on-5 (24) set during the 2015-16 season. His 24 primary points — goals and primary assists during five-on-five play — have already tied the mark he set as a rookie in 38 fewer games. They also rank fourth in the NHL behind Tampa Bay's Nikita Kucherov, Colorado's Nathan MacKinnon and Chicago's Patrick Kane.
Eichel notched his first career hat trick on Dec. 15. against the Carolina Hurricanes. He's kicked his scoring up another gear, with nine goals in the past 11 games. This ties him with Boston Bruins' Patrice Bergeron for the most goals in that span. Eichel's 15 points are tied for fourth.
"It's a #JackTrick!" –@dan_dunleavy@JackEichel15 completing his 1st career @NHL hat trick is this month's #ElectrifyingMoment ⚡️, presented by @FreyElectric. pic.twitter.com/S11i345xql

— Buffalo Sabres (@BuffaloSabres) December 30, 2017
All-Star Weekend
The 2018 NHL All-Star Weekend is scheduled for Jan. 27-28 at Amalie Arena in Tampa, Florida. It will feature a three-game tournament, played in a 3-on-3 format. Teams are competing for a $1 million winner-take-all prize pool.
The Atlantic Division team will be coached by Jon Cooper of the Tampa Bay Lightning. Eichel joins forwards Aleksander Barkov (Florida), Nikita Kucherov (Tampa Bay), Brad Marchand (Boston), Auston Matthews (Toronto), and Steven Stamkos (Tampa Bay). Defensemen include Mike Green (Detroit), Victor Hedman (Tampa Bay) and Erik Karlsson (Ottawa). The goalies are Carey Price (Montreal) and Andrei Vasilevskiy (Tampa Bay).
Jeff has been covering the NHL for over a decade for various sites. He's been with The Hockey Writers as a lead Sabres writer three years, while also writing a satire column called "Off the Crossbar."