Despite looking as though their 2017-18 campaign is all but over, there are still those holding out hope the Edmonton Oilers could somehow save their season. Now the chances of that happening seem rather slim but to each his own. With that aside, if we go on the assumption that making the playoffs is no longer a realistic option, what should be this club's focus over the next three months?
Chiarelli tells @Bob_Stauffer the organization is currently in a period of evaluation but one of the things they won't be doing at this time is making a coaching change. Chiarelli says he has full confidence in Todd McLellan. #Oilers

— Oilers Now with Bob Stauffer (@OilersNow) January 8, 2018
Don't get me wrong, this group will and should continue to try to win games with the hope of getting back into the Western Conference playoff picture. What interests me is how they plan on going about it. In other words, what is the best course of action for the Oilers from here on out and what is a realistic ask while keeping an eye on next season?
Oilers Have to Make Quite the Climb
From a goaltending perspective, considering Edmonton will be forced to cough up a fifth-round pick instead of fourth if Al Montoya plays no more than seven games, we will continue to see Cam Talbot carry a heavy workload. In my mind, until Edmonton is ready to "officially" wave the white flag, Talbot should be receiving the vast majority of starts. However, at when that day comes, getting Montoya some work is a must.
With the 32-year old signed for another year at just over $1 million, it is obvious the sixth overall pick in the 2004 NHL Entry Draft will be No. 33's caddy in 2018-19. This makes the second half of the season the ideal spot to get him game action and comfortable playing in front of this D-core. Outside of this coming weekend, the Oilers have six back-to-back sets left on their schedule so he should have little trouble reaching the seven-game threshold.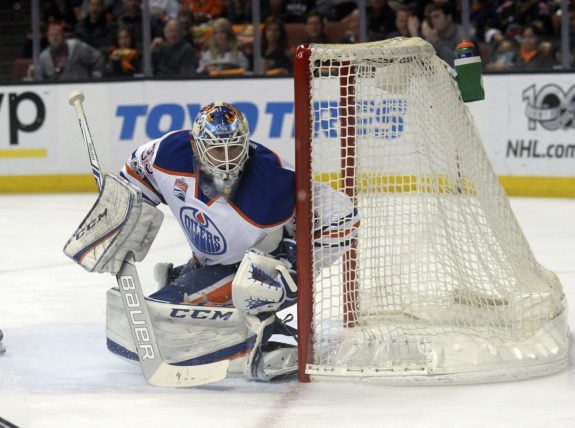 When it comes to the backend, things are not quite so cut and dry. By mid-to-late February, if Edmonton has made little to no gains in the standings, it would be in their best interest to shut Oscar Klefbom down for the remainder of the season. By the sounds of it, there is a possibility his "upper-body" injury may require surgery to fix and should that be the case, the sooner it is dealt with the better.
Injuries Are Part of the Equation
With a banged up Adam Larsson and a still recovering Andrej Sekera also part of the mix, there is no easy fix to what ills this blue-line. However, with Matt Benning, Brandon Davidson, Darnell Nurse and Kris Russell the Oilers have enough depth to get through this season. Also, if need be, the decision to recall Eric Gryba or youngster Keegan Lowe, who has been among the best defencemen in Bakersfield, can be made with ease.
Not exactly the recipe for creating a winning environment at the NHL level but again, this is a matter of doing what is best for the organization today and tomorrow…and brings us to the forwards. It is no secret this team has had trouble scoring since returning from their Christmas hiatus and it has led to Todd McLellan straying away from the three-headed attack down the middle of the ice.
McDavid, RNH and Draisaitl each centering a line for the first time this season. https://t.co/oCS4OlESsc

— Frank Seravalli (@frank_seravalli) November 25, 2017
In a perfect world, continuing down the path of running Connor McDavid, Leon Draisaitl and Ryan Nugent-Hopkins on their own lines would be a best-case scenario. Having said that, there is no issue whatsoever in having McLellan look to other options in hopes of sparking his offence out of their current funk. That is where the head coach currently finds himself and it is not an issue in the short-term.
Forwards Need to Find Their Niche
However, once this club finds some of its offensive mojo, switching back to a three-line attack will serve them best looking towards next season. Chances are Patrick Maroon, Mark Letestu, Anton Slepyshev and possibly even Mike Cammalleri or Ryan Strome will be gone by the Trade Deadline. That will leave plenty of opportunity for the likes of Drake Caggiula and Jujhar Khaira to make their mark and they would be wise to do exactly that.
As of this moment, neither one should be viewed as locks for the 2018-19 roster and if they manage to survive the deadline, this will be their chance to sink or swim. If the plan is to be a part of the restructuring that is all but guaranteed to come in the off-season, it would be in their best interest to find consistency in their game. Be it on special teams or at even strength, not showing up for games on end is a non-starter.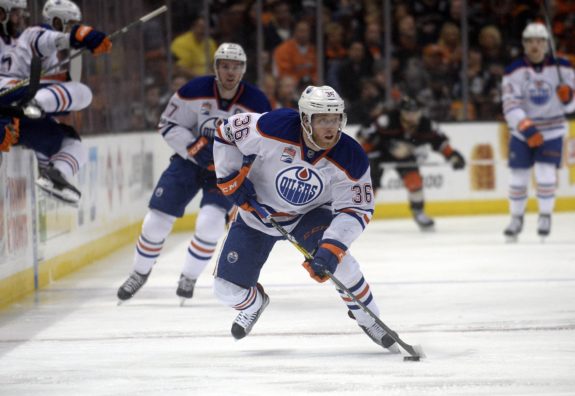 From a tactical standpoint, looking at taking a different approach to their special teams over the final 38-games goes without saying but when it comes to personnel, this should be about it. Nothing overly sexy and unless something falls into their lap, the plan should be to keep things as simple possible. Get to the finish line and look towards the draft/summer in hopes of addressing the obvious flaws with the Edmonton Oilers current roster.
Also available from Rob Soria: