Hockey fans are an interesting bunch. Perhaps it is due to the fact the sport is played at such high speeds and often includes a physical aspect but whenever a team goes through tough a stretch it is almost a guarantee the cry we hear from the masses revolves around an apparent lack of effort from players. Not surprisingly, this has become an all too familiar theme when it comes to the 2017-18 Edmonton Oilers.
i don't know, it's as if a nearly inactive offseason that didn't address this roster's glaring holes has somehow caught up to the oilers. or something.

— Jeff Chapman (@NewWaveOil) January 6, 2018
Quitters, lazy, heartless, gutless, no-shows, unwilling to work are among some of the words we have heard on countless occasions used from frustrated Oilers fans and confused media types when trying to describe Todd McLellan's crew this season. On the surface, it may seem as if said assessment were somewhat reasonable and relatively accurate but in the reality, nothing could be further from the truth.
[Check out our Oilers Page for more stories…]
Oilers Are Like Any Other Team
Hate to be the one to burst the lazy narrative bubble but a lack of effort isn't what ills this year's edition of the Orange and Blue. Not to sound like a broken record but the combination of a poorly constructed roster, things going nowhere near as smoothly as they did in 2016-17 and the realization that they are not as good a club as many thought, including themselves, has hit this group hard.
Though there have been times when they have checked out in one-sided games, the two best examples being their thrashing at the hands of the St. Louis Blues in late November and the embarrassing loss on home-ice against the Winnipeg Jets exactly seven days ago, they have been few and far between. Believe it or not, every team has a handful of those games over the course of an 82-game season and Edmonton is no different.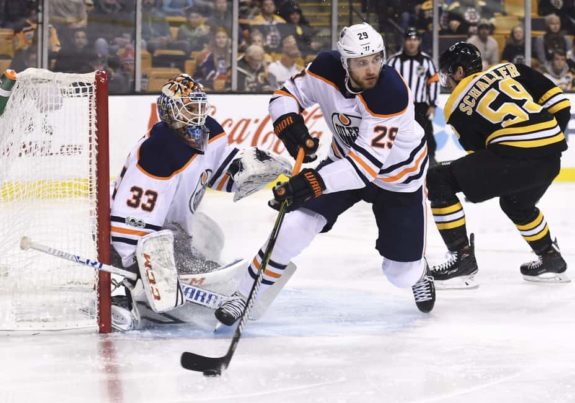 It may not look great when it occurs but is part of the deal. Funny thing is, far too many people don't believe that to be the case and contrary to popular opinion, the vast majority of players actually do care about winning and losing. Hence why we annually see teams go through what the Oilers are this season. This isn't about quitting but rather a group that lost their confidence some time ago and are still searching for answers.
Lack of Confidence Is Far Bigger Concern
Add the unnecessary pressure that was put on their plates with unrealistic expectations, aka Stanley Cup favourite, and it's snowballed out of control. It really is that simple. To make matters worse, the roster isn't as good as it was a season ago, nearly every player has regressed from a performance standpoint and both their special teams have been god awful. In other words, it turned out to be a recipe for disaster.
And yet we continue to hear about how they are no-shows on far too many nights. With all due respect, anyone who just watched the Oilers get torched by the Dallas Stars trio of Jamie Benn, Alexander Radulov, Tyler Seguin and want to suggest it was due to a lack of effort, has lost the wherewithal to watch this team in a rational manner. Instead of focusing on the obvious, many want to point towards a lack of physicality.
"I thought the work ethic was there, but it was just a couple mental mistakes that found the back of the net… Big one tomorrow against Chicago & we'll keep going from there." @cmcdavid97 pic.twitter.com/lnuLwhsn2r

— Edmonton Oilers (@EdmontonOilers) January 6, 2018
Sorry, but what we saw against the Stars had nothing to do with effort and everything to do with one lineup not having the pieces to contain the oppositions best players. Now, some of that is due to guys not being good enough and some of it has to do with others having lost their way. Either way, it had nothing to do with quitting or being outworked. Again, it may not be the most popular of opinions but it doesn't make it any less true.
Edmonton Isn't Good Enough
On a scale of one to ten, this group is a ten on frustration side of the equation. One night they will look as though they are ready to turn the corner and shortly thereafter look headed back in the opposite direction. As painful as it has been to watch, you can bet it has been far worse for the players and coaches inside that dressing room. There is plenty of blame to go around and not easy for anyone to stomach.
Don't think for a second this group didn't read the press clippings coming into the season and wholeheartedly believed to be headed for a special campaign in 2017-18. Unfortunately, it hasn't played out as such and the collective was ill-prepared to deal with failure. Not exactly the greatest of looks on any part of the organization but one that does fall squarely on the shoulders of general manager Peter Chiarelli.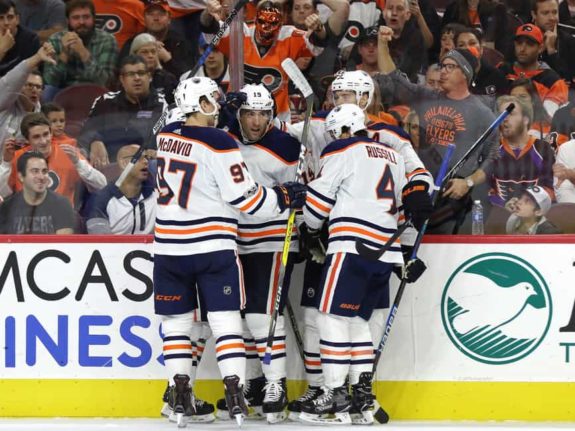 With that said, fans have every right to be disappointed with how this season has played out for the Oilers and are well within their rights to voice their displeasure. However, to make up narratives just to help reason away what has become a wasted season is not only an unreasonable approach to take but one that serves no real purpose.  As tough as all of this may be to digest, acceptance of reality is the way to go.
Simply put, as currently constructed, this team isn't good enough to win on a regular basis in today's NHL and it needs to be addressed. Does that mean all is lost when it comes to the future of the Edmonton Oilers? Of course not but there are many questions that need to be answered moving forward and not a single one of them has anything to do with the effort these players give on a nightly basis and frankly…it never has.
Also available from Rob Soria: 
Connor McDavid: Hockey's Next Great One
Rob Soria is the Author of Connor McDavid: Hockey's Next Great One. He has chronicled the Orange and Blue since creating his Oil Drop blog in 2011 and has also had his writings featured over at HometownHockey.ca and Vavel USA, where he has covered the NHL, MLB and ATP Tour. Rob was born, raised and still resides in Edmonton, Alberta and can be reached via twitter @Oil_Drop.