This Boston Bruins team is the best the NHL has seen in years. From a Stanley Cup-winning team in the prime of their run with two appearances in a span of three seasons to missing the playoffs for two consecutive years, the Bruins have certainly seen their ups and downs in recent years. Still, with a new general manager and head coach in place (the latter of which is experiencing an excellent first full season with the team to date courtesy of remarkable drafting and development from the former), the Bruins look like they're finally back in Stanley Cup contention.
With that, the idea that a team contending for a Stanley Cup needs to fill a few holes and tie up a few loose ends is always present. Whether it be a team in need of a solid third-line center to carry the load when the top-six needs a rest, or perhaps some depth scoring or a defender to top into the top-six, the trade deadline is always full of deals that are meant to help bad teams collect assets rebuild while the good teams push all of their chips into the middle of the table and sacrifice some of their future for the present.
For the 2017-18 Bruins, the latter option doesn't seem to fit the bill. While this team is a legitimate Stanley Cup contender for the first time in five years, they are also one of the most complete teams the Bruins have seen in quite some time.
Bruins' Rolling All Four Lines
When looking at the top line of Patrice Bergeron, Brad Marchand and David Pastrnak, it's clear that the Bruins are hosts to the best line in the league and one of the best lines the league has seen in a very long time. Scoring, 200-foot play, faceoffs, board play, energy, this team simply has it all. It helps that they're all signed to under $20 million combined as well.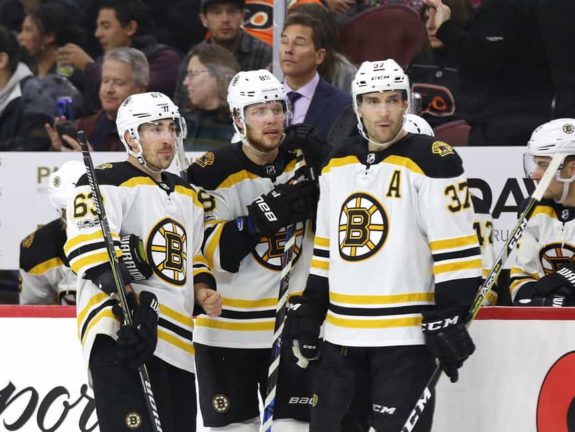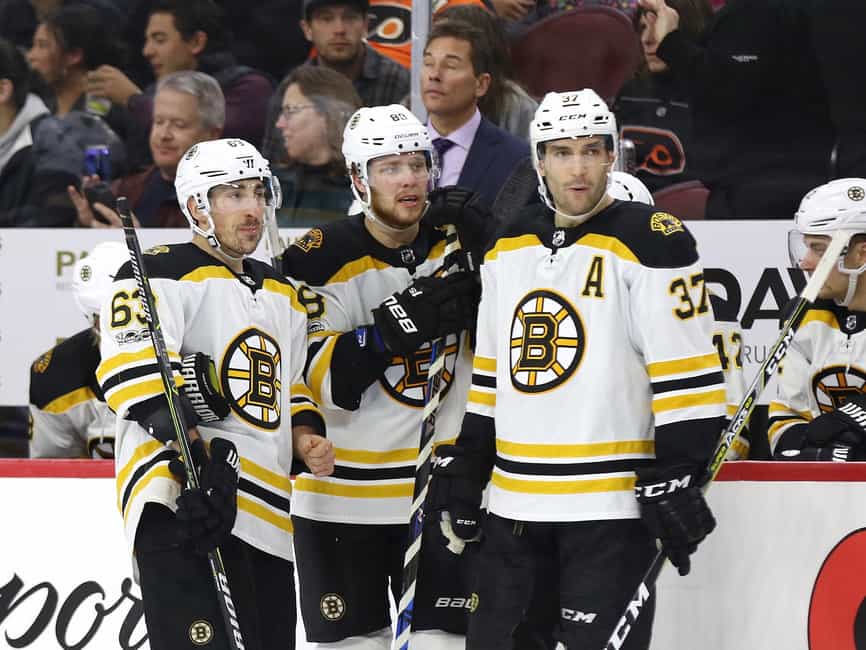 The second-line might have some revolving parts but it seems to be kicking into another gear with David Krejci healthy, a young Jake DeBrusk on his left flank and Ryan Spooner experiencing a breakout campaign following some injuries. Anders Bjork, recently assigned to Providence, has also seen time on that second-line, though he's currently tearing up the AHL and doesn't figure into the immediate plans of a surging Bruins team (notwithstanding their 6-5 overtime loss to the Pittsburgh Penguins). This team is so hot that the action doesn't stop in the top-six either.
Bruins Bottom-Six Better than Expected
The team's third line may be the most unexpected surprise of the year. A rejuvenated David Backes skating alongside Riley Nash and Calder Trophy-candidate rookie Danton Heinen, the Bruins have gotten so much potential from this line that it's been hard to even consider them a third-line at times.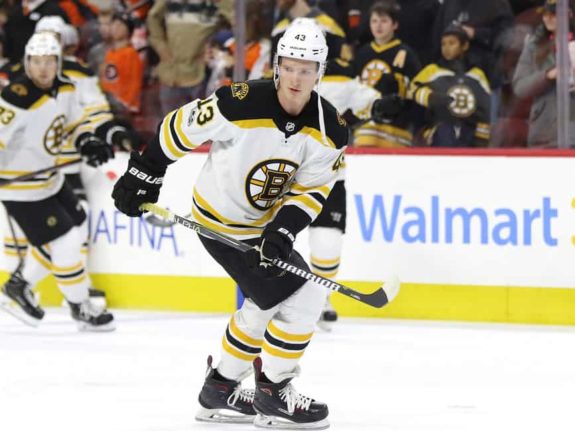 Whether they're the third-line or a defacto second-line with the production they give in various facets of the game, the Bruins are lucky to have them as they've lacked a good third-line in recent years with players like Jimmy Hayes, Frank Vatrano and Matt Beleskey often carrying the load. The Bruins' fourth line looks like a better option than those makeshift-third lines of the past at this point.
This new fourth line may not be the storied Merlot Line, but they have some similar traits that can't be understated. The leadership on the line between Tim Schaller, Sean Kuraly and Noel Acciari is impressive considering two-thirds of the line have combined for only 122 games in the league. By himself, Schaller has played in 134, for reference. Still, the line has taken on a very legitimate leadership role on the team as they've provided energy, depth scoring, toughness and everything in between to help rotate back to the Bruins' top line. The forwards would be nothing without a solid defense though, as the Bruins have learned in recent years.
Defense Making a Statement
When the Bruins started the season with a 40-year-old captain in Zdeno Chara, a 19-year-old rookie in Charlie McAvoy, an offensive-minded defender in Torey Krug, a 20-year-old sophomore who struggled down the stretch last season in Brandon Carlo and two physical defensive-minded players in Adam McQuaid and Kevan Miller in their plans, there was a lot of uncertainty about how well this unit would produce. To make matter worse, that unit didn't start the season together either due to the storm of injuries that plagued the Bruins in the early-goings of the season.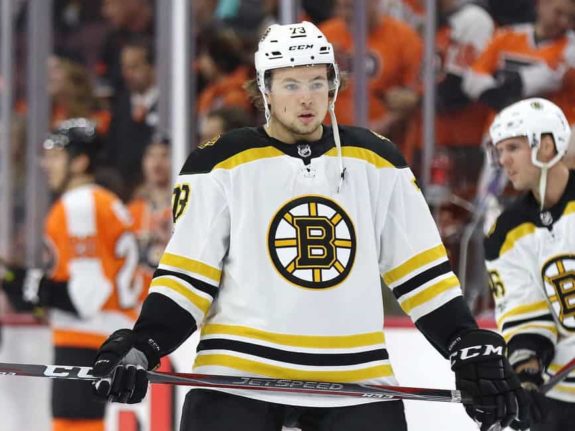 The current blue-line features many of the players mentioned above, though Matt Grzelcyk filled in for McQuaid throughout his injury. Fortunately, Krug is producing offensively, Chara looks like he's a half-decade younger than he is, Carlo is playing a good anchor role alongside Krug and McAvoy has been even better than expected. A funny thing happened when Grzelcyk took over the spot as well; he shined in a way that nobody could have predicted. While many knew he would be a good player from his time at Boston University (alongside McAvoy, no less), there was no way of knowing he would perform so well under the circumstances when given the opportunity.
He's played so well, in fact, that even with McQuaid recovered from injury, the young defenseman has remained int he lineup while McQuaid hasn't yet found his way back into the lineup. It's been a tough situation for McQuaid, who, to his credit, has handled it very well. After all, how could the Bruins mess with a formula that's working? With an 8-0-3 record in their last 11 games, it would be lunacy to break up a winning product. McQuaid will find his way back into the lineup at some point, but that leads to another strength of this team; depth.
Bruins Depth is Unmatched Right Now
As mentioned, McQuaid's spot on the team isn't lost just yet. What's important to remember is that teams don't always have to trade to acquire help. Sometimes, the help comes from within the roster. Depth is an important asset to have for any team looking to make a long playoff run, especially given the grueling nature of the NHL postseason. A player like McQuaid is still more than capable of playing a role on the Bruins, and if an injury should occur between now and the offseason, McQuaid is the next-man-up to fill in a spot.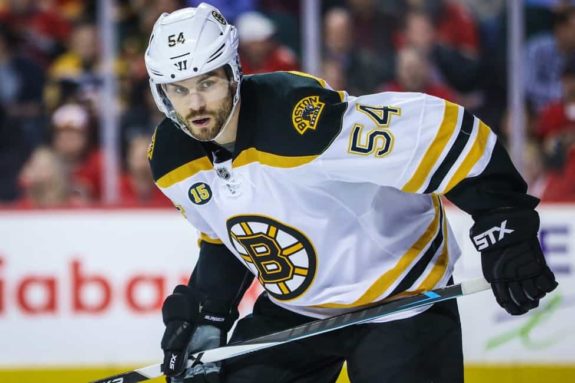 He isn't alone either as the Bruins also have Rob O'Gara and Paul Postma who have played in games at the NHL level this season as well. Neither has looked as good as McQuaid, though their inability to consistently find the lineup might have something to do with that as well. At this point, it's hard to rely on either of those two to be the main depth pieces on the Bruins, but the Bruins should feel confident in McQuaid's ability as the seventh-defenseman rather than looking for help outside the organization, especially with O'Gara and Postma sitting as the eighth and ninth-defenders.
Forward Depth Even More Impressive
Between wingers like Bjork, Peter Cehlarik, Beleskey and Vatrano, the Bruins have enough depth to carry themselves through a deep playoff run. The team proved it when they had injuries early in the season and should continue to prove it as they aim their sights to something bigger than just regular season victories. When it comes down to it, the Bruins are simply too good right now to alter their lineup in any way, and that's what has led to their abundance of depth both at the NHL level and at the  AHL level with even more talent on the way. Jakob Forsbacka Karlsson is another name that could be interesting down the stretch if the Bruins find themselves looking for a spark from another young player.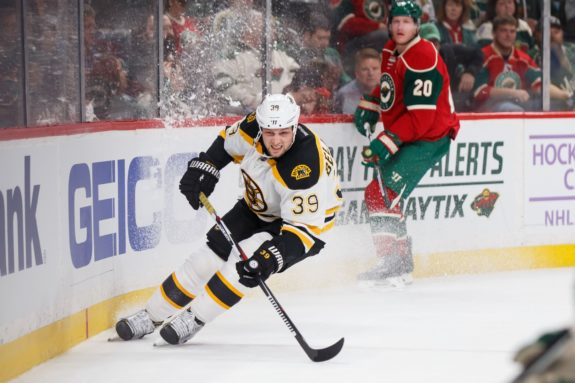 If the Bruins were to add to their roster, somebody would have to sit as a result and that isn't ideal. It's entirely possible the Bruins could add a small piece to complement their depth, but it seems pointless to move assets for a small rental in the grand scheme of things. A major move won't go without a cost either. While there's the obvious cost of prospects, players and draft capital, there's also the cost of a roster spot for a player already in the lineup. With the exception of Ryan Spooner (who has really stepped his game up on the wing as of late), it wouldn't make sense to replace anybody else on the current roster given the production Bruce Cassidy has gotten from his team so far. And that's before even considering the presence in the crease.
Goaltending Playing Elite Hockey
While there may have been some people who were desperate for attention and calling for a goalie controversy in the early goings of the season, all concerns about Tuukka Rask playing at an elite level should be silenced after his stellar month of December. Back in Vezina form and looking to carry the Bruins to another Final appearance, he won't be alone in backstopping the team to wins this time around.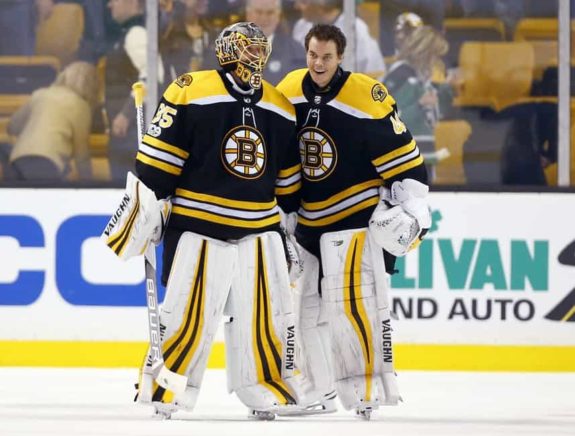 While Rask may have been a workhorse in the past, his workload has been cut down significantly this season due to the re-emergence of Anton Khudobin. There's no reason to believe Khudobin is anything more than a career-backup at this point in his career, but what he does, he does well. When the Bruins need to give Rask a night off, Khudobin is ready, willing and able to step in and help the Bruins earn two points, regardless of the opponent.
It's been an interesting dynamic to watch as the two net-minders have made goaltending fun again – something that, again, the Bruins haven't gotten a chance to see in recent years with shaky blue-lines making the job an absolute nightmare for the goaltender in the crease. It isn't a coincidence that the Bruins had a revolving door at backup for so long with Rask being the only goaltender in town able to record somewhat respectable numbers in that stretch. Now, however, the job isn't quite such a hassle for anybody as everybody is pulling their weight evenly.
Making a trade wouldn't benefit the Bruins are they're currently constructed. While there are certainly places that could be improved, it would be hard to tinker with the product without drastically altering the results. Unless a glaring hole becomes apparent between now and the trade deadline in February, there should be no trade involving the Bruins unless it's a can't-miss deal that Don Sweeney simply cannot refuse.