It didn't take long for Anders Bjork to find his stride in the AHL. After stifling with the Bruins in Boston, the team decided to send him to Providence to better make use of his time. While he wasn't playing negatively in Boston, his play wasn't justifying a spot in the lineup of a team that is too hot to have any weak links in the lineup right now.
It's for that reason that the Bruins decided a stint in the AHL would be better for Bjork than letting him stew in the press box every night. While for some it seemed like a demotion, the reality of the situation is Bjork's assignment to Providence is an opportunity more than anything. One he's currently making the best of.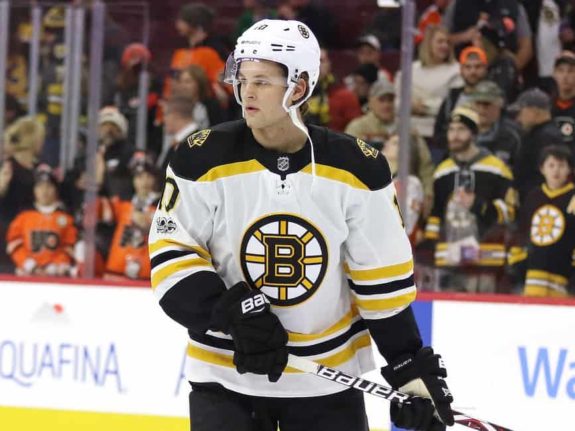 The 21-year-old has played in three games in Providence to date and has already scored two goals and four points, recording at least one point in each game. He has four goals and 12 points in 28 NHL games, for context. While it's a small sample size at the AHL level, it shouldn't be too surprising. With Bjork's tremendous skill and ability to take over a game with his skating and stickhandling, his ability to score consistently at the AHL level makes total sense. While he hasn't been able to produce in such a way at the NHL level yet, it's important to remember that he's still only 21 years old and that he's still adapting to the professional style of hockey after three seasons at Notre Dame.
Anders Bjork & Danton Heinen Have Comparable Journey's to the NHL
Before making the jump to the NHL, many had compared Bjork's translation to that of Danton Heinen's. Though they play a different brand of hockey, the comparisons made sense given their age, their late-round draft status, their excellence in collegiate hockey and their ability to play multiple forward positions. While Heinen may be looking like a Calder Trophy candidate right now, he struggled out the gate in his first eight games last season in Boston. It took time to get him to where he is now, but it's almost impossible to imagine a situation where Heinen ever sees an AHL lineup again barring any injury and need for a rehab stint.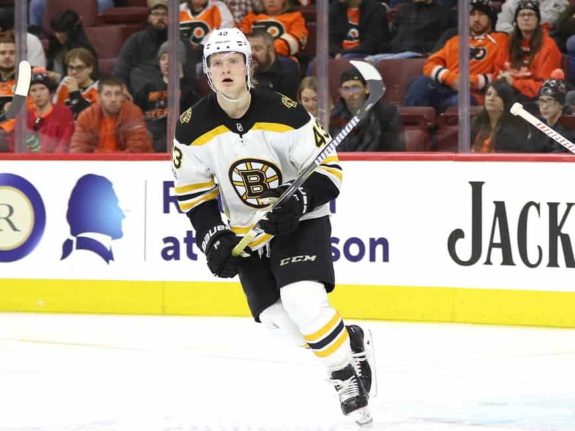 At the same time, it's hard to not draw the conclusion that Bjork is ahead of where Heinen was at this time last season. Already playing in enough games to consider this season his rookie year, Bjork has scored at a rate that would give him just under 12 goals and 35 points over an 82-game season. Those numbers don't jump off the screen for a first-line forward, but they also aren't out of line with rookie numbers for a 21-year-old fresh out of college either.
Related: Danton Heinen Entering Calder Discussion
Bjork Improving Quickly
Bjork looks good when he's on the ice. There's no denying his natural talent either. Still, while playing in the AHL, Bjork is already starting to hammer out some of the bad habits he has that showed at the NHL level at times.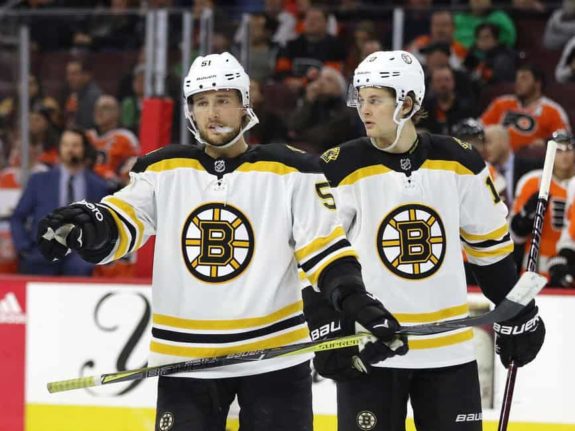 "I do think that he did show some improvement in certain areas," Providence Bruins' head coach Jay Leach said on Bjork's first weekend with the team. "Taking care of pucks and also being aware of where he was on the ice and not putting himself in situations that have hurt him in the past."
When playing in Providence so far, Bjork has simply looked comfortable. He hasn't looked like a player who is dealing with nerves about playing in a new locker room. He certainly hasn't looked like a player who is struggling, hence his assignment to Providence. Instead, he looks like he's getting a chance to have fun playing hockey with a team that's shining in the AHL right now with a team full of players who could be in the NHL right now if Boston wasn't so filled to the brim with young talent already.
It isn't clear how long Bjork will spend in the AHL. The Bruins in Boston are fresh off a 6-5 overtime loss to the Pittsburgh Penguins on Sunday night heading into their bye-week, but the team still 8-0-3 in their last 11. The team has proven time and time again that they can hang in low scoring games, high scoring games and almost always push for an overtime point at the very least.
Related: Will Bruins' Bye Week Cool Down Hot Streak?
Bruins Finding Ways to Earn Points
The Bruins' entered their bye week with points in 30 out of 40 games including 23 wins, good for 53 points and a secure spot in second place in the Atlantic Division. While the Toronto Maple Leafs may only be one point behind Boston in the standings, they have also played three more games than the Bruins and stand to play two more games before the Bruins suit up against the Montreal Canadiens next Saturday.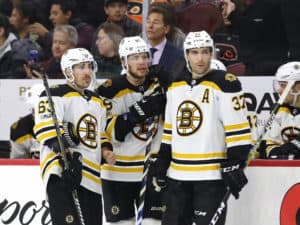 While there's still a lot of hockey left to be played, fans of the Bruins should be happy with the product their currently seeing on the ice. The team is finding ways to be competitive and everybody is buying into head coach Bruce Cassidy's system. It's been a joy to watch after the team missed the postseason for two consecutive seasons before finding their way back in last season after Cassidy took over for former-coach Claude Julien.
The Bruins have a chance this week to recharge and regroup before playing three games against the Montreal Canadiens next week – three of the most important and must-watch games they'll play all season. While the Canadiens aren't looking like a playoff contender this season, they've historically played well against the Bruins. If this team is going to take the next step, they'll need to put the Canadiens in their rearview mirror and that starts with a good series against the team when they meet in mid-January.
Brandon Share-Cohen has covered the NHL and various professional sports for seven years. Working with The Hockey Writers, Brandon works extensively on covering the Boston Bruins in addition to his role as the News Team Lead.