When the Boston Bruins sent Anders Bjork down to Providence of the AHL, it could have very easily been seen as a demotion. In reality, it's a situation where the Bruins are doing too well as a team to focus on helping a struggling young rookie along right now. It's no secret that Bjork has more talent in his pinky finger than most people do in their entire body. Unfortunately, talent doesn't always translate into success – something Bjork became all too familiar with this season.
Bruins assign Anders Bjork to @AHLBruins: https://t.co/bnhX1ZeZFz

— Boston Bruins (@NHLBruins) January 3, 2018
While there have been instances of excellence on display in Bjork's game this season, there have also been shifts that have left a lot to be desired. In his defense, it hasn't been for a lack of trying. Rather, it's been a lack of experience at the professional level that has cost him. While he was able to deke and dangle through his competition in college during his tenure with Notre Dame, it takes more focus and intelligence to do so at the NHL level.
The competition goes from young adults in college to grown men who have played this sport at its top level for a long time. While Bjork could rely upon his skill at Notre Dame, a lesson in how to adapt to the professional game without being stifled is what he needs right now. Hence the "demotion" to Providence.
AHL Provides Bjork a Chance to Dominate the Competition
In Providence, Bjork will get a chance to be a big fish in a small pond. While the competition in the AHL is made up of the "next best" generation of players who aren't quite ready to play in the NHL, there is a stark contrast between the level of competition in the NHL and in the AHL. This bodes well for Bjork who can ultimately benefit from this opportunity the same way Danton Heinen and Jake DeBrusk did before him. If Heinen's journey from the NCAA to the AHL and finally to the NHL Calder discussion has shown anything, it's that a stint in Providence isn't a demotion, but an opportunity.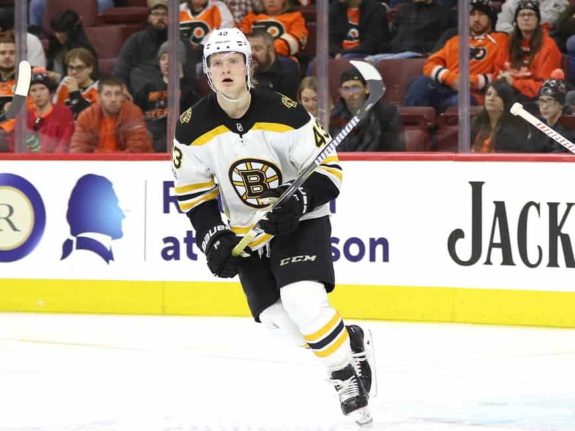 While Danton Heinen may be exceeding expectations this season, his game at the NHL level very closely resembles his game at the University of Denver. That was made possible with an opportunity to develop and translate his skills in the AHL before fully grasping the concept of playing a sound game in the NHL. Bjork wasn't a bad player by any measure when he played in the NHL this season.
He didn't hurt the Bruins in a way that was glaring or obvious with the exception of a few turnovers that are par for the course with young players, especially offensive-minded players. Still, he wasn't able to spread his wings and feel fully comfortable playing his style of game in the NHL while dominating the competition as he did in college.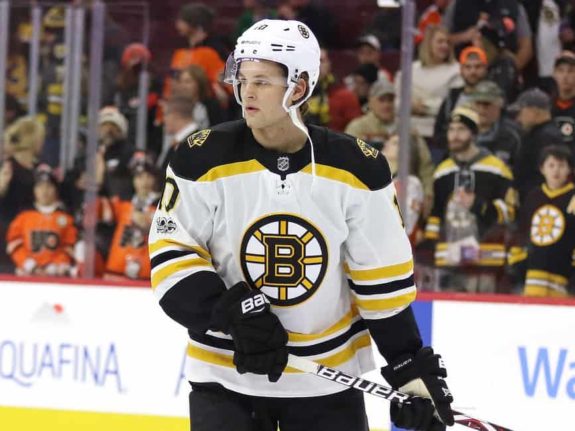 In the AHL, Bjork will have a lot more freedom to do what he wants to do. He'll also be under very capable hands with the Providence coaching staff who won't just let him play without direction. The most important thing for a player's development is guidance. Without proper guidance, a player can fall back into certain habits that aren't beneficial to long-term success. With a good coaching staff, however, Bjork can be helped along as he figures out what works, what doesn't work and what he can make work if he changes up certain parts of his game plan.
Consistency Needed From Bjork
While Bjork did score four goals and seven points in his first 10 games at the NHL level this year, he only scored one goal and five points in the next 18. It was a stint that saw Bjork score his last goal on Dec. 7 while also being held without a point in at least three consecutive contests on four times. It's not unheard of for a rookie to produce in a streaky fashion, but it can also hurt a team and a player in the long-run.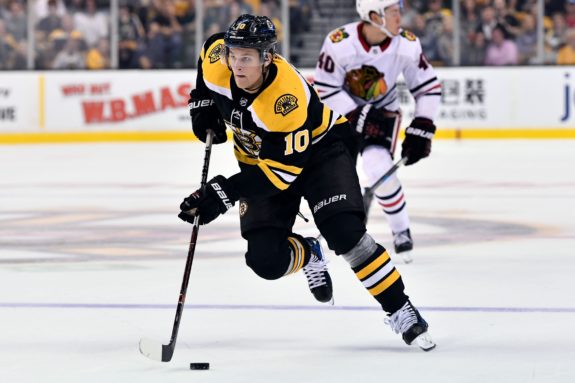 Without Bjork producing in a top-six role, the Bruins would be forced to shuffle their lines to find an offensive answer to their opponents. Additionally, it can really hurt a player's psyche if they're doing all the right things but failing to find the back of the net or the scoresheet in general. Fortunately, the Bruins have been such a good team as of late that players failing to find the scoresheet hasn't really affected them as one player or another has always stepped up.
Still, when it comes down to it, the top-six needs to produce. With that knowledge, it's understandable for a player to fall into a rut while trying to change things up that shouldn't be changed. With Bjork getting his opportunity in Providence now, he'll be able to learn what he needs to correct and what he needs to leave alone as he tries to find his groove. It also won't hurt that producing at the AHL level should be much easier for Bjork given his tremendous instincts and abilities. Finding the back of the net will help his confidence.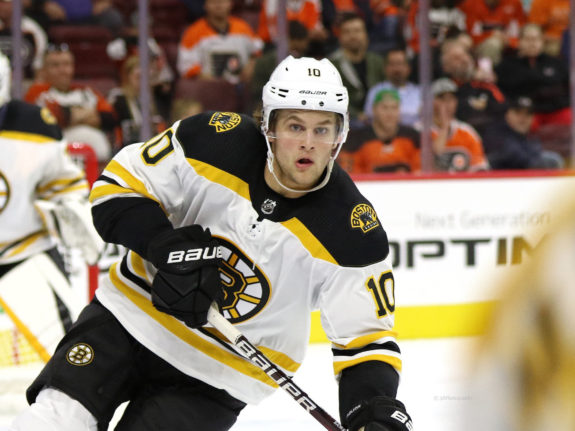 It isn't clear how long he'll remain in the AHL, but whether it lasts a day, a week, a month or the rest of the season, one thing is certain; Bjork has a very bright future at the NHL level and he'll do what he can to find his way back soon. For now, this stint in the AHL is better for him than sitting on the ninth floor at the TD Garden and watching the game while eating popcorn high above the ice.
Brandon Share-Cohen has covered the NHL and various professional sports for seven years. Working with The Hockey Writers, Brandon works extensively on covering the Boston Bruins in addition to his role as the News Team Lead.