One aspect of the World Junior Championships that is always especially enjoyable is the wide array of stars assembled to participate. No matter who wins the gold or gets relegated, every participating team has at least one star. A bell-weathered goaltender who stole a game for his country. The stalwart defender poised to be a top-three selection at the next NHL draft. The forward who sniped one in the last minute of play. There is star power everywhere you look, but only a small handful of these stars can be considered the crème de la crème.
#WorldJuniors Semi-Finals TODAY on @SIRIUSXM

4pm ET – 🇸🇪vs🇺🇸- @SiriusXMNHL Ch. 91
8pm ET – 🇨🇦vs 🇨🇿- @SXMCanadaTalks Ch. 167pic.twitter.com/xyPz5Sf9n9

— SiriusXM NHL Network Radio (@SiriusXMNHL) January 4, 2018
The credentialed media attending the tournament are given a special privilege each year — they are able to decide which players are considered that crème de la crème. With a deadline of the first intermission of the gold medal game, the media are able to cast their ballots for both the All-Star Team selections and the tournament MVP of the 2018 World Junior Championships. THW has been in attendance for each of the games of the tournament. This writer will be placing a vote as well. Here will be THW's selections for both the All-Stars and the overall Most Valuable Player.
Goaltender: Roman Durny, Slovakia
The Slovakian goaltender has seemingly come out of nowhere to be the top goaltender in Buffalo. Very little was known about Roman Durny until his performance at this year's tournament. Playing for HK Orange 20 in the Slovak Extraliga, Durny's numbers this year were a poor indicator of how he would perform in the tournament. In 18 games for Orange 20, he posted a respectable .890 save percentage but had a rather abysmal 4.15 goal against average. If anything, Slovakia's goaltending was considered a weakness heading into this tournament.
Team Slovakia has stunned Team USA 3-2 in a third period thriller at the 2018 IIHF World Junior Championship.

Samuel Bucek scored the GWG on a beautiful individual effort, while Filip Krivosik added the other two Slovak goals.

Roman Durny made 43 saves to earn the win #WJC2018 pic.twitter.com/sZagtbWhXA

— Complete Hockey News (@CompleteHkyNews) December 29, 2017
To the contrary, Durny has been absolutely stellar despite Slovakia losing to Sweden in the quarterfinals. Durny played in all but one of Slovakia's five games. At the completion of the quarterfinals, he led all WJC goaltenders with a .929 SV%. While pulling off the unthinkable and defeating the USA 3-2, Durny stopped 43 of the Americans 45 shots.
While other goaltenders at this tournament may ultimately be more skilled, Durny was the most valuable to his hockey club. After his counterpart David Hrenak was shelled 6-0 by Canada, Durny is the reason Slovakia regained their composure. At times he stood on his head. Because of who Durny faced, how he did it, and his importance to his team, he is our selection for All-Star goaltender.
Honorable mentions: Carter Hart (Canada), Filip Gustavsson (Sweden), Josef Korenar (Czech Republic).
Defense: Conor Timmins, Canada
Canada's Conor Timmins has been the epitome of reliable all tournament long. Through five games he was never once a minus player. In fact, through the quarterfinal round he led all skaters in that category as an astounding plus-12. Five notches higher than any other skater. One could even argue that Timmins deserves some nods for tournament MVP — he has been that sound on defense for his team.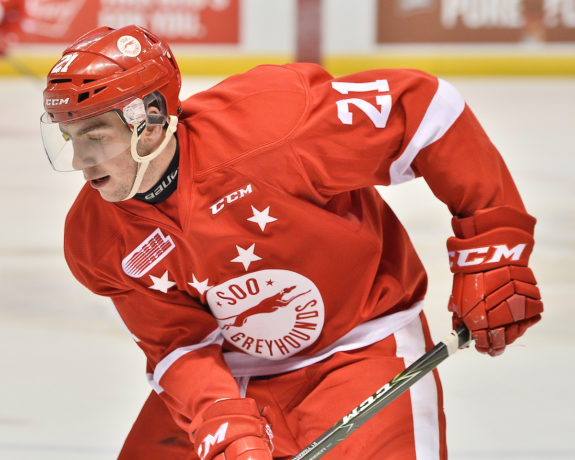 No one would question Timmins' offensive capabilities heading into Buffalo. After all, he has scored 17 goals and 91 assists in 155 OHL games for the Sault Ste. Marie Greyhounds. Across three seasons with the team, his finest outpouring was the 2016-17 season when he had 61 points in 67 games. No, his output on the score sheet was never questioned, but it may have made his true defensive prowess become somewhat overlooked. If anything, Timmins' performance in 2018 further established the Colorado Avalanche's decision to draft him 32nd overall this past summer.
Through five tournament games Timmins has contributed a goal and three assists. That is in addition to what he has done to help Canada to at least one shutout.
Defense: Rasmus Dahlin, Sweden
There should not be any doubts left — if there ever were any — about Rasmus Dahlin being the number one overall selection in the 2018 NHL Draft. As Dahlin has carried the puck in Buffalo, he oftentimes looks remarkably like a Nicklas Lidstrom or even a Chris Pronger without any dirtiness. Every time he was on the ice, the 17-year old exuded confidence. Cool, calm and collected would be understatements in describing him. What a pleasure to watch this young man skate with the puck.
Dahlin's plus-seven trailed only Timmins at this tournament. His six assists through Sweden's first five games were tied for the most of all competitors. Those same six assists tied him for second most among defenders in points with Canada's Cale Makar.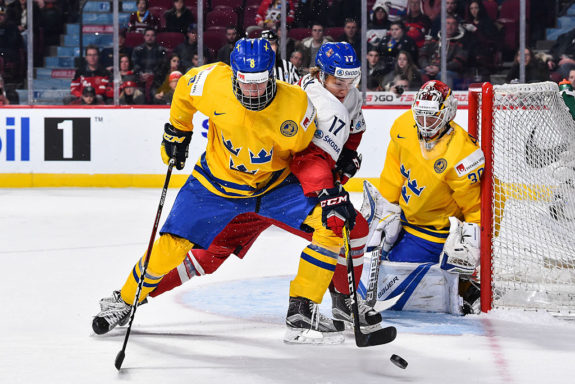 With all due respect to all other players and other teams at the tournament, there has been no better defender at these games than Dahlin. He is very much like a Clydesdale on the ice. You cannot knock Dahlin off of the puck or out-muscle him due to his strength. Yet, he possesses sheer grace and agility to add a true elegance to his game. Dahlin has controlled the ebb and flow of the game for Sweden and their opponents at multiple times. One could even go as far as calling Dahlin a prodigy.
Honorable mentions: Cale Makar (Canada), Adam Fox (USA), Libor Hajek (Czech Republic).
Forward: Casey Mittelstadt, USA
USA's Casey Mittelstadt has ran away with this tournament in more ways than one. He has separated himself from the pack, and has shown that he can be a high-end player in each and every game. Mittelstadt is the present tournament leader in points with four goals and six assists in only five games. At least a couple of Mittelstadt's goals have been highlight reel performances.
The finest game in which he has played thus far may have been the game where he did not score any goals. At the outdoor shootout win against Canada, Mittelstadt had the primary assist on each of the USA's three regulation goals. Plain and simple, he contributes in any way necessary, by any means necessary, in order to get wins for his hockey club.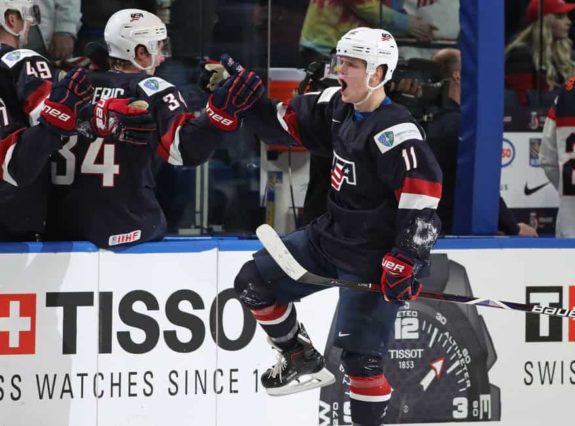 Mittelstadt's plus-seven at the tournament thus far is tied for second best. His shooting percentage of 25% is also quite impressive. Mittelstadt's goal against Slovakia was the most pleasing goal to behold at this tournament. It has been described as "sick" or even "ungodly" as he dangled the puck through the defender, then leaped through the air as he tucked it past Durny. That goal will be remembered for a long time.
The host city of Buffalo is sitting greedily waiting to see Mittelstadt in a Sabres uniform.
Forward: Brady Tkachuk, USA
Brady Tkachuk is the sandpaper of Team USA. Not only has he been rough and gritty, but he is getting the job done. Tkachuk can play any type of game, and he truly showed that at this year's tournament. He is big and mean (on the ice – off the ice he is as kind as can be). Separate from his physicality though, Tkachuk scored and did so with the best of them. Having two goals and five assists through the USA's first five games, he did everything that Coach Bob Motzko has needed of him.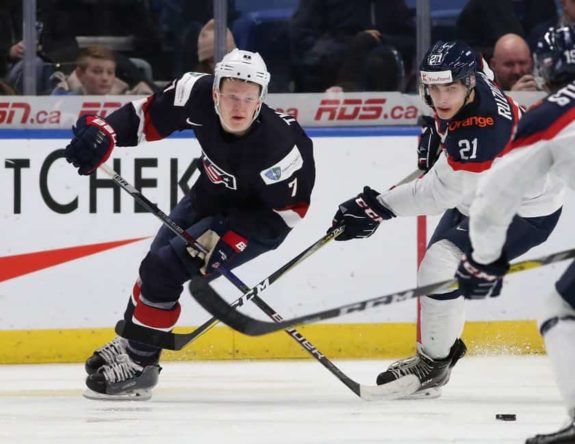 Tkachuk's finest performance at the tournament could very well have been the outdoor game against Canada. There he hit everything that moved, and gave all appearances that there was more than one of him on the ice. Tkachuk scored the game-tying goal for the USA to knot it at 3-3 at the game's 46:43 mark. In the shootout he was also one of only two skaters to score.
If anything, Tkachuk's draft stock rose immensely after this tournament. There is no NHL team that would not be head over heels to have this kid on their roster. While there were an abundance of forwards to choose from, Tkachuk's intangibles combined with his production earn the All-Star vote.
Forward: Lias Andersson, Sweden
Lias Andersson has been a bit unsung at this tournament. He is an elite talent — one could argue that he is the best all around forward we have seen here. Andersson's five goals mean he has averaged a goal per game up through the quarterfinals. He also has an incredible shooting percentage — a whopping 45.45%, as he has only taken 11 shots.
Andersson's six points place him tied for ninth place in tournament scoring. As team captain for Sweden, it has been his underlying leadership and confidence that has gotten his team into the semis. The New York Rangers know what this young man is capable of, and rightly chose him with the seventh overall pick of the 2017 draft. Andersson has played this season in the Swedish Elite League for Frölunda HC. There he has scored seven goals and seven assists in 22 games.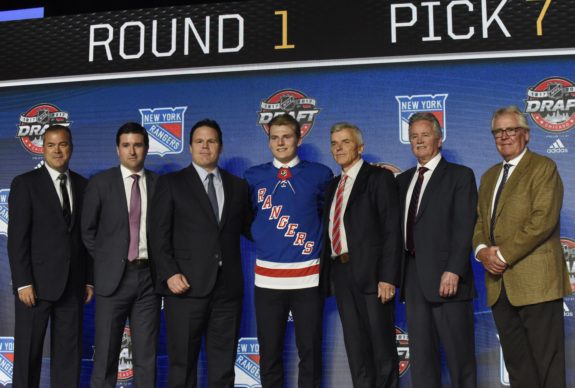 Here in Buffalo Andersson's plus-five has him tied with Tkachuk for the top 15 players at the tourney for that category. In each of Sweden's prelim games of the tournament, he was consistently number one or two among Swedish forwards in ice time.
Andersson's prevailing calm and his timeliness in scoring have made him one of our All-Star selections.
Honorable mentions: Joey Anderson (USA), Klim Kostin (Russia), Samuel Bucek (Slovakia), Kieffer Bellows (USA), Jordan Kyrou (Canada), Martin Necas (Czech Republich).
MVP: Casey Mittelstadt, USA
Is there any real debate that Mittelstadt ought to be named MVP? Not really. It is enjoyable to go through a list of other players worthy of a mention, but no one else truly comes as close.
From the USA's first tournament game against Denmark, Mittelstadt showed he was playing beyond all other players. The poise and the control he has demonstrated all tournament long have shown him as a man among boys at times. There is no questioning Mittelstadt's physical strength and ability any longer.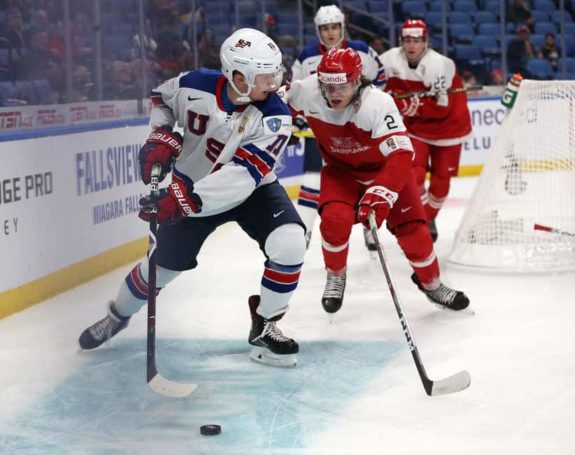 He has also been just plain fun to watch. When Mittelstadt grabs hold of the puck, you move to the edge of your seat. Even those of us in the press box do it. You want to see what this kid is going to do next. It has been a pleasure watching him play at this tournament. Production, composure, timeliness and coming through in the clutch — this is why Mittelstadt receives this writer's vote as tournament MVP.