In a year that has featured a plethora of young players in the Boston Bruins lineup, one player has flown under the radar. While there has been talk around the league about players like David Pastrnak, Charlie McAvoy, Brandon Carlo and even Jake DeBrusk and Anders Bjork, there has been a noticeable absence of Danton Heinen's name.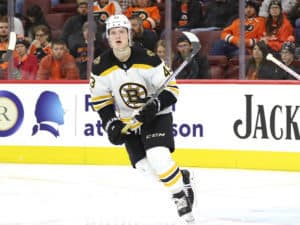 At 22 years old, it can be argued that Heinen has been the very best Bruins' rookie forward in the lineup this season. For those watching the Bruins closely, it's impossible to not acknowledge the talent level of the 22-year-old Langley, British Columbia-native. Scoring eight goals and 21 points in 27 games and earning time on the Bruins power play, Heinen has more than proven his worth to the team, especially in his most recent game.
While Heinen sits in fourth place in Bruins' scoring so far this season with 21 points, behind only Pastrnak (31), Brad Marchand (29) and Patrice Bergeron (22), it's important to note that Heinen has also only played in 27 games this season. To be fair, multiple players in the Bruins lineup and in the top-10 of team scoring have played in roughly 27 games this season with David Krejci being the only player to skate in fewer than 20 while maintaining eighth place on the team with 14 points in 18 games. What's impressive about Heinen, however, is the fact that he's been able to excel at the NHL level despite being bounced around the lineup after starting the year in Providence.
Heinen Shining Everywhere
Looking at Heinen's point totals, it would be easy to assume that he has played a primarily top-six role during his time in Boston this year. The truth of the matter is Heinen hasn't had a set place in the lineup. He's essentially been a swiss-army knife for head coach Bruce Cassidy who has utilized Heinen on all four lines at various points this season. It's been the 6-foot-2 forwards' consistency that has stood out this year above all else, despite the fact that his role has been inconsistent.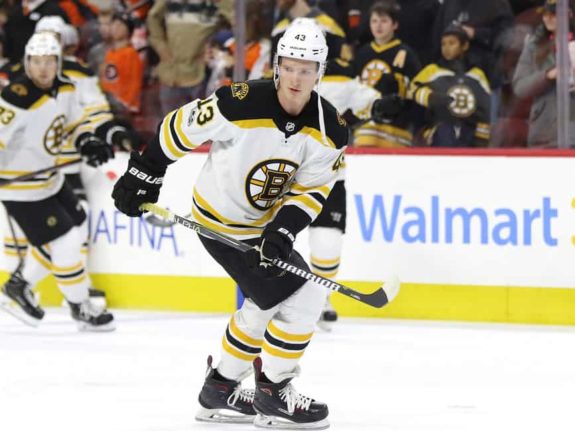 As is often the case in professional sports, attitude is key. While Heinen, like most players, would undoubtedly love to play on one of the two top lines in Boston, his team-first mentality and can-do attitude have allowed the Bruins the versatility that teams covet. Whether he's played alongside Bergeron and Pastrnak with the expectation that he'll score, or in the bottom-six with the expectation that he'll generate energy, Heinen has taken the ice time he's been granted and he's ran with it. It's the little things that Heinen does well that translate to his success and allow him to play in a variety of roles.
There aren't many players in the NHL who can shine while playing on all four lines as the skillset that's necessary for a top-six role doesn't always translate to a bottom-six role and vice-versa. It's an interesting dynamic and its one the Bruins have often employed in recent years with the likes of Marchand, Chris Kelly and even Rich Peverley to an extent all proving they could be plugged in anywhere in the lineup when needed. Riley Nash is another example of a player who has played admirably this season in a top-six role despite his skillset being best reflected in a bottom-six capacity. Heinen has done his part to prove that he can play anywhere in the lineup and make an impact when doing so.
Improvement From Last Season
With a lot of hype surrounding him coming out of the University of Denver, Heinen's first eight games in Boston were forgettable. Not because he played poorly, but rather, he was nearly invisible for much of his time on the team shy of a few nice plays while skating alongside Krejci. Being sent to AHL and laying in 64 games with the Providence Bruins, Heinen found his stride, scoring 14 goals and 44 points in 64 games with a white-hot streak to close out the year. He proved himself in the postseason as well with nine goals and 18 points in 17 playoff contests.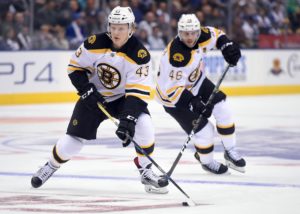 Even at the AHL level, Heinen has proven this year that he was able to catch on much faster than he did in his rookie season. With one goal and eight points in four games in Providence, Heinen showed that he's better than an AHL forward. Given a shot at the NHL due to the series of injuries that hit the Bruins early on this year, it's unlikely that Heinen will be losing his place in the lineup anytime soon regardless of the fact that the team is getting healthier.
Pro-rating point totals is an imperfect science as projections don't take into account the human factor. Numbers don't lie, but when the sample size is as small as it is for Heinen, it's best to take the results with a grain of salt. With that in mind, pro-rating Heinen's statistics to a full 82-game schedule would give him 24 goals, 39 assists and 63 points. If Heinen can continue to develop the way he has already this season, there's no reason to believe he won't receive consistent top-six forward ice-time in the near future.
Brandon Share-Cohen has covered the NHL and various professional sports for seven years. Working with The Hockey Writers, Brandon works extensively on covering the Boston Bruins in addition to his role as the News Team Lead.