In the NHL, teams that cannot regularly infuse their lineup with young talent on cheap, entry-level contracts are dead in the water. Those who are able to do so, though, frequently find themselves atop the NHL mountain at season's end.
The Pittsburgh Penguins were able to bolster their core of pricey, elite talent with stellar play from the likes of Matt Murray, Olli Maatta, Jake Guentzel, Connor Sheary, and Bryan Rust en route to consecutive Stanley Cup titles; the first repeat-champs the league had seen in 20 years. Previously, the Chicago Blackhawks seemed to pluck diamonds from the rough every year, en route to three championships over six seasons.
The Boston Bruins meanwhile, failed to do so. Despite once being neck-and-neck with the aforementioned teams, the organization was unable to maintain that standard of excellence. A vicious string of swings-and-misses at the draft podium, deadline deals which depleted the cupboards as well as the cost of success (players pricing themselves out of town) seemed to push the Bruins off the mountain overnight.
The organization was forced to press the "re-start" button. Twenty-two draft selections were made between 2015 and 2017, including eleven in the first two rounds. This season has seen seven players classified as rookies suit-up for the Black and Gold. Charlie McAvoy, Anders Bjork, Danton Heinen and Jake DeBrusk have shown flashes of their potential while simultaneously contributing in the here and now, helping to prop-up an injury-riddled lineup.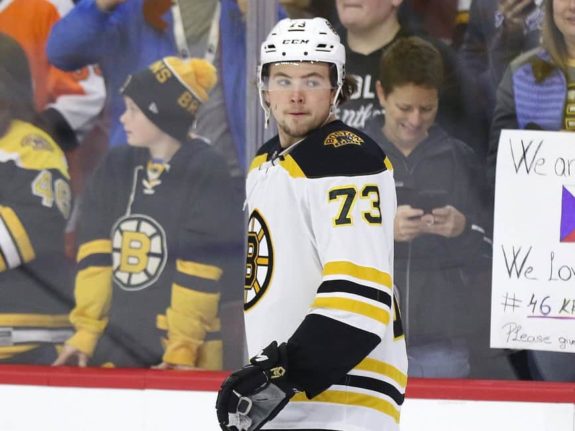 Currently, the Bruins have the 11th youngest roster in the NHL. However, remove resident graybeard Zdeno Chara from the equation and they become the third-youngest team in the league. They could be even younger next season. There are still prospects abounding beyond those currently donning the Spoked-B, some of whom appear to be just as promising as their recent predecessors.
Without further ado, let's see who's on the way.
AHL
Jakob Forsbacka-Karlsson
Affectionately dubbed, "JFK" by the locals, Jakob Forsbacka-Karlsson is off to a solid start for the Baby B's. Drafted 45th overall in 2015, he wrapped-up a sterling two-year career down the road at Boston University last spring. Unable to partake in last season's run to the AHL Eastern Conference Finals because of his one-game cameo in Boston, the Swedish pivot has registered 17 points over his first 24 games this season at the AHL level, good for second on the team.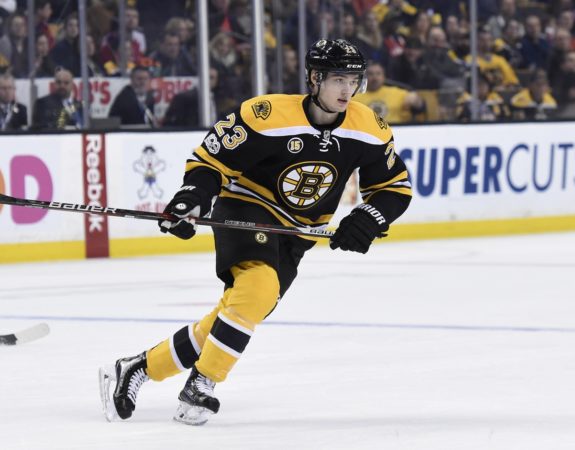 Known for his two-way acumen (which has garnered lofty Patrice Bergeron comparisons), he projects to be a versatile and productive middle-six center in seasons to come. With Ryan Spooner on an expiring contract and seemingly on his last legs as a Bruin, "JFK" is commonly referenced as his heir-apparent on the team's third line.
However, expecting him to slide seamlessly into that role next season may prove to be a tad premature. With the Bruins' third line having been a considerable weak spot for the team in recent memory, handing the reigns over to a player currently working on consistency at the AHL level may not be the best course of action for team or player alike.
However, with Riley Nash and Tim Schaller both playing well on their expiring contracts, it's likely one or both could be pricing themselves out of town.
Falling in love with and overpaying role players like Chris Kelly played a big role in Boston falling off the NHL's map of relevance. With that said, don't be surprised to see Forsbacka-Karlsson centering the fourth line and killing penalties right out of the gate next season.
Zachary Senyshyn
Zachary Senyshyn's reputation and stock watch have been a bit of a roller coaster. At the time of his drafting in 2015, he was considered by many to be a significant reach at 15th overall; the first of Boston's selections with the picks acquired for Dougie Hamilton. Buried on the depth chart as part of a loaded Sault Ste. Marie squad, Senyshyn had apparently still managed to turn heads within the Boston front office.
In the subsequent two seasons, he developed into one of the OHL's preeminent goal scorers, potting 87 biscuits in just 125 games. However, his meteoric rise has hit a bit of a snag this season with Providence.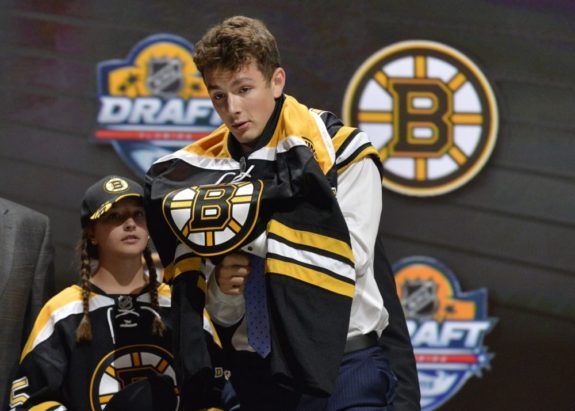 With 11 points over 23 contests, it's not as though Senyshyn is a ghost, or has played poorly. He's a 20-year-old, first-year pro. An adjustment and learning curve is to be expected. The dip in excitement has little to do with his play and virtually everything to do with the play of the two guys drafted right behind him.
Matthew Barzal and Kyle Connor were the more heralded prospects at the time of the draft, but Boston passed on both. Currently, Barzal is averaging roughly a point-per-game with the Islanders (28 points, 29 games), while Connor has recently surged to the tune of 10 goals and 18 points in 24 games.
Missed opportunities? Maybe. But, that's no reason to sour on Senyshyn himself. He possesses a Chris Kreider-like blend of size (six-foot-two, 195 pounds) and speed, with the latter being of the exceptional variety. Furthermore, he has shown at the lower levels he knows how to finish. It's now a matter of learning where to be, and when. When he does learn the pro game…look out. He has the tools to be a special player.
A logjam at wing in Boston will likely see Senyshyn once again buried on a depth chart next season. With ample time to learn the pro game, expect him to spend most of next year in the AHL, with the chance for call-ups here and there. Patience, Grasshopper.
Jakub Zboril
Like Senyshyn, Jakub Zboril's stock has taken a dip due to a player drafted after him. At 13th overall in 2015, the Bruins opted for the Saint John's Sea Dog ahead of Thomas Chabot. With Chabot already enjoying some success in the NHL (six points in 10 games) and Zboril toiling in the AHL, it's easy to forget that virtually everyone (including the legendary Bob McKenzie) had Zboril ranked higher heading into the draft.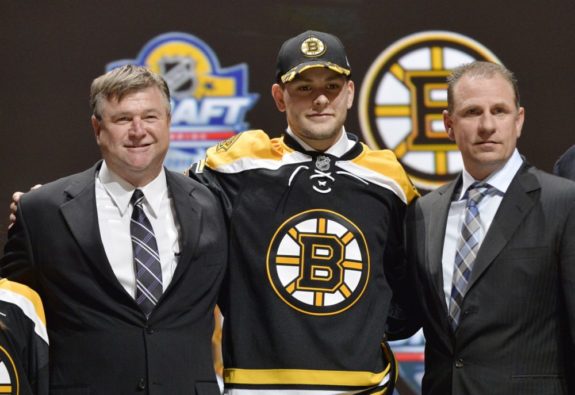 Though the offense has been hard to come by thus far in Providence (three points in 21 games), Zboril still rates as one of the organization's top prospects. He leads all Providence defensemen (by quite a large margin) with his plus-13 rating, showcasing solid shut-down ability at that level. The six-foot, 200 pound Czech possesses several incredibly useful, in-demand traits:
"Has great agility, which he uses effectively to step up on rushing forwards in the neutral zone or to attack defenses with speed. Displays an all-round package that is most appealing to scouts. Owns a big frame. Can hit to hurt, too. His big point shot can also be a factor on the power play."
The right side of Boston's defense appears set for years with Charlie McAvoy and Brandon Carlo. On the left side, things are a little murkier. Zdeno Chara will be 41 at season's end when his contract expires. Torey Krug will have two years remaining on his current deal. The third spot has been a revolving door of call-ups (Matt Grzelcyk), plugs (Paul Postma) and veterans playing their off-wing (Miller).
At least one job will be up for grabs next season, with the potential for two openings. Expect Zboril to be in the thick of things come September.
Jeremy Lauzon
The last player selected with the Dougie Hamilton picks, Jeremy Lauzon is (like Zboril) playing his first season of professional hockey. His two points over 15 games are hardly eye-popping, but Lauzon has a track record and playing style which suggest the points will come in time. He registered 78 points in his last 85 regular season games in the QMJHL, followed by 14 points over his final 13 playoff contests.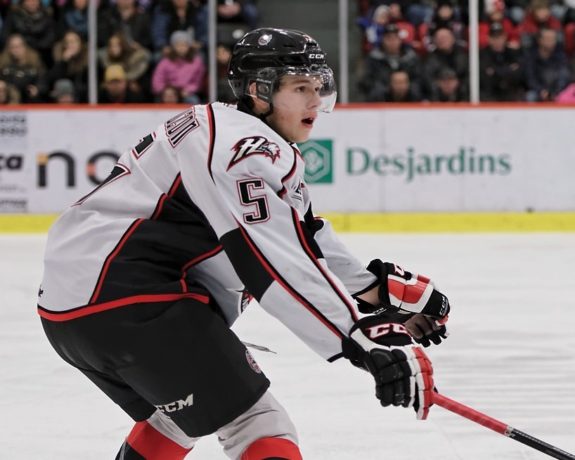 He possesses prototypical size at six-foot-two and 200 pounds, as well as the athleticism and ability to start or join the rush.
On a personal note, I'm a fan. A big one. There's more than a little throwback to his game, in addition to the talent.
"I like to play physical. I love to do some cross-check in front of the net, or something like that. I'm an energy kind of defenseman. With the Bruins I think it will fit pretty well with my style of hockey."

-Lauzon, to Joe Haggerty (NBCSports Boston) on June 28, 2015
A symphony to my ears.
The Bruins have struggled somewhat this season with clearing their crease, keeping their goaltender clean, and preventing second and third chances, especially with Adam McQuaid out of the lineup. How many whacks at Tuukka Rask were various Anaheim Ducks skaters given several weeks ago, with no authority exerted or pushback given by the Bruins defense?
Adding another defenseman who takes pride in his snarl and ownership of his crease is never a bad idea, and now is no exception. Especially if he can play both ways.
Lauzon is still a little raw as it pertains to his reads and coverage, but he will have a full season to work on it in Providence with head coach Jay Leach; a former left-handed defenseman himself.
Jeremy Lauzon figures to be among the suitors for a vacant spot on Boston's left side next Fall.
Jesse Gabrielle
Jesse Gabrielle is a marginally less-heralded component of Boston's future. Selected in the fourth round of Boston's enormous 2015 Draft, his performance grew by leaps and bounds over his final two seasons in the WHL, scoring 40 and 35 goals, respectively.
The scoring acumen was certainly on display as he rounded out his juniors career. His tenacity, on the other hand, was exhibited for his entire career in Western Canada.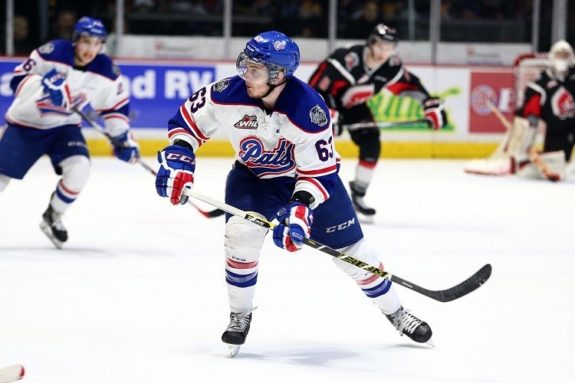 As my colleague and friend Brandon Share-Cohen rightly pointed out, it's his ability and willingness to play a simple game, grind things out and inject some malevolence and physicality into the lineup which could see him land in Boston before he fully rounds out his offense at the pro level.
Typically, the Bruins organization (and numerous others) have shied away from rolling out skilled finesse players for fourth-line duty. It's a big reason why Alexander Khokhlachev never received regular minutes in Boston. However, skilled players capable of simplifying their game as they learn on the fly can crack the lineup in a fourth-line role, much like Brad Marchand did during his first season in 2009-10.
As for Gabrielle's favorite player and exemplar? Brad Marchand.
It's been tough sledding thus far in Providence, as it took 17 games for Gabrielle to finally light the lamp. But, like Liam Neeson, he has a very particular set of skills that scream "Bruins Hockey." He figures to be in the mix for fourth-line/spare forward duty next Fall.
Daniel Vladar
Daniel Vladar is the definition of a raw goaltending prospect. Blessed with phenomenal size (six-foot-five) and athleticism, the name of the game now for him and his coaching staff is to work on his positioning, which will enable him to not only square-up to shooters, but will also greatly aid in his rebound control.
Basically, turning petroleum into rocket fuel.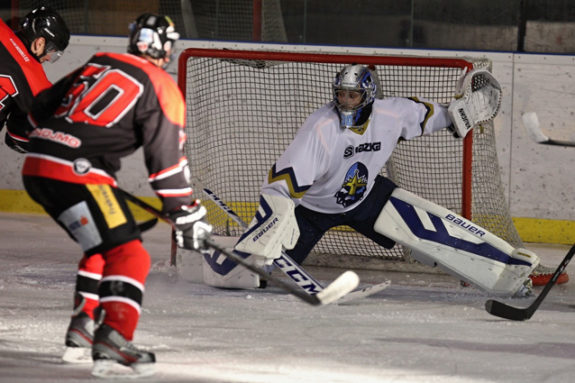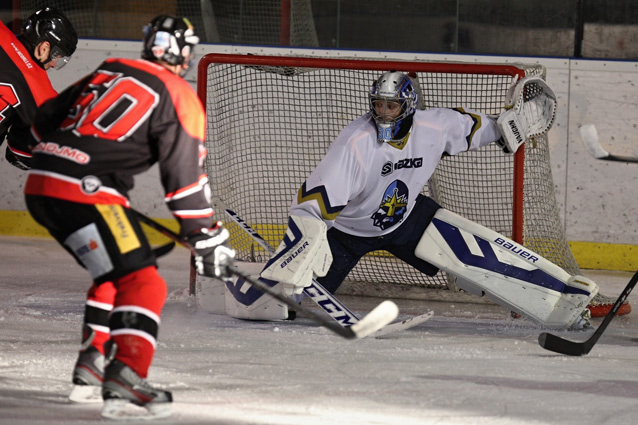 The results have been mixed over his first year-plus of professional hockey. He has been solid across ten appearances with Providence, posting a .927 save percentage while conceding just 20 goals. In the ECHL (which resembles the old WHA in that defense is largely optional) the numbers haven't been quite so kind. Moreover, Vladar was victimized often while backstopping an overmatched Czech Republic squad during last year's World Junior Championship.
Though things have stabilized of late, several weeks of erratic play between the pipes ushered in questions regarding Boston's situation in net, particularly as it pertains to the future. With Tuukka Rask now 30 years old and Anton Khudobin playing on an expiring contract, Boston would greatly benefit from being able to identify their "future" in net.
The 2015 third-round pick hopes to be that guy.
NCAA
Ryan Donato
Do you like legacies? Local boys? How about extremely talented forwards capable of playing center or wing while lighting more lamps than William Murdoch?
(He invented the gas lamp. You don't have to look that one up.)
Of every player on this list, Donato may very well be the most exciting and promising. Yes, he has the bloodlines and pedigree. But what he has accomplished (and is still accomplishing) at Harvard likely exceeds Boston's original expectations when they drafted him 56th overall back in 2014.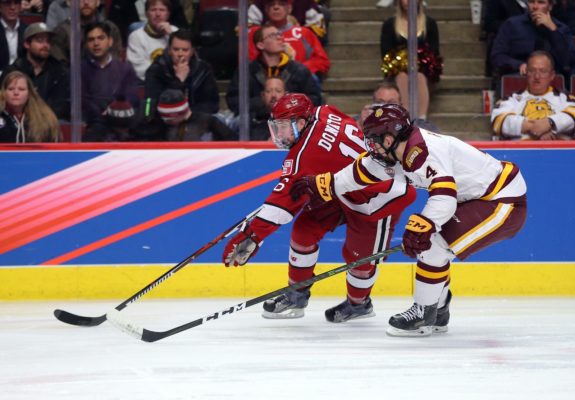 After a post-grad season at the Dexter School, Donato headed to play for his father Ted at Harvard. After a solid showing as a freshman (13 goals in 32 games), Donato erupted for 40 points in 36 games last season. In the process, he helped to lead the Crimson to their first Beanpot Title in 24 years and their first Frozen Four appearance in 23.
His torrid pace has continued into this season, with 15 points over his first 10 games.
He has the slickest pair of mitts on this list, capable of making very good players look like Peewees. He processes the game at an elite level, is a plus-skater, and can score and create with equal aplomb.
The 21-year-old figures to be in the thick of Hobey Baker consideration this season, and is a prime candidate to represent Team USA in the upcoming Winter Olympics.
After that, Donato could very well be next season's Anders Bjork, making the jump straight from college to an NHL top nine.
Trent Frederic
Yet another example of the Bruins front office going off the grid to get their guy.
Boston's much-maligned 29th overall selection in 2016 has since done nothing but make Don Sweeney and his scouting staff look shrewd.
Over his first 51 games with the Wisconsin Badgers, Frederic is averaging nearly a point-per-game, with 23 goals and 26 assists. The six-foot-two, 205-pound center excels in tight spaces, be they in front of the net or in the corners, where he can use his size and strength to bully opponents off the puck. His slick hands enable him to make plays in traffic and he boasts a quick release and heavy shot.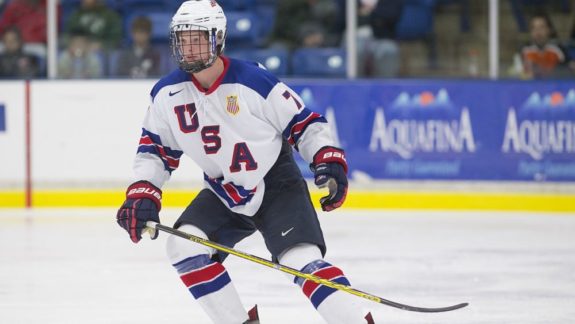 The St. Louis native grew up idolizing former Blues center and current Bruin David Backes – look no further for a player comparison.
Frederic may not have the footspeed to stick at center, but his frame and playing style could see him seamlessly transition to the wing. Bruins fans hoping to get a better look at the power forward will have a chance to do so as he has been invited to compete for a roster spot on Team USA at the WJC later this month.
How long Frederic intends to stay at Wisconsin remains to be seen. With Boston's current logjam at forward, it wouldn't surprise me if he elects to play one more season for Tony Granato's Badgers after this year. As Boston's current youth morphs into their core in the years ahead, Frederic figures to be in the vanguard of the team's next infusion of young talent supplementing that core.
Ryan Lindgren
Every time I have watched Ryan Lindgren play, I've come away with the impression that the Bruins have drafted another Andrew Ference. And I say that with the utmost respect.
All he does in compete. He battles for every puck, every inch, and sometimes even seems to battle just for the hell of it. His powerful frame and low center of gravity at six-feet, 200 pounds enable him to win the vast majority of those battles as well.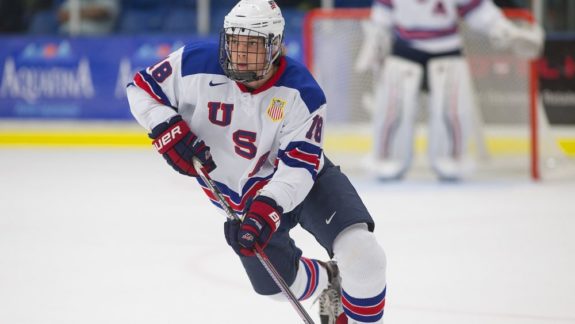 He is definitely a defensively-minded rear guard, focusing largely on keeping things clean in his own end as opposed to regularly looking to jump into a line rush. But the 49th overall pick in 2016 is, in fact, a very strong skater, and makes safe and reliable plays when exiting his own zone. He also has a sneaky-hard shot from the point, something coaches will likely encourage him to utilize more frequently.
Lindgren was chosen to wear the alternate's "A" for his Minnesota Gophers this season as a sophomore – quite the testament to his renowned leadership abilities.
To date, the 19-year-old has 11 points over 52 contests in the NCAA to go along with a cumulative plus-8 and 102 PIM. He was also a trusted, underage member of last year's WJC squad which brought gold back to the USA. He'll be leaned on in an even heavier role this season.
A smooth-skating, defensively-sound, tough-as-nails blueliner with notable leadership traits? Sign me up.
Lindgren, like others on this list, may very well be headed for another season of amateur hockey after this one. But he has "Boston Bruin" written all over him, and possesses the safe game and intangibles to make the jump to the left side of Boston's defense sooner rather than later.
Jeremy Swayman
Back in September, I wrote an article detailing Boston's run of futility over the past 20 years when it came to drafting and developing goaltenders. Nine of the 13 goalies selected by Boston over that time were drafted in the fourth round or later, and those nine netminders have combined to make just eight appearances for Boston (all belonging to Zane McIntyre last season).
It's a trend that may soon change with the emergence of Jeremy Swayman.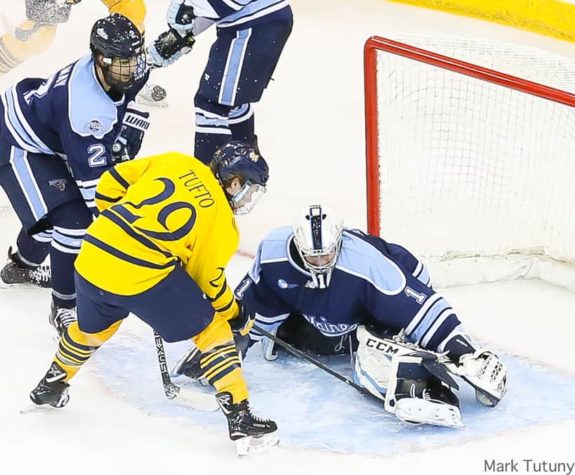 The 111th overall pick in this past year's draft has faced the firing squad nightly as part of an out-gunned Maine Black Bears team and has lived to tell about it. Recently, Swayman registered 95 saves over just two games, enabling his team to steal both contests against a superior Quinnipiac squad.
To give you an idea of how valuable the freshman has been to his team, look no further than this little factoid – in games in which Swayman has started, the Black Bears are 7-3-1. In games in which he hasn't started, they've lost four of five.
The newly-minted 19-year-old is already the backbone of his team, sporting a .927 save percentage. He has a good frame at six-foot-two, and employs an aggressive brand of goaltending; one vaguely reminiscent of Tim Thomas.
He is still a ways away from Boston, but, with the organization's future between the pipes up in the air, Jeremy Swayman's play thus far has been encouraging, to say the least. The Bruins may have finally found their diamond-in-the-rough in net.
CHL
Jack Studnicka
Jack Studnicka's play this past fall during rookie and training camps went a long way toward justifying a last name beginning with "Stud." To the surprise of many, he was one of Boston's standouts prior to preseason getting into full-swing, highlighted by a three-point night against New Jersey's prospects in the final contest of the Bruins' rookie camp.
The six-foot-one, 174-pound center has continued that success with the Oshawa Generals of the OHL, registering 29 points over 32 contests thus far. As could be expected of a Bruins centerman, Studnicka possesses a strong two-way game, and takes a great deal of pride in his defensive zone play.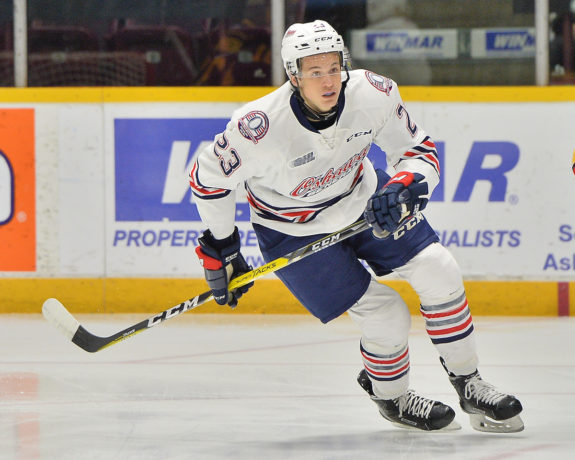 The 53rd overall pick in 2017 is nonetheless capable of cracking the scoresheet in big moments despite that defensive-zone responsibility, as evidenced by his 15 points over 11 playoff games with Oshawa last Spring. He possesses a tremendous first-step and excellent skating abilities to go along with a detail-oriented game and impressive playmaking skills. His face-off abilities warrant commendation. He's an all-situations player.
Providence bench-boss Jay Leach was particularly impressed:
"Very impressive. He made some high-end plays. He's in the right slots. He does a lot of nice things. He's a baby-faced kid. I didn't really know him. But, man, he makes some nice plays."

-Jay Leach (Kevin Paul Dupont, Boston Globe) September 11, 2017
Patrice Bergeron and David Krejci are 32 and 31 years old, respectively. Boston's one-two punch down the middle for the last decade isn't getting any younger, and the time to stock the pipeline is now.
With time to bulk-up and round-out his game, Studnicka has the look of an excellent second or third-line center down the road.
Europe
Urho Vaakanainen
A team can never have too many defensemen. Take a look at the prodigious depth at the position which has enabled the Nashville Predators to not only compete annually but also facilitate trades to address perceived weak spots on the roster – the Kyle Turris trade being the most recent and notable.
As such, it wasn't terribly surprising to see Boston opt for another defenseman at 18th overall in this past year's draft. Though a string of more heralded defensemen came off the board in the four slots leading up to Boston's selection, it wasn't enough for them to alter course.
Urho Vaakanainen wasn't the sexiest pick of 2017 Draft, but he appears to be one of the safest and most reliable. More of a Volvo than a Porsche, the 18-year-old reminds me a lot of Niklas Hjalmarsson. He always seems to be in the right place, making the right play. There are few areas in which his play leaps off the ice, but there are even fewer flaws in his game.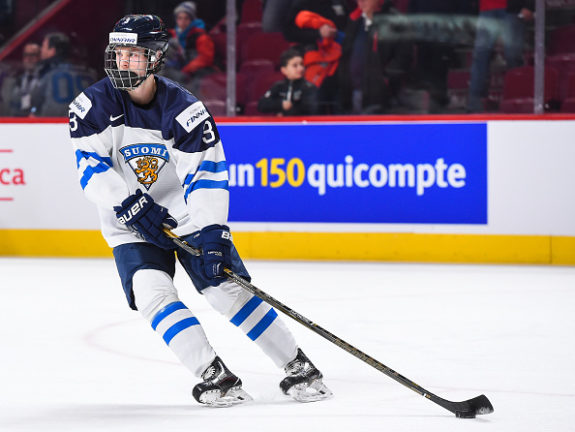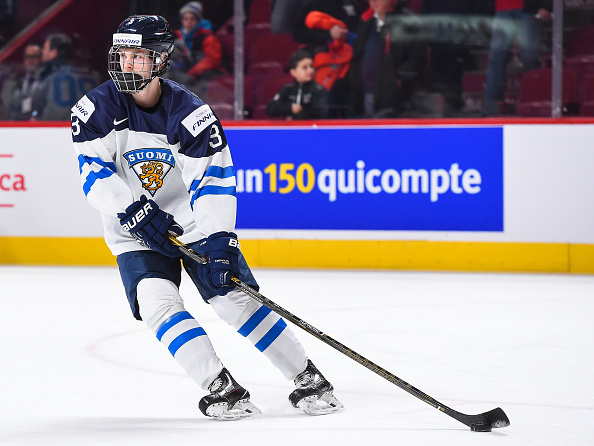 He's a low-maintenance defender, who anticipates and disrupts plays with his high hockey IQ and active stick. High point totals don't appear to be in his future, but Vaakanainen excels at breaking the puck out of his own zone with his smooth-skating and crisp outlet passing. He projects to one day be a tremendous addition to the team's top four and penalty kill. Furthermore, his skill-set appears tailor-made to fit alongside Charlie McAvoy.
Vaakanainen is currently plying his trade with SaiPa Lappeenranta of SM-liiga, Finland's top professional league. The six-foot, 185-pound blueliner has four points and is a plus-8 through 22 games with SaiPa and will be representing his native Finland for the second consecutive year at the upcoming WJC in Buffalo.
With Zdeno Chara's future a bit murky and extensions on the horizon for both Charlie McAvoy and Brandon Carlo, it's possible the team opts to delay his arrival until 2019-20. By then, Torey Krug and Kevan Miller will be in the last year of their contracts, and both Zdeno Chara and Adam McQuaid will have likely moved on.
Until then, Vaakanainen can continue to round out his game while playing against grown men in one of the world's top professional leagues, all while preserving those three precious years of ELC status.
Despite being New England's Son (hailing from the Great State of Connecticut), Joe currently resides in Los Angeles, California. One of his earliest memories is of the Bruins losing in the 1990 Stanley Cup Finals, setting up a lifetime of crushing disappointments. He feels genuine sadness for those without a passion to rival his unwavering love for the greatest game on earth.