Jesse Gabrielle is an interesting player. While there has been a lot of talk during the 2017 NHL offseason about which prospects will make the jump to the Boston Bruins lineup in 2017-18, Gabrielle's name has hardly come up in the discussion. The focus instead has been heavily placed upon players like Anders Bjork, Danton Heinen, Jake DeBrusk, Peter Cehlarik and Jakob Forsbacka-Karlsson, not to mention Charlie McAvoy. While Gabrielle may have been a fourth-round pick only two years ago, it's important to consider the strides he's made since being drafted as well as his skill set.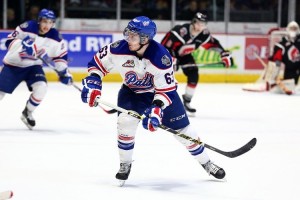 When looking at any of the aforementioned players, it's clear that the Bruins have a plethora of talented young prospects primed to make the jump to the NHL roster sooner than later. Gabrielle, drafted as a grinder in 2015 after scoring 23 goals and 44 points in 66 games split between the Brandon Wheat Kings and Regina Pats, ramped up his production just one season later. Scoring 40 goals and 75 points in 72 games, now with the Prince George Cougars, Gabrielle showed that he can be an impactful player with more than just his grinding ability and tendency to play on the edge.
His offensive output made everybody in the Bruins' organization take notice and it also earned him three games at the AHL level that season. In his brief time with the Providence Bruins, Gabrielle went without a point and recorded two penalty minutes. Despite this, he was able to show the Bruins just where he was in his development.
Back in the WHL the following season, Gabrielle scored 35 goals and 64 points in 61 games and once again proved that he could be more than just an energy player. The ironic part, however, is the fact that it's Gabrielle's ability to be an energy player and a grinder that makes him a candidate to break the Bruins lineup on opening night.
Gabrielle Setting Himself Apart From the Pack
While his offensive production has been better than anybody could have hoped for, Gabrielle has an edge on all of his fellow prospects vying for an NHL job. It's been said many times before of skilled player, but many don't have the skillset that could translate into a bottom-six role. Instead, the dialog is typically grounded in the fact that a skilled prospect needs to play with skilled players to be properly utilized. Gabrielle, on the other hand, is more than capable enough to fill in a bottom-six role for the Bruins while also contributing on the scoresheet.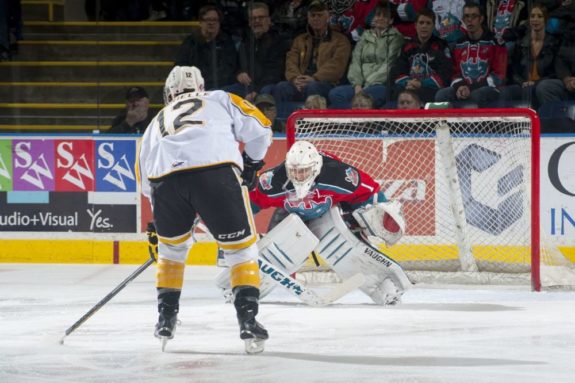 Getting NHL exposure at such a young age could really benefit Gabrielle in his long-term development. He would get the opportunity to be well-acquainted with the rigorous NHL schedule and style of play while not shouldering much expectation as a rookie. Drafted in the fourth round, the expectation was never that Gabrielle would one day blossom into a star. Instead, he went under the radar and was drafted and has since proven that he could be a legitimate NHL player one day if he plays his cards right. If the Saskatchewan-native can learn on the job while making a positive impact as an energy player, he could be better suited to one day take the reigns in a bigger offensive role. It wouldn't be the first time the Bruins pulled off such a trick.
Brad Marchand Started as a Fourth Liner After Jumping Around the QMJHL
Before he was a Hart Trophy-candidate who scored over a point-per-game in the NHL, Marchand was once a fourth-line player for the Boston Bruins. Taken with the 71st pick in the 2006 NHL Entry Draft – after the likes of Phil Kessel and Milan Lucic, Marchand saw himself jumping around the QMJHL before getting an opportunity at the AHL and eventually NHL level. Like Gabrielle, Marchand found himself playing on three different teams at the major-junior level before making the jump to the AHL.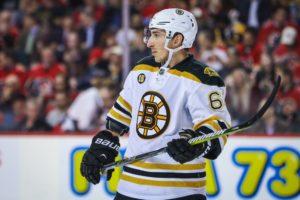 Originally playing with the Moncton Wildcats for two seasons, Marchand put up nine goals and 29 points in 61 points in his rookie season before ramping up that production to 29 goals and 66 points in 68 games in his draft year. Just one year later, Marchand found himself playing with the Val d'Or Foreurs, scoring 33 goals and 80 points in 57 games in his best major-junior season. Keeping up that production in the playoffs, Marchand scored an impressive 16 goals and 40 points in 20 playoff games. Still, Marchand found himself traded in the middle of the 2007-08 season from the Foreurs to the Halifax Mooseheads.
Making His Way as an NHL Player
Looking for stability, Marchand made his mark in the AHL before earning 20 games at the NHL level in 2009-10, scoring one assist and playing in a fourth-line role. Promising then-head coach Claude Julien that he would score over 20 goals if given the opportunity at the NHL level in 2010-11, Marchand made good on his word, scoring 21 goals and 41 points in 77 games before exploding for 11 goals and 19 points in 25 playoff games en-route to a Stanley Cup victory. The rest is history, but it's clear that Marchand has become a major part of the Bruins plans – as evidenced by the eight-year contract extension set to kick in this season.
Gabrielle Has Drawn Comparisons to Brad Marchand
Fortunately for the Bruins, Gabrielle's skillset is comparable to that of Marchand's. Even more, Gabrielle himself has talked about working on modeling his game after the Bruins top point-scorer. If Gabrielle can start his NHL career as a fourth-line player – be it at the start of the season or as an eventual callup, and make his way up to even half the player that Marchand has become, the Bruins will have found a steal in the fourth round in 2015.
With that in mind, the expectations shouldn't be that Gabrielle will eventually be a star. Instead, expectations should be that Gabrielle can make an impact at the NHL level in one way or another. If that happens to be as an energy player throughout his career, that's fine. If it happens to be as a 20-plus goal scorer who can still create energy with each and every shift, that would be fine too. As it stands, Gabrielle's name should be one to keep in mind as training camp and the preseason quickly near.