When the Ottawa Senators signed Johnny Oduya this summer, it seemed like a natural fit.
The team had just lost Marc Methot to the Vegas Golden Knights in the expansion draft and were looking for a veteran to replace him. And, with a blue line chock-full of young players, he seemed like the perfect mentor with two Stanley Cups to his name.
Well, that was July – when the Senators were just a month removed from a near-Stanley Cup Final appearance. Optimism was abound for the 2017-18 season, and no one had actually seen Oduya suit up for the Sens just yet. Five months later, the team and fan base have 25 games with which they can judge him and one thing is abundantly clear: the Johnny Oduya experiment needs to end.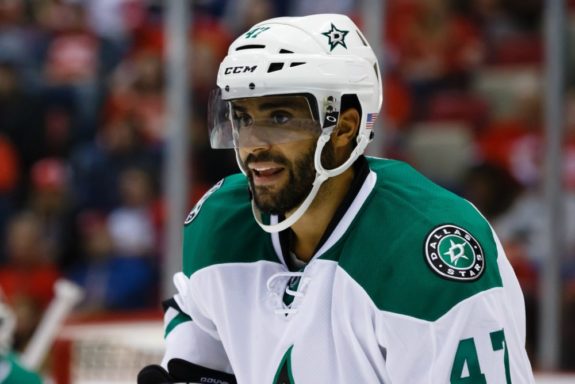 Boucher's Big Gamble
When Pierre Dorion signed Oduya to a one-year contract in July, no one reasonably expected he would see a featured role with the team. Yet, despite being 36 years old and past his prime years, Oduya has consistently seen top-four minutes – even lining up alongside Erik Karlsson at times, creating a horrible mismatch – and ranks fourth in ice time among Senators defencemen.
He's averaged more ice time than the likes of Fredrik Claesson, Thomas Chabot, Ben Harpur and, when he was healthy, Chris Wideman. That wouldn't be such a problem if Oduya's age and weaknesses weren't exposed nightly and each of the aforementioned players wasn't outperforming him in almost every major aspect of the game.
He ranks sixth on the Senators blue line in points and plus-minus (four and minus-four respectively), third in games played (25), third in penalty minutes (18) and third in shorthanded ice time per game (1:55). Fortunately, he has seen just 1:17 of total power play time, so head coach Guy Boucher has at least shown some restraint in how he deploys his aging blueliner.
The coach's reliance on Oduya has been more apparent than ever during the Senators' catastrophic collapse in the standings, during which they've gone 1-9-2 and have been shut out four times. Oduya has played 16 minutes or more eight times, recorded a minus-five (and a 48.47 Corsi For percent), taken 10 minutes in penalties and has just one point.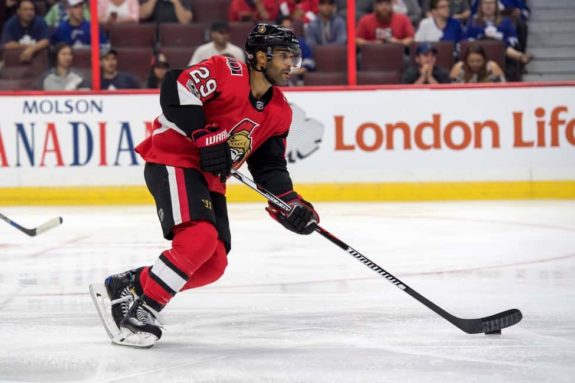 To be fair to Oduya, he alone is not the reason the Sens have one win in their last 12 games – the blame for that rests on the other defencemen, the scorers, the role players, the goalies, the coaches…everyone, really. But he hasn't exactly helped the Sens to turn things around and the fact Boucher continues to call his number is hurting the team and Oduya's teammates.
Oduya Stealing Minutes
As mentioned, Oduya's usage has often times come at the expense of younger players such as Chabot or Harpur, whose ice time is consequently lower. It's unfortunate, too, considering how effective the Senators' young blueliners have been, especially in the case of Chabot who has looked very much at ease during his most recent recall.
In limited action (just 10 games) Chabot has six points, including the first goal of his career in a wild back-and-forth affair against the New York Islanders. Harpur, meanwhile, has just a single point, though his six-foot-six frame lends itself more to an aggressive shutdown role – in which he has had some modest success this season – than it does to a scoring role.
Although it's a moot point now, given his hamstring injury, it was Chris Wideman who appeared to suffer the most from Oduya's presence. Coming off a career-high in games, assists and points last season, Wideman figured to play an important role in the Sens' plans on the blue line, but prior to getting injured he was averaging just 11:33 of ice time despite putting up eight points in 16 games (still third on the team).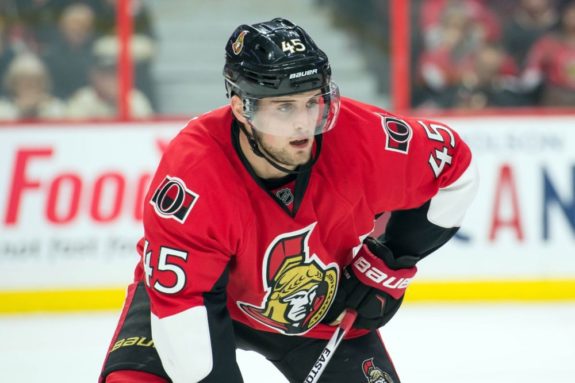 On a roster that includes Karlsson, Chabot, Claesson, Harpur, Dion Phaneuf and Cody Ceci, it's a wonder Oduya has continued to see the ice while Claesson has consistently been the victim of a crowded back-end. Eventually, Boucher will have to wise up to the fact Oduya isn't 28 anymore and either needs to sit a game or two, or needs to play the role of a third pairing defenceman.
Let the Kids Play
The Senators are 14th in the Atlantic Division, 28th in the league, sitting 10 points out of a playoff spot and falling further by the day. At this point, they have nothing to lose – their hopes of making the playoffs at this point appear to be just that, hope, and nothing more – so it would serve the Senators well for Boucher to give some more shifts to Harpur, Claesson, and Chabot.
Barring a fire sale of epic proportions – which, however unlikely, isn't out of the question at this point – the roster shouldn't change much in the next year or two. Not only that, but the aforementioned trio of young d-men will almost surely feature prominently for years to come, so why not give them some extra minutes while the team can still afford to stomach the growing pains?
In the meantime, it's time for Oduya to take a back seat.
Andrew is a sports nerd extraordinaire. He holds an undergraduate degree in journalism, as well as a journalism diploma, and has been in the sports writing biz for the past four years (previously with Hooked on Hockey Magazine and SportsEh). He has experience covering junior hockey and the Women's World Hockey Championships in Ottawa. Feel free to reach him on Twitter @littelitaly93.