Twenty games into the season, the Ottawa Senators are starting to tap into their prospect pool. With Chris Wideman out of the lineup for months with a torn hamstring and Mark Borowiecki sidelined with a concussion, the Sens have called up their top defensive prospect Thomas Chabot to fill out the roster. Chabot is an exciting player, as he proved during last year's World Junior Hockey Championship and throughout the QMJHL playoffs last spring. Chabot has also been playing well in the AHL, as Belleville Senators writer Joel Vanderlaan noted on Twitter.
He has played very well as of late creating offence, and being able to find the score sheet. Looks comfortable in the defensive zone and is definitely finding his game at the professional level. Uses his skating ability to make plays in both zones.

— Joel Vanderlaan (@Joelvanderlaan) November 20, 2017
However, fans who think that Chabot's call-up means that he is here to stay are going to be disappointed by Senators coach Guy Boucher's recent comments.
"We're happy to see Chabot here," Boucher told the media in Washington on Tuesday, "but don't make anything bigger than it is. He's here because Boro (Mark Borowiecki) got hurt or else he wouldn't be here."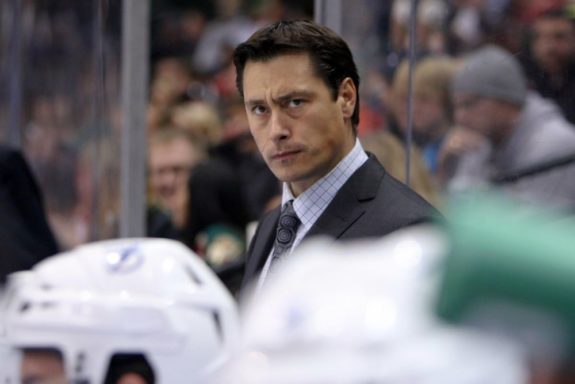 While Boucher added that he is happy to bring in some more mobility to his team's defence, his answer shows that the organization still plans on letting the 20-year-old defenceman master the game at the AHL level before becoming a mainstay on Ottawa's blueline.
This is going to be frustrating for a lot of fans since many believe that Chabot is already one of the best defenders on the Sens roster—and they might have a point. Chabot has managed to register three assists in his first four games with the Senators this season, and could make up for some of the offence the Senators lost when Wideman went down.
The Boucher Way
Chabot doesn't look out of place in an NHL lineup, but with the way the Senators seem to be developing their prospects, he won't become a regular just yet. Over the past season and a quarter, we've gotten a good idea of how Boucher likes to spread out his ice time, and so far he's shown a tendency to trust veteran players with key minutes.
On defence, 36-year-old Johnny Oduya was averaging over five more minutes a game than Chris Wideman. Even though Wideman was on pace for a career year, he was given limited minutes and even had to play forward for a few games.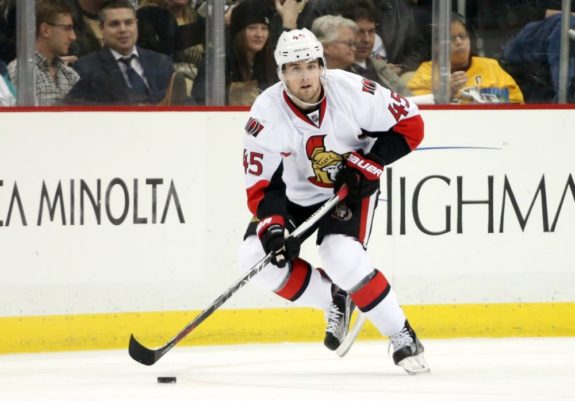 Oduya isn't the only veteran who Boucher puts a lot of faith in. Last year, Tom Pyatt returned to the NHL after two seasons in Switzerland's National League and quickly became one of the coach's most trusted players. Boucher and Pyatt have a history that dates back to 2009, when both were in the AHL with the Hamilton Bulldogs. Boucher also coached Pyatt in Tampa Bay.
Another veteran Boucher coached with the Lightning, Nate Thompson, joined the Senators this offseason and has become a surprisingly important player for the team. The Senators continued the trend of adding players Boucher has previously coached by claiming Gabriel Dumont off waivers this week.
Budget Crunch Is Coming
Boucher is not unlike most NHL coaches in the way he trusts veterans, but giving young players like Chabot and Colin White a role in the lineup is in the best interest of this team going forward. At the end of next season, Sens GM Pierre Dorion is going to have his work cut out for him, as eight contracts are set to expire in 2019.  Among the team's unrestricted free agents that year are captain Erik Karlsson and the team's top two centres, Derick Brassard and Matt Duchene. Unless Dorion can trade other highly paid players like Dion Phaneuf or Bobby Ryan, he is going to have to let some players walk if he wants to re-sign Karlsson, Brassard, and Duchene.
By the start of the 2019-20 season, Chabot will still be on his entry-level contract, and White will likely be on a bridge deal. By then, other highly touted prospects like Logan Brown should also be ready to make the jump to the NHL. It looks like the Senators' plan is to start integrating these players into the lineup next season, but the way Boucher coaches, it's unlikely that they'll get much ice time in their rookie seasons. If Chabot, White, and Brown are given sheltered minutes next year, it's not realistic to ask them to become big contributors the following season.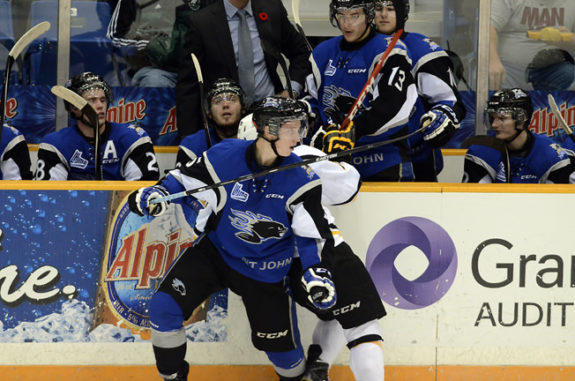 While at least one of them is likely to stay in Ottawa, there is no guarantee that Brassard and Duchene will re-sign with the Senators. If one or both of these players leave town, the Senators are going to need young centremen like White and Brown to play a big role on the team. Brown is still young enough to play in the OHL, but White might be better served by playing with the big club.
If he and Chabot don't get a real chance at the NHL level this year, they'll both be under a tremendous amount of pressure next season to show they're ready to fill the open roster spots that will be there in 2019. Because of this, it only makes sense to give them a shot at the NHL now. The future isn't now for the Senators, but now is definitely the right time to prepare for it.