The NHL is nothing if not chock full of trade rumors and speculation at just about every possible turn. When Elliotte Friedman mentioned that Ottawa Senators' superstar defenseman and captain Erik Karlsson was asked for his no-trade list by the team, however, it opened the door for what could be a swirl of trade rumors for the foreseeable future. When a player like Karlsson is mentioned in any sort of trade capacity, it's easy to start salivating and putting together possible trade fits.
https://twitter.com/FriedgeHNIC/status/939683281154449408
Before getting too far ahead, however, it's important to actually take note of what Friedman said:
There is something in his contract that the Ottawa Senators can request his list of teams that he will not be traded to. There's 10 of them. And there was a lot of rumblings this week that Ottawa did indeed do that. Now Pierre Dorion would not comment. The agent Don Meehan would not comment. And I was kind of stuck here and somebody called me to say look, he was concerned that they're not going to trade him because they were angry.

Whatever happened two weeks ago, I think everyone is trying to move past that. What I do think is happening is Ottawa is struggling, they've got 10 players with no-trade contracts. They're getting all of them – the ones that had to be in earlier and the ones like Karlsson that they could ask for, and they're going to figure out what they're gonna do.

In 2011 when they were 26th in the league, they asked for everybody's no-trade clause, they traded Fisher, Kelly and Alex Kovalev. So, I think they're going to ask for it, or they have asked for it, but I've been told that does not mean 100 percent that Erik Karlsson is going to be traded, it just opens the option. But I still don't think it's likely
So as Friedman mentioned, the Senators asking for a no-trade list from Karlsson doesn't necessarily mean he'll be moved anywhere. In fact, Friedman made it clear that he thinks a deal involving Karlsson is unlikely to happen. If Karlsson does find himself available, however, it's a safe bet to assume that all 30 other teams in the NHL will be calling the Senators to see what it would take to pry the NHL's best blueliner from Canada's capital city.
Karlsson the NHL's Gold Standard
At 27 years old, Karlsson is in the prime of his career. A scary thought when considering the fact that he has already recorded upward of 60 points five times, four of those seasons tallying over 70 points including an impressive 82-point campaign in 2015-16. Karlsson can do it all on the ice.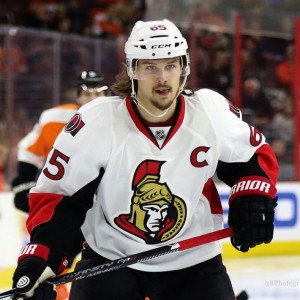 Whether it's playing a tremendous defensive game or moving the puck with his skating and stickwork or with crisp pin-point passing, Karlsson is a superstar among men. Scoring double-digit goals six times in his career, including 20-plus goals twice, Karlsson's ability to draw attention and create space for his teammates while also being able to capitalize on open space for his own shot puts him on a level of his own. With 118 goals and 474 points in 578 games, Karlsson is very clearly a cornerstone player in the NHL.
Any trade involving a player of Karlsson's magnitude would likely cost king's ransom and then some, and it could also be a deterrent for any team looking to acquire him. While he will undoubtedly be worth whatever the return may be, it will be hard for a team to justify parting with high-end prospects and assets to acquire a player who will become a free agent at the end of next season.
Karlsson's Future Part of the Problem
When talking about his next contract, Karlsson was very candid in responding that he deserves to be paid fairly. It was a comment that may have been blown out of proportion, but it was also one that was still worth noting nonetheless given how valuable he is to the Senators and how good of a hockey player he has proven to be year in and year out.
"When I go to market, I'm going to get what I'm worth, and it's going to be no less, no matter where I'm going," Karlsson said a few weeks ago. "That's the business part of it. That's the way every player has been treated ever since this league has started, and I think the players have been a little bit on the other side of things when it comes to negotiations. I think it's time to realize that when we go to the table, it's business on both parts, not just (owners)."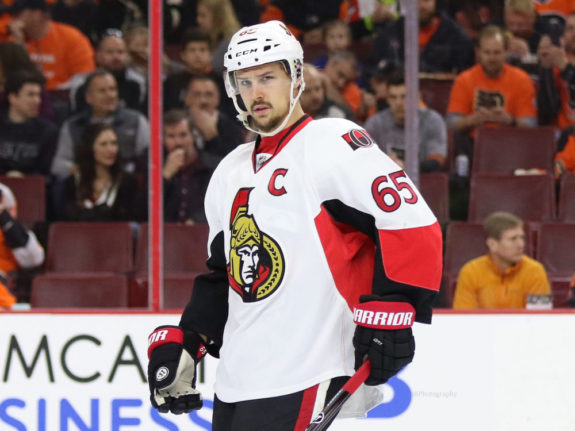 It's fair for a player to demand fair value for their contributions on the ice. It's even fairer when that player is a bonafide superstar like Karlsson who undoubtedly puts people in seats in Ottawa (and would do so no matter where he played). It's also why questioning whether or not Senators' fans should be worried about Karlsson's comments became such a legitimate concern.
It's still early in the season and while it's easy to look at the Senators asking for Karlsson's no-trade list and assuming something will happen, there have been many rumors in the past that have simply died out over time. It's happened before and it will happen again. That still won't stop people from talking about it, however, as it's human nature to want to see fireworks.