The scouting and development of goaltenders is an inexact science. It's so fluid and imperfect that it's more akin to reading tarot cards than the principles of physics. As such, the hockey draft boards of yesteryear are littered with colossal whiffs and diamond-in-the-rough home runs. Basically, an Adam Dunn box score.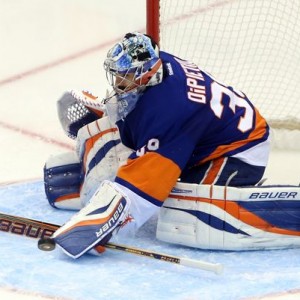 One can go back to the first draft of this century for a prime example of the precariousness of drafting the position. Rick DiPietro was selected first overall by the New York Islanders to be the new backbone of the franchise. A whopping 204 selections later, their in-state rival New York Rangers selected Henrik Lundqvist. Yowzah.
The Boston Bruins have had their fair share of struggles when attempting to draft goaltenders. In recent memory, the high selections have failed to pan out while the lower selections have failed to materialize into a "steal." Accordingly, it's not much of a surprise that the team is increasingly reluctant to spend precious draft capital on the position.
However, in the most recent draft, the Bruins may have missed a golden opportunity to do so. In a draft year classified by the experts and prognosticators as being underwhelming and largely bereft of franchise-altering talent, one of the more exciting goaltender prospects in recent memory was still on the board as the clock changed over to the Bruins.
If there were ever a time and goaltender on which to roll the dice, it was last year with Jake Oettinger.
The Terrific Terrier
As a 17-year-old freshman, Oettinger was handed the starting job at Boston University. He triumphed over a player five years his senior who had already made 27 appearances in the NCAA. Doing so at any school would be quite the achievement. Doing so at a powerhouse like BU is remarkable.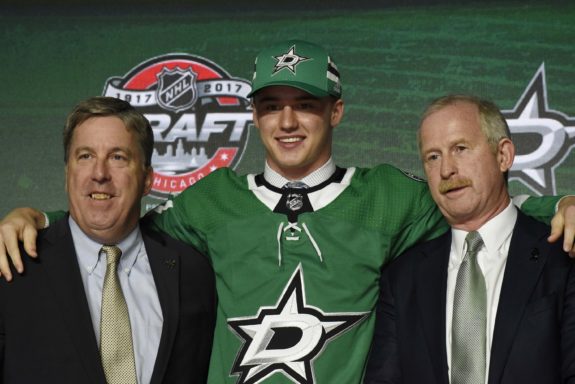 The Minnesota native is unlike most goaltender prospects. Since the advent and popularization of the "butterfly" style, it's typically a goalie's raw athleticism that has scouts drooling. Ability to go post-to-post while covering the net with God-given size more often than not overshadows a lack of refinement or technique. The latter are traits organizations believe will come with time and coaching, whereas athleticism and size cannot be coached.
Oettinger is already a large young man at 6-foot-4 and over 200 pounds. And while he is athletic, it's a trait that seldom requires employment due to his tremendous positioning and technique. He is exceptionally polished for an 18-year-old, a trait which bodes extremely well for his future prospects as an NHL netminder. As if the intangibles weren't enough, he dominated Hockey East with a .927 save percentage and a 2.11 goals-against average.
Moreover, with goaltenders often being categorized as "kooky" (looking at you, Ilya Bryzgalov), coaches rave about Oettinger's composure and demeanor:
His attention to detail is unbelievable. He's always looking to get better. His composure, his demeanor, it's already pro-like.

-BU Head Coach Dan Quinn (Adam Kimmelman, NHL.com), Nov. 2, 2016
The Bruins have a penchant for drafting players with a Boston connection. With Agganis Arena just four miles from TD Garden, the Terriers logging multiple games per year at the Bruins' rink and multiple BU alumni already in Boston's pipeline, Oettinger's inclusion would have had additional (albeit ancillary) benefits.
Draft-Day Indecision?
The selection of Urho Vaakanainen at 18th overall was a bit of a head scratcher. Though Don Sweeney and Cam Neely have established a precedent for going off the board to get their guy, the lack of perceived upside to the Finn's game made the selection relatively anti-climactic.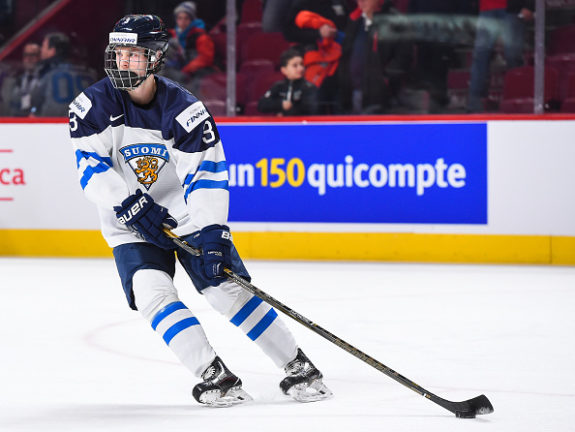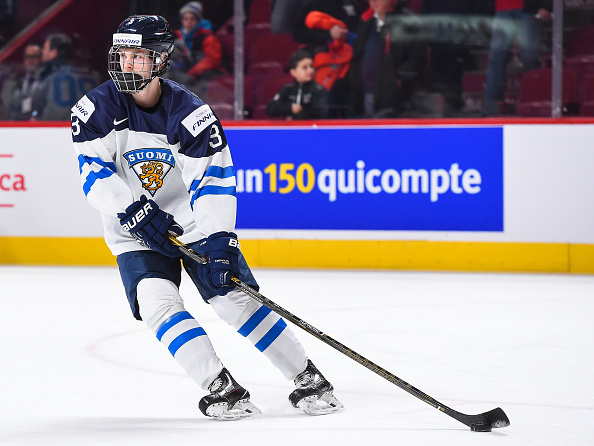 That's not necessarily a bad thing out of a defenseman. He projects to be a steady, solid presence on Boston's second or third-pairing for years to come. However, I believe the run of defensemen up to Boston's draft spot likely played a role in this selection.
With 13 picks in the books, only two defensemen had been selected. The board was still rife with blue-line talent, with Callan Foote, Erik Brannstrom, Juuso Valimaki and Timothy Liljegren all still available. My purely speculative assessment suggests that at this point Boston made up its mind that they were taking a defenseman, only to watch those four go off the board, in order, right up to Boston's pick.
We've all been there in our respective fantasy drafts. We look at our draft spot, identify our targets and our contingency plan, only to see all our options dissipate before our eyes. Now we're on the clock and in scramble mode.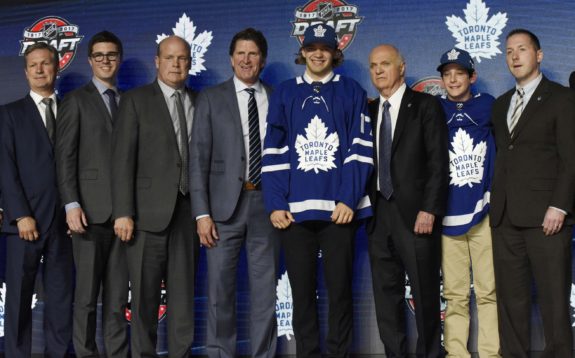 Equating fantasy drafts to their professional counterpart is perhaps a tad disingenuous. However, I find it hard to believe that Vaakanainen was Boston's preference over the aforementioned defensemen, who all carried unanimous first-round grades.
Rather than add to an already impressive stable of young defensemen with the, at best, seventh-ranked rearguard, Boston had a chance to select the best goaltender in the draft. With their pipeline at the position severely lacking, it's hard to classify this is anything but a missed opportunity.
Boston's Lack of Podium Prosperity
Dennis Choukalos. Seamus Kotyk. Matti Kaltiainen. Peter Hamerlik. Mike Brown. Lars Volden. Any of these names ringing any bells?
Since the 1999 NHL Draft, the team has selected 12 goaltenders. To date, those selected have combined for just 48 appearances in the Black & Gold. Hannu Toivonen, the 29th selection in the 2002 NHL Draft, made 38 of those appearances. The most successful Bruins goalie selection in this century has been Michael Hutchinson, who has made 99 NHL appearances to date. However, zero came with the team that drafted him.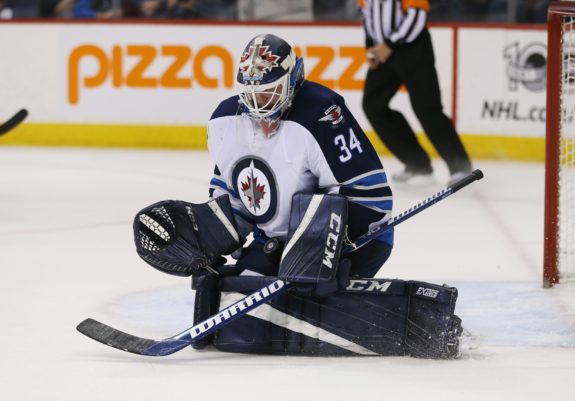 In fact, aside from Andrew Raycroft's anomalous Calder Trophy campaign (which gave way to one of the best trades in Bruins history), one must go all the way back to 1985 to find the last legitimate number-one goaltender selected by the team. That goalie was Bill Ranford, who would go on to capture the 1990 Conn Smythe Trophy with Edmonton, winning the Stanley Cup over…the Boston Bruins.
Though the jury is technically still out on Malcolm Subban and Daniel Vladar, neither has done much to this point to instill confidence in their respective developments. Subban has looked overmatched at the NHL level and pedestrian in the AHL. Vladar, though still just 20 years old, was shelled during last season's World Junior Classic. He was equally unimpressive at the ECHL level. Furthermore, an injury will keep him out of the Prospects Challenge at a time when he could really use the reps.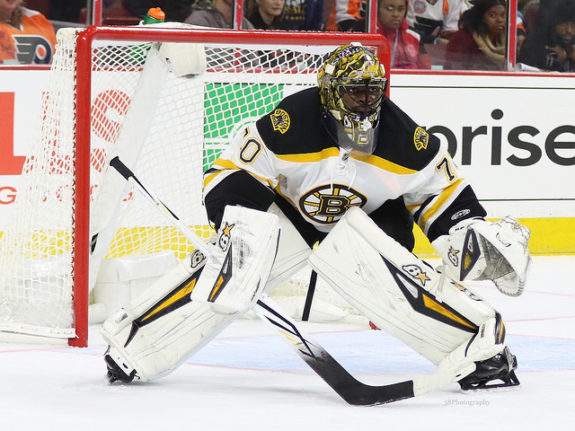 Both goaltenders were selected based on their raw athleticism, and both have, to date, failed to show much refinement to their games.
Too Little, Too Late
A possible explanation for Boston's lack of success drafting goaltenders is WHERE they decide to select them.
In the last 20 years, the Bruins have drafted 13 goaltenders. Nine of those netminders were selected in the fourth round or later. Those nine late-round picks have made just eight appearances in Boston, all belonging to Zane McIntyre last season.
This is not to say that teams can't hit a home run with a late-round selection of a goalie. Henrik Lundqvist, Pekka Rinne and Jaroslav Halak were all selected in the seventh-round or later. But for every Lundqvist there are 1,000 Dennis Choukaloses. For every Tom Brady there are 1,000 Spergon Wynns.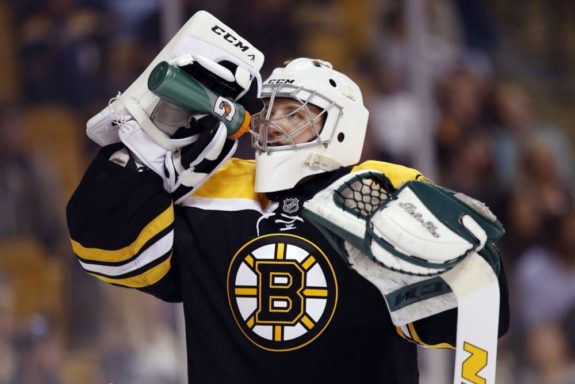 As NHL rosters and depth charts currently stand, 13 of the league's starting netminders and eight of the backups were selected in the first two rounds of their respective drafts. That means that more than 40 percent of the starting goalies in the NHL were top-60 selections. In the last 20 years, Boston has selected a goalie in that range on just two occasions.
The diamond-in-the-rough approach to drafting goaltenders hasn't worked for Boston in decades. This past draft was the perfect opportunity to change their approach.
Goaltender ETA
Just six goaltenders selected since the 2013 NHL Draft have, to this point, appeared in an NHL contest. Of those six, only Juuse Saros has played in more than three games, making 21 of his 22 career appearances last season. The other five (Kristers Gudlevskis, Mackenzie Skapski, Antoine Bibeau, Tristan Jarry and Alex Nedeljkovic) have all received their respective "cup of coffee" call-ups from the same pot, combining for just 9 games played.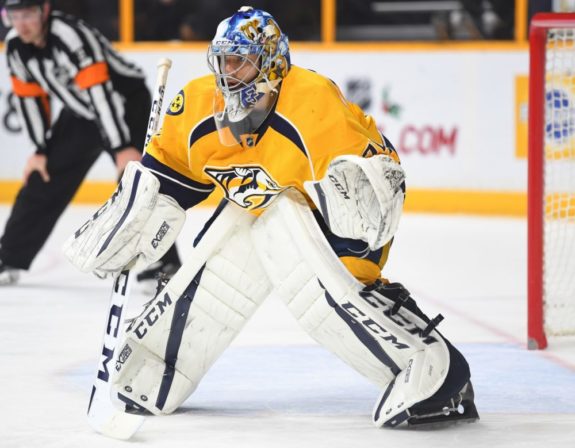 A three-year turnaround from draft year to NHL duty is about the best an organization can hope for. For a goaltender as polished as Oettinger, three to four years seems likely.
Goaltenders can be successful well into their 30s, as evidenced by Tim Thomas's incredible Cup-run at 37 years old. However, 34 is right around the time one typically sees a drop-off in play, as evidenced by Henrik Lundqvist's uncharacteristically pedestrian stats and performance last season. Only five of the league's current starters (Lundqvist, Rinne, Roberto Luongo, Craig Anderson and Mike Smith) are age 34 or older.
Half-Past Tuukka Time?
Tuukka Rask turned 30 last March and has four years left on his current contract; he'll be 34 when his deal expires.
I'm certainly not entrenched within the "Trade Rask" crowd. I think he's criminally underappreciated by Bruins fans who have forgotten what ineptitude between the pipes actually looks like (ask a Flyers fan). But he is now officially on the "wrong" side of 30, and the time is now to plan for the future. His contract will expire right around the time Oettinger theoretically comes of age, potentially allowing the Bruins to seamlessly transition to their goalie of the future.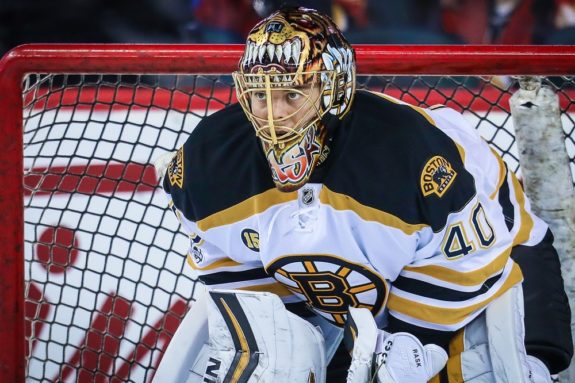 Furthermore, the team's current youth movement will give way to numerous bridge and long-term extensions in the coming years. Having a blue-chip stud like Oettinger knocking on the door could enable the Bruins to move Rask's $7 million cap hit in three years (his final contract year) as a means to free up funds for Boston's bevy of players just now beginning their entry-level contracts.
With all due respect to Zane McIntyre, the Bruins currently do not appear to have their heir apparent in house. And considering the amount of luck required to have struck gold in free agency with Tim Thomas while simultaneously fleecing Toronto in the Rask trade…I find it difficult to believe that same level of luck will come Boston's way a third consecutive time.
A Missed Opportunity
It's possible that Jake Oettinger one day has more in common with Hannu Toivonen than Tuukka Rask. As previously mentioned, the scouting and development of goaltenders is imprecise at best.
However, the raw talent, intangibles, technique, refinement and track record, all at such a young age, suggest that he has as solid a chance as any to develop into a legitimate number-one netminder.
Drafting at 18th overall in a weak class, Boston had an opportunity to select a player with franchise-altering talent at a position of need. They refrained from doing so, opting instead for the safe play at an already-deep position group.
Maybe Urho Vaakanainen becomes the next Kimmo Timonen, and you can hold this article against me for all time. As of today, in my opinion, passing on Jake Oettinger at 18th overall will come back to haunt the Bruins.