In the world of modern sports, a team built with good cap hits is the key to sustained success. If a team can get a good player signed up to a reasonable cap hit on a long-term deal, they can then spend their remaining money on other good players with reasonable cap hits on long-term deals. Still, it's a give-and-take situation. Every team wants to save money and get the best deal possible, the best contract possible. Every player wants to earn the most money while also getting the opportunity to be paid as much as they possibly can over the course of their career. Often times, the two sides will compromise on a deal that is favorable to both sides, but there are occasions when players will sign solid team-friendly contracts that are well market value.
A few things can go into a deal like that. In some cases, a player will sign a contract and have a breakout year at some point during the deal, boosting the value of the contract altogether. In other cases, a player can sign a prove-it deal with a team after a down-year – for the purpose of this list, however, one-year contracts won't be included. With that in mind, deals that originally spanned longer than one year and that will expire following the 2017-18 season could be featured in this list in special situations. For the purpose of finding the true best contracts in the league, entry-level deals will also be omitted as they would make this entire list if they were permitted.
Something important to note is that the list is in no specific order. There were many players who were considered for this list, and while it's subjective and impossible to prove one way or another, it's still a fun exercise nonetheless. Without further delay, here are the nine best NHL contracts.
Max Pacioretty
Few players in the NHL are as consistent as Max Pacioretty. Scoring at least 30 goals and 60 points in five consecutive full-seasons (not including the 2012-13 lockout shortened season when he scored 15 goals and 39 points in 44 games), the Canadiens' captain has made his mark as one of the best goal scorers in the game today. While his name may not always be mentioned among the upper echelon of goal scorers in the NHL, make no mistake about it – Pacioretty is a star.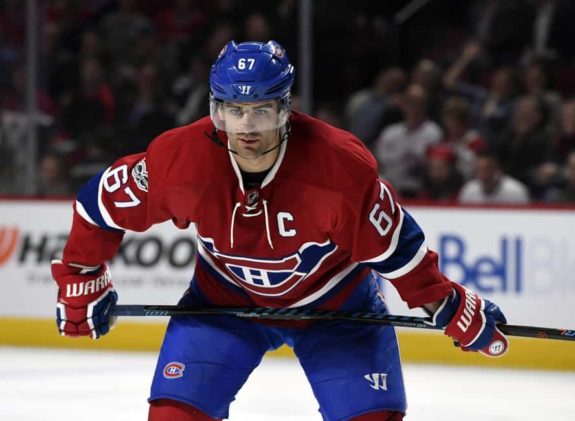 With two years remaining on a six-year contract worth $27 million, Pacioretty is set to earn $4.5 million in each of the next two seasons. It's simply mind boggling to imagine someone as good and consistent as Pacioretty making so far below market value, but it's also a testament to general manager Mark Bergevin for locking up his top forward to such a team-friendly long-term deal early in his career rather than paying him upwards of $6 million or $7 million dollars per season following a short-term bridge deal. Pacioretty will be eligible to sign an extension next offseason and he'll likely be the team's top priority in 2018. Well, him and a top center to help feed him the puck.
Roman Josi
On a blue line that features the likes of P.K. Subban, Mattias Ekholm and Ryan Ellis, it's impressive that Roman Josi still stands out as the clear No. 1 on the Nashville Predators. One of the best defensive corps in the NHL is highlighted by the27-year-old Josi who still has another three years remaining on a seven-year, $28 million deal that comes with a $4 million annual cap hit. It's one of the best contracts in the league for one of the very best players in the league – a testament to the job Dave Poile has done in Nashville for years in terms of emphasis on defense.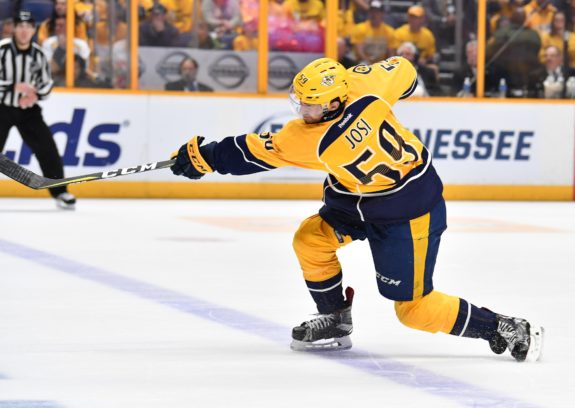 A tremendously talented two-way blueliner, Josi doesn't only make an impact in his own zone, but he's also made a name for himself as one of the most consistent goal- and point-scoring blueliners active today. Scoring double digit goals and at least 40 points in each of the last four seasons – including 14 goals and a career-high 61 points in 2015-16, Josi is no stranger to offensive contributions.
Eric Staal
When Eric Staal broke into the NHL, he made an impact almost immediately. Though he only scored 11 goals and 31 points in 81 games in his rookie season, a year at the AHL level (due to the 2005 lockout) in which he scored 26 goals and 77 points in 77 games was enough to prepare him for his best season to date in 2005-06. Scoring 45 goals and 100 points in 82 games while adding nine goals and 28 points in 25 playoff games, Staal became a Stanley Cup Champion at the ripe age of just 22 years old.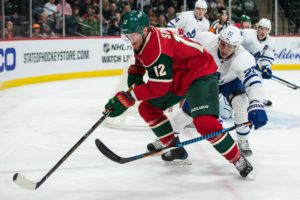 Scoring at least 20 goals in each season from 2005-06 until 2014-15 (not including the lockout-shortened season when he scored an impressive 18 goals and 53 points in 48 games), including two seasons of 40-plus goals and three 30-plus goal seasons, Staal made a name for himself as one of the best for over a decade.
Still, a down year in 2015-16 that saw Staal score just 13 goals and 39 points in 83 games split between the Carolina Hurricanes and New York Rangers meant that the Thunder Bay-native wasn't likely to see a contract in the neighborhood of the $8.25 million per season deal he was coming off of over the last seven seasons. Instead, Staal signed with the Minnesota Wild ahead of the 2016-17 season that would pay him $3.5 million per season for three years for a grand total of $10.5 million and a modified no-trade clause. Showing that his one down season was the exception and not the rule, Scoring 28 goals and 65 points in his first season in the State of Hockey, Staal's signing paid immediate dividends for the Wild – though they still fell short of their ultimate goal, losing in just five games in the playoffs.
Matt Murray
Matt Murray is 23 years old. He's also a two-time Stanley Cup Champion, winning both as a starter while still being classified as a rookie. Those pieces of trivia alone make Murray a very intriguing player in the NHL. When considering the fact that Murray is under contract for the next three seasons at the very reasonable cap hit of $3.75 million per year – all paid in base salary with no performance bonuses or signing bonuses due as well as the lack of a no-trade or no-movement clause, Murray's contract looks more and more like one of the best in the league.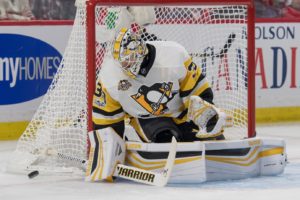 Now that the Marc-Andre Fleury-era is over in Pittsburgh with the veteran netminder being selected in the Expansion Draft by the Vegas Golden Knights, Murray is the undisputed starter for the repeat Stanley Cup Champion Penguins in 2017-18. Paying a franchise netminder below $4 million per season for the next three seasons while looking to continue their dominance atop the league, the Penguins are in as good a situation as it gets with Murray in the fray.
With a record of 41-12-5, a goals against average of 2.32 and a save percentage of .925 in his first 62 games (across two seasons), Murray looks like the real deal. It's his playoff performances that really earn him a spot on this list, however. A 22-9 record with an astounding 1.95 goals against average and a .928 save percentage in 32 career playoff games, the Thunder Bay-native should be one of the biggest bargains in the league over the next three years.
Paul Byron
Once the 13th forward on the Calgary Flames, Paul Byron was picked up by the Montreal Canadiens off of waivers on the day prior to the start of the 2015-16 season. At the time, the move looked like nothing more than a minor pickup for a player who would likely fill in a fourth-line role and provide depth in case of injury. Scoring 11 goals and 18 points in 62 games in his first season in Montreal, Byron showed that he could chip in some goals while also changing the game with his tremendous speed. Still, Byron was seen as nothing more than a fourth-line player, though he quickly became a fan-favorite due to his compete level.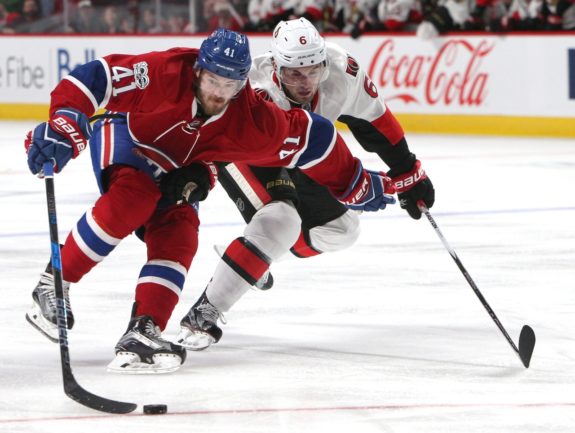 Signing a three-year contract extension that would come with a cap hit of just over $1.1 million, Byron exploded for 22 goals and 43 points in 81 games with the Habs en route to a first-place finish in the Atlantic Division. Showing that he could be a huge contributor on the penalty kill with his speed, Byron showed that his value can't be measured by simply referring to him as a fourth-line player. While he'll always have the skillset of a bottom-six forward, his role on the team isn't defined by his spot in the lineup.
Nikita Kucherov
One of the very best players in the entire NHL, Nikita Kucherov's contract jumps out as one of the biggest steals and best deals in the entire NHL. Working his magic as he's done so many times before, Tampa Bay Lightning general manager Steve Yzerman managed to sign the Russian winger to a three-year contract with a cap hit of $4.76 million.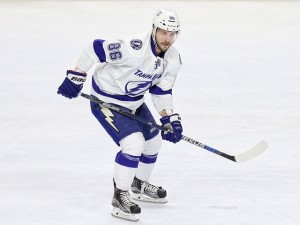 In 2014-15, Kucherov scored 28 goals and 64 points in 82 games while also notching 10 goals and 22 points in 26 playoff games that season. Scoring 30 goals and 66 points in 77 games the following season with an additional 11 goals and 19 points in 17 postseason contests, Kucherov was due for a significant pay day. Instead, he and Yzerman agreed to a bridge deal that would pay the superstar forward $14.3 million over three seasons. Proving that he was worth every penny and more of that bridge deal, Kucherov exploded once again, posting career-highs in goals (40), assists (45) and points (85) in just 74 games played in the 2016-17 season.
Entering the 2017-18 season, the Lightning figure to be one of the best teams in the Atlantic Division and could claim their stake as one of the best teams in the league with Kucherov leading the charge.
John Tavares
As mentioned, it would take a special situation for a player with only one-year remaining on their contract for it to be included on this list. Is there any player more underpaid in the entire NHL than John Tavares? Entering the final year of his six-year, $33 million deal that pays him $5.5 million per season (which is tied for the 100th highest in the league), Tavares is in line for a huge pay day.  Set to play the 2017-18 season at 27 years old, Tavares is just entering the prime years of his career. A scary fact when considering the fact that the Islanders' captain has scored at least 24 goals and 54 points in each full season since his rookie year (not including the lockout-shortened 2012-13 season when he scored a ridiculous 28 goals and 47 points in 48 games). Leaving out his rookie season, Tavares has scored at least 66 points in each season he's played to date while scoring 70 points once and over 80 points twice.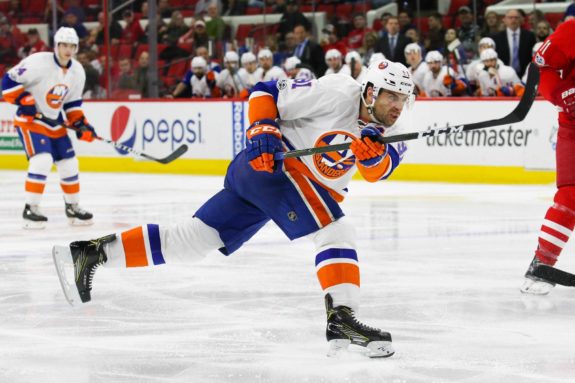 While he may not get the support he needs in terms of linemates with the Islanders, the Mississauga-native has made the best of his time in the NHL since being drafted with the 1st overall pick in 2009. Whether he re-signs with the Islanders or tests the market on July 1 next offseason, there's no doubt that Tavares will be paid one of the richest contracts in the history of the NHL in the near future. Tavares has expressed his desire to stay with the Islanders, though he has also made it clear that he's in no rush to sign his extension.
Wayne Simmonds
For all that he does for the Philadelphia Flyers, Wayne Simmonds is not given enough credit. At 6 foot 2 and 183 points, Simmonds is not afraid to get physical and make an impact with his size. At the same time, he's no slouch offensively, scoring at least 28 goals in each o the last five full seasons (not including his 15 goals and 32 points in 45 games in the lockout shortened 2012-13 season) while scoring over 30 goals in each of the last two years. Capable of playing on both wings and slotting up and down the lineup, Simmonds provides the Flyers with everything they could ask for from a winger along with one of the best NHL contracts.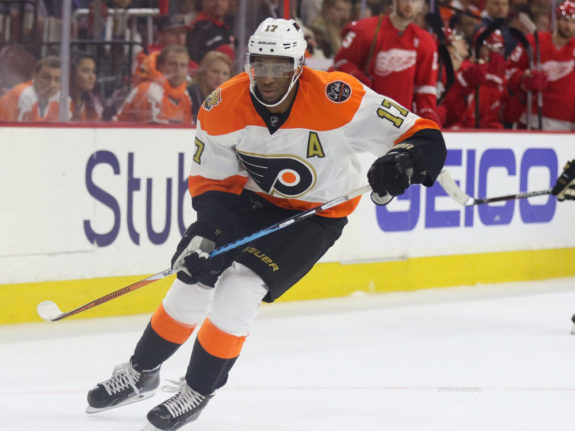 Under contract for another two seasons at a team-friendly cap hit of $3.975 million per season, Simmonds will still be 31 years old by the time his next contract kicks in. On the wrong side of 30, he may not be able to capitalize on his production the way he would like, but his contributions should still earn him a handsome pay raise on a contract that will likely take him to the end of his career – barring any unwillingness to sign him long-term, which is also entirely possible as some teams have shown a reluctance to sign players to hefty free agent contracts in recent years.
Charlie Coyle
Charlie Coyle isn't necessarily a star in the NHL. Still, at just 25 years old, the 6-foot-3, 221-pound center has made his mark at the NHL level, improving in each season since making his debut in 2012-13 during the lockout-shortened season. Showing tremendous skill and speed for a player his size, Coyle has become a mainstay in the Minnesota's core. Fortunately for the Wild, Coyle is signed for another three seasons at a team-friendly cap hit of just $3.2 million that could see the East Weymouth, Massachusetts-native continue to improve on his career-high 56 points in 82 games in 2016-17.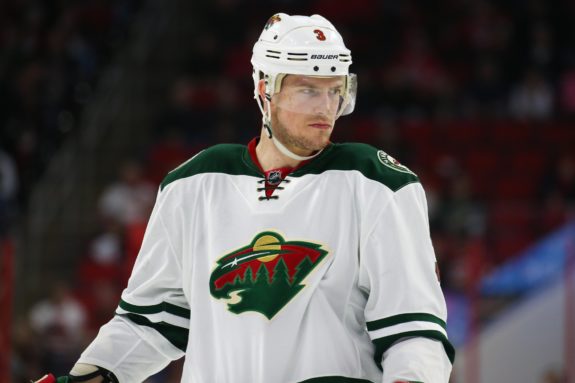 The Wild are a team anxiously trying to take the next step and win a Stanley Cup. Having a player like Coyle in the fold during the prime years of his career at such a solid contract can only help their case, though Coyle very clearly isn't ready to be the focal point of that team's offense – whether he ever becomes that player is still yet to be determined.
Honorable Mentions for Best NHL Contracts
John Gibson and Andrei Vasilevskiy
Similarly to Murray, both John Gibson and Andrei Vasilevskiy are two young goaltenders who are being paid well below market-value despite both being touted as potential franchise goaltenders and clear-cut starters for their respective teams. Gibson's $2.3 million per season for the next two years along with his stellar 2016-17 season could have easily earned him a spot on this list, as could Vasilevskiy's career-totals and #3.5 million per season cap hit over the next three years. Murray's two Stanley Cup victories as a rookie earned him the nod over his fellow young goaltenders, however.
Ryan Ellis and Mattias Ekholm
As mentioned, the Nashville Predators have one of the best blue lines in all of hockey. While P.K. Subban's $9 million per season is likely an overpayment, there's no denying his skill and value in the modern day NHL. For the Predators, the contracts of Josi, Ellis and Ekholm make the fostering of Subban's contract possible due to the fact that those three blueliners combine for only $10.25 million per season for the next two seasons.
It was impossible to pick between Ellis and Ekholm as their $2.5 million and $3.75 million cap hits respectively are both superb values for the Predators. On a team that has always tried to build from the net out, the Predators situation on defense should be more than admirable for years to come, especially with Dante Fabbro also likely to make his debut with the team in the near future.