The Boston Bruins have been oft-maligned in recent years regarding their personnel decisions, particularly on the trade front. The Tyler Seguin trade still stings four years later, as the Bruins currently employ zero of the pieces acquired for the scoring machine. Boston's swap of Reilly Smith for Jimmy Hayes is now officially a massive bust, with Hayes having run out of time and chances with the Bruins.
The trade deadline acquisitions of Lee Stempniak and John-Michael Liles didn't result in a playoff berth, and sent four draft picks out of town. Furthermore, sending a third-round pick to Philadelphia for Zac Rinaldo is one of the league's worst trades in recent memory.
Nevertheless, the Boston Bruins actually have a rich history when it comes to "winning" trades. From the hiring of Milt Schmidt as General Manager in 1967 until VERY recently, the team has come out on the better-end of some of the league's most lopsided deals; even popular whipping boy Peter Chiarelli scored some big wins for the Black & Gold.
Without further ado, let's take a look at the seven best trades in franchise history.
A Steal in St. Louis
Blues Acquire: Craig Janney and Stephane Quintal
At the beginning of the 1991-92 Season, Adam Oates went public with his desire for a raise. As one of the premier set-up men in the game, he believed his $800,000 yearly salary served as a pittance. Considering he had eclipsed 100 points in each of the two previous seasons, it's difficult to fault that logic.
Blues GM Ron Caron refused to budge, and Bruins GM Harry Sinden used that unrest to facilitate one of the many steals procured on his watch.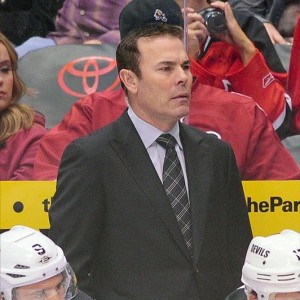 In his first full season with the team, Oates registered 142 points in 84 games; a single-season team record topped only by Phil Esposito. His 97 assists during that 1992-93 campaign are eclipsed only by the legendary Bobby Orr.
What makes those numbers even more incredible is the fact that Cam Neely (the man who was supposed to be the main beneficiary of the trade) was limited to just 13 games that season, proving that Oates was more than just a playmaking sidekick to Brett Hull; he could be THE guy.
Speaking of Hull, he had the following to say about his former teammate:
To me, he is the most underrated player that ever played the game. Besides the obvious, Wayne Gretzky, I think he's the smartest player that ever played the game.

Brett Hull (Bob Duff, NHL.com) January 1, 2017
He would record 112 points in his follow-up campaign, helping Neely score 50 goals in a mere 49 games. In 368 games with the Black & Gold, Oates accrued 499 points.
Though Janney would have some success over his 200-plus games in St. Louis, it paled in comparison to the impact Oates had on the Bruins.
Thievery in Toronto
Maple Leafs Acquire: Andrew Raycroft
During his brief stint as Bruins interim GM, Jeff Gorton pulled off one of the most lopsided trades in team, if not league history.
Though Andrew Raycroft had won the Calder Trophy during the 2003-04 season, he struggled mightily in his second campaign in Boston. He posted a 3.71 goals-against-average over 30 appearances in 2005-06 and had even struggled in Finland during the 2004-05 lockout. Still, Toronto GM John Ferguson Jr. (currently the Providence Bruins GM) was willing to send his recent first-round selection to Boston in hopes of a Raycroft rebound.
Raycroft would go on to play less than 100 games for Toronto over the following two seasons. His aggregate GAA was well-north of 3.00 and his save percentage south of .900.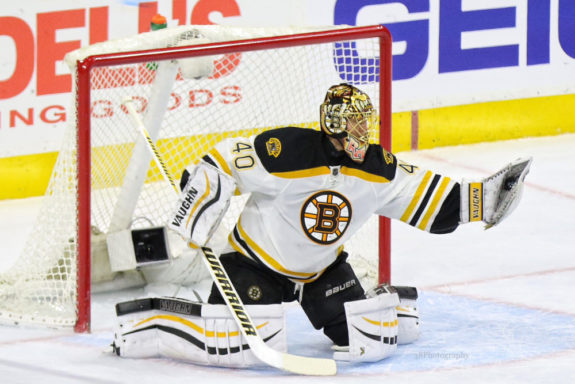 Meanwhile, Tuukka Rask has developed into a premier starting goaltender. He's been the unquestioned starter in Boston for the last five seasons and counting, and in one previous year wrestled the lion's share of duties away from reigning Vezina Trophy winner Tim Thomas.
He led the Bruins to the 2013 Stanley Cup Finals, posting a 2.00 goals-against average with a .929 save percentage throughout the playoffs. He won the Vezina Trophy the following season. Rask served as a more-than-capable backup on the 2011 squad which won the Stanley Cup.
Over 395 games, Rask has a 2.23 GAA to go along with a .923 save percentage. This deal was so lopsided that former THW writer Devin Slawson labeled it the worst trade in Maple Leafs history.
Broadway Burglary (Part One)
Rangers Acquire: Ken Hodge Sr.
Ken Hodge put quite a stamp on his time in Boston. Over nine seasons with the B's he recorded nearly 300 goals and over 600 points while winning two Stanley Cups. Harry Sinden, an elite judge of talent, swapped out the 32-year-old Hodge for a 23-year-old up-and-comer named Rick Middleton. The rest is history.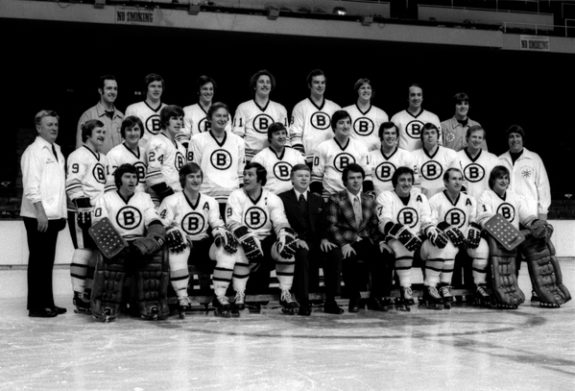 Hodge would record 68 points in just 96 games with the Blueshirts before calling it quits. Meanwhile, Middleton would go on to become of the best scorers in Bruins history.
"Nifty" thrilled fans over the next dozen years, all spent in Boston. He recorded 898 points in 881 games, and 100 points in 111 playoff games. He was a key member of three separate Bruins squads to play for the Stanley Cup and served as team co-captain for three seasons.
For Boston, the trade helped to establish a new core following the departures of Bobby Orr and Phil Esposito. For New York, it only served to help extend the franchise's mediocrity.
Broadway Burglary (Part Two)
Rangers Acquire: Phil Esposito, Carol Vadnais
Only six months prior to the Middleton trade, Harry Sinden had previously fleeced the Rangers in a trade that, at the time, shook the hockey world. Esposito, the franchise's offensive catalyst, was sent to New York along with Carol Vadnais. In return, the Bruins received their heir-apparent to Bobby Orr in Brad Park, along with veteran scorer Jean Ratelle and journeyman defenseman Joe Zanussi.
Though Esposito was still able to produce with the Rangers (404 points in 422 games), he was hardly as effective as his former self. In fact, following the trade, he was outscored by Ratelle, who registered 450 points in 419 games. Thought to be "long-in-the-tooth" at the time of the trade, Ratelle gave the Bruins six seasons of stellar playmaking and scoring.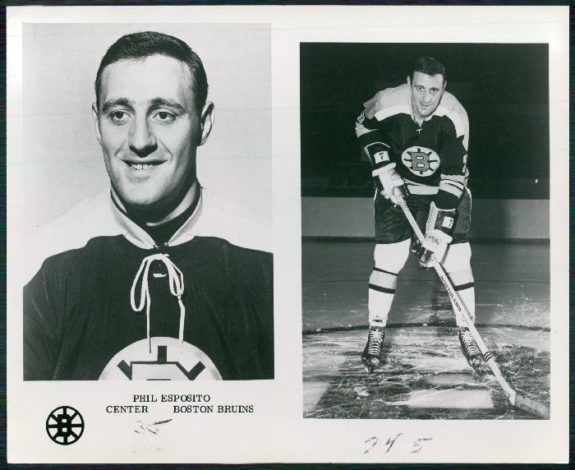 All Park did over the subsequent eight seasons with Boston was further cement his place as one of the best defensemen in the league. In him, Boston found their new building-block on the blue line; he finished second in Norris Trophy voting twice with the Bruins, following six runner-up finishes with the Rangers.
Flyers legend Bobby Clarke was among the many greats of the era who admired and respected Park:
He was one of the first that I recall who could take the puck — and he did it for his whole career better than just about anybody — start going back towards their own end and pull the darn thing forwards and then they were such good passers that one pass and all of a sudden they've got a 3-on-2 going the other way. And he could join the rush. And he was a big, real thick man. If he hit you, he hurt you.

-Bobby Clarke (Stu Hackel, NHL.com) January 1, 2017
Even Zanussi had an impact on the Bruins. He was moved to St. Louis in a trade one year later to re-acquire former Bruins defenseman, Rick Smith. Smith would go on to play 268 more games for Boston, helping to solidify a unit that appeared in the Stanley Cup Finals twice over that time.
A King-Sized Ransom
Bruins Acquire: 1979 First-Round Draft Pick (Raymond Bourque)
Kings Acquire: Ron Grahame
Were trading draft picks not inherently such an unknown quantity, this would register as the most lopsided trade in NHL history.
In Ron Grahame, the Los Angeles Kings received a goaltender who would appear in just 66 games. He posted a losing record over that time, and never finished a season with a GAA under 4.19.
With the ninth overall pick in the 1979 NHL Entry Draft, the Bruins selected one of the greatest defensemen (and players) of all-time in Ray Bourque.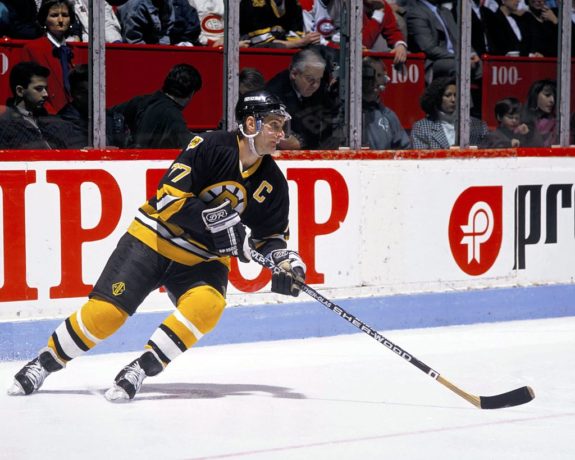 Bourque would go on to play over 1,500 games for the Bruins across 21 seasons, including 15 spent as either captain or co-captain. His 1,579 points serve as both the franchise-benchmark as well as the most recorded by any defenseman in NHL history. He won five Norris Trophies during his tenure with the Bruins and came in second place another six times.
It's because of trades (and bad luck) like this that LA didn't win a Cup for 45 years.
Shoplifting in Chicago
Bruins Acquire: Phil Esposito, Ken Hodge, Fred Stanfield
Blackhawks Acquire: Pit Martin, Gilles Marotte, Jack Norris
As a player, Milt Schmidt was essentially "Mr. Bruin." However, his greatest contribution to the franchise may have come during his time as GM, as this trade completely altered the course of the franchise.
Prior to the 1967-68 season, the Bruins had missed the playoffs in eight consecutive years. Following the trade, Boston played postseason hockey in an NHL-record 29 consecutive seasons.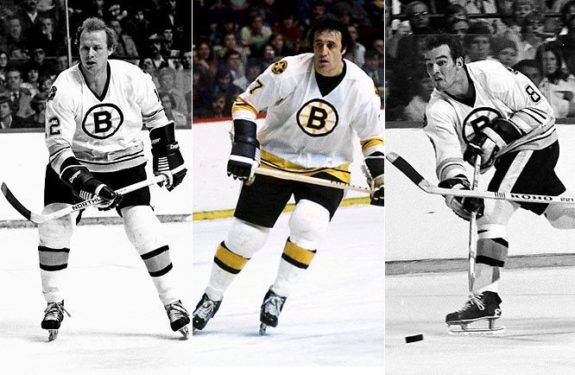 Marotte and Norris would combine to play just 202 games in Chicago. Martin did have a nice career with the Blackhawks, scoring 243 goals over 10-plus seasons. However, what he accomplished is so vastly-outweighed by what came to Boston that it barely deserves mention.
Stanfield centered the best second line in hockey alongside Johnny Bucyk and Johnny Mackenzie. In his six years with the club he registered 20 goals six times and hit the 70 point mark three times. Hodge scored 289 goals over nine seasons, many spent on arguably the best line in hockey with Phil Esposito and Wayne Cashman.
Worst trade ever was Phil Esposito, Ken Hodge and Fred Stanfield by Chicago to Boston in 1967 for Marotte, Martin and Norris https://t.co/IdhuBqZOkz

— Adrian Dater (@adater) June 27, 2017
However, it was Esposito who made this trade as lopsided as it was. "Espo" potted 459 goals in 625 games, including an obscene 326 in five seasons between the 1970-71 and 1974-75 Seasons. His 76 goals during the 1970-71 campaign have been eclipsed only by Wayne Gretzky, Mario Lemieux and Brett Hull.
He won five Art Ross titles and two Hart Trophies during his tenure, cementing his place as the greatest goalscorer of his era.
All three players played pivotal roles in capturing two Stanley Cups for Boston following the trade, while appearing in a third.
Victimizing Vancouver
Bruins Acquire: Cam Neely, First-Round Pick (Glen Wesley)
Canucks Acquire: Barry Pederson
It's almost hard to blame Vancouver for this one. Almost.
Barry Pederson was a swift and skilled 25-year-old center who had already eclipsed the 40-goal and 100-point mark twice in his young career. However, a benign tumor in his shoulder limited him to just 22 games during the 1984-85 campaign.
Two shoulder surgeries removed part of the muscle in his shoulder, and Harry Sinden (aka, The Wizard) once again decided to cash-in on a player whom he felt had already enjoyed their best days.
Over 233 games with Vancouver, Pederson recorded 197 points. Respectable numbers, but not quite the franchise-altering production the goal-starved Canucks were hoping for.
In return for Pederson, Boston acquired Cam Neely; a player who personifies "Bruins Hockey" perhaps better than any other. The best power forward of his era (and one of the all-time best), Neely exploded in Boston following three mediocre years in Vancouver.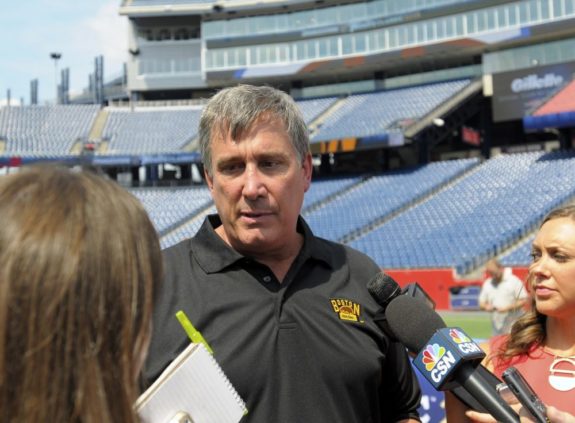 Though a knee injury would rob him of countless years and goals, "Bam-Bam Cam" still managed 344 goals in 525 games; an average of 53 goals per 82 games. Neely was a throwback, striking fear in the hearts of his opponents with both his skill as well as his temperament and fists.
As for the first-round pick acquired, that player turned out to be Glen Wesley. For seven seasons, he dutifully served as either Ray Bourque's partner or the anchor to the team's second-pairing.
Following seven seasons with the Bruins, Wesley was sent to Hartford in exchange for THREE first-round picks. One of those players turned out to be a stud in Sergei Samsonov, while another (Kyle McLaren) served as a steady and solid defender for seven years.