New York Riveters' forward Julia 'Cheeky' Herr has a full-scale appreciation of her opportunity to play professional hockey. After all, there was a moment in time when she thought her skates would have to be hung up for good.
Entering her second NWHL season, Herr is psyched to make the most of it. Fun-loving, even a bit cheeky herself, Herr exudes positivity. The excitement she has over her love of hockey is at least equal to the excitement she has for her teammates. Herr simply loves hockey, she loves her team, and she loves being a Riveter.
Hockey Is a Herr Family Affair
Born in November of 1993, Herr hails from Princeton, New Jersey. Her father Mark fostered the family's passion for hockey. A former college hockey player for Colgate University himself, Mr. Herr also sits on the Board of Directors for Ice Hockey In Harlem, which brings the game to children living in Harlem. Obviously, his daughter's passion does not fall far from the tree.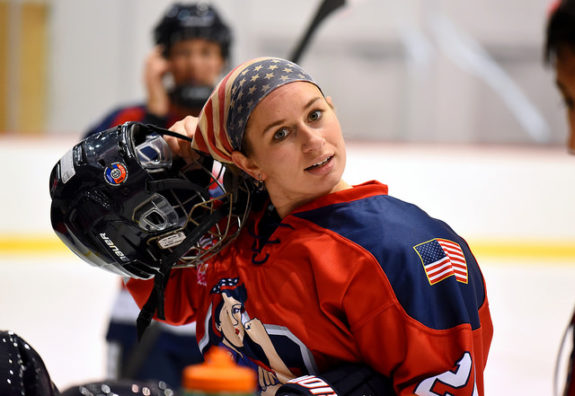 "My dad grew up playing. He's from Brooklyn and used to take multiple subways to get to the rink so that he could play," Herr explained. "He ended up getting into Colgate and played junior varsity there for two years. Hockey is always something he really loved and he brought that to our family. It's what we do as a group. Every winter all five of us—my mom doesn't play, but the four kids and my dad—get together to play in a pickup league hockey game and it's always really fun. It's just what our family does."
Getting the Name 'Cheeky'
So how did Julia 'Cheeky' Herr get the name 'Cheeky'? Longtime SNL fans might have an idea. Herr tells the story:
"When I was very little, about age two, I had a babysitter who watched a lot of Saturday Night Live," Herr said with a bit of a chuckle. "At that point Mike Myers was on the show doing a sketch called 'Simon Draws', where he was a little British boy named Simon who would draw pictures in his bathtub. He would have guests and call people 'cheeky monkeys'. 'Cheeky' in British vernacular means 'sassy' or 'fresh'.
"My babysitter would come up to check on me. I would be out of my crib playing on the floor. I was not in my crib sleeping like I was supposed to and she would say, 'Oh, you cheeky monkey!' in a British accent and put me back to bed. So 'cheeky' and 'cheeky monkey' kind of stuck with me outside of school."
It would not take long for Herr to garner an association with the name 'Cheeky' in grammar school either. She goes on to explain:
"The woman who was my kindergarten teacher actually had my older brother the previous year, so she already sort of knew who I was. She had said, 'Oh, she's going to start out as 'Julia', but within a month she'll be 'Cheeky'. Needless to say, about a week after I learned how to write 'Julia' out, I walked in and said I wanted to be 'Cheeky' at school. So I have been 'Cheeky' for 21 years.'
Finding a Home at Trinity College
Well after kindergarten, Herr would have a stellar collegiate hockey career at Trinity College. Trinity is a NCAA Division-III school located in Hartford, Connecticut. It was first founded in 1823. Having graduated in 2016, Herr still holds the school's team record for most points in a season.
Cheeky Herr may see an increased role on the @NYRiveters as she returns for season 3.

MORE: https://t.co/iHWK6XgbMv pic.twitter.com/FjgrEbabgP

— NWHL (@NWHL) May 24, 2017
"I visited Trinity on a Wednesday in the middle of their midterms," Herr recalled. "They also had fitness testing that Friday. Despite the fact that the women I was meeting and talking with had eight million different things going on academically and athletically, they were all sitting at the dining hall table laughing and joking—being able to find some way to not be as stressed out.
"Knowing that I was going to go to an environment where I was going to be able to get a really good education without that kind of constant, intense stress that I think sometimes exists at other schools was really appealing to me. On top of that, I really liked the women that I had visited with. The coach seemed really awesome."
Herr's College Career
Summarizing the overall fit between she and Trinity, Herr stated: "It just worked. I'm guessing that it was what it feels like when you find your significant other. You just know. That was it for me, and it honestly ended up being the best choice I have ever made."
The records on Herr's career at Trinity speak for themselves. Her 91 points in 101 career games for the Bantams rank as the second-most in the school's history for women's hockey. Herr is tied for first place for most game-winning goals in a season with five. She also holds second place in the program's history for goals in a season, goals in a career and points in a career. Herr's finest season was her junior year (2014-15), when she tallied 38 points in 27 games.
WHKY: Congratulations to #NESCAC Player of the Week – @BantamSports Cheeky Herr http://t.co/kWLPA6W8VN pic.twitter.com/mK79kdTqLU

— NESCAC (@NESCAC) January 19, 2015
"Number one, I think I was in very good athletic shape," Herr recalled when asked about the strong junior season she had played. "I had taken really good care of myself in terms of making sure I was fit and had done everything to get myself there. I would also say that year there was just an amazing group of women on the team. That year we all just came together and knew what we needed to do and wanted to do. Not just for ourselves but especially for each other. I wasn't just playing for the name on the front or the name on the back, but I was playing for the name of the person who was standing next to me."
Becoming a New York Riveter
After graduating from Trinity, Herr's continuation in hockey seemed in doubt at first. While she participated in a May 2016 camp for the New York Riveters, she did not immediately discover that she had a place with the team. Oftentimes in life, things work out when they are least expected. That would be the case for Herr and her opportunity in the NWHL.
"I was invited to the tryout last May, had tried out and hadn't heard anything. Had kind of given up hope that I would get to keep playing, which was a bummer. I had started working in Manhattan and ended up receiving an email sometime in August on a Friday. It was from Chad (Wiseman), our coach last year. He said, 'I watched you at tryouts and I have talked to other coaches. I think you would be a good add as a practice player'. I jumped at the chance to even be on a team again. Any chance to play more hockey and live the dream a little longer was something that I wanted. I had thought all hope was lost, but then it was there again."
Playing Her First NWHL Game
Herr would play her first NWHL game close to her birthday, a 4-0 victory by the Rivs over the Connecticut Whale on New York's home rink. Herr was asked what the feeling was like to have found herself on the ice, playing a pro hockey game.
"Oh goodness, you can't even explain it," she said. "There is no way to describe that in words. I got lucky. The first league game that I played in, my entire family was home. I will say this through and through, my family are my biggest fans. They are the sole reason I am who I am. I will always attribute everything to them. It is 100-percent them. They were at the game. I walked out of the locker room and I looked at my mom. When I was little, I desperately wanted to be the first woman to play in the NHL. And you know what, Mom? This is a thousand times better."
Herr Having a Dream Come True
Growing up, Herr encountered challenges that many (if not most) of today's players in the NWHL experienced in youth hockey. To have the years of playing the game culminate into an entire league where the best female players in the world are housed, it has made it all worthwhile for Herr and the others.
"There is no way to describe the feeling. It was a combination of so many things," Herr stated. "I don't ever want to speak for anybody else, but for me, I grew up playing boys' hockey. Having coaches not want me on their team because I was a girl. Or having boys in the locker room telling me I was never going to amount to much as a female hockey player."
"Getting to amount to something in college was great," she continued. "Then to even take it to that next level where we have progressed so much as a society and as a sport, that women are playing what is traditionally thought of as a men's game. In a league where they pay us, it hit every possible thing. It was just amazing. I quite literally got to live out my childhood dream. There are few and far in between numbers of people that can say that."
Herr's other game last season came in a tight 4-3 loss to the Boston Pride, as Boston came from behind on home ice to win. It will be an immense amount of fun to see Herr get into more games this coming season for New York.
'Stretch' & Rafter
On every team, it is a necessary function for veterans to guide newcomers. Forming long-lasting friendships with a couple of veteran players last season allowed Herr to find her place with the squad more comfortably—a sense of belonging and a sense of family. Returning to that family is a huge portion of Herr's excitement to be back with the Riveters again this coming season. She shared more on those individual friendships:
"Tatiana Rafter and Ashley Johnston, aka 'Stretch'. I would say those were my two closest friends on the team," said Herr. "It was instantaneous friendship where I felt very comfortable with them. I was the new kid coming in. I didn't play the previous season, I didn't know most of the women on the team in part because I did not play in the same league as a lot of them. 'Stretch' took me under her wing and kind of mentored me and made me feel very comfortable. Tatiana really was there to be a pal and a friend to talk about whatever and just listen. That kind of just blossomed."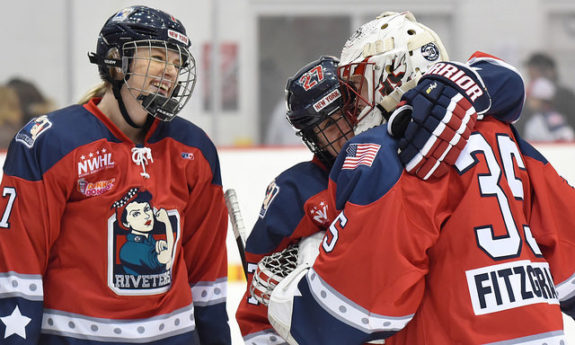 Comrades in Arms With Other Rivs
The friendships with her fellow Riveters became further widespread from there.
"Sarah Bryant was another really close friend," Herr continued to share. "Together we met when we were 10 or 11 playing in the Atlantic district when we were at district camp. She is a brilliant, fascinating woman. I was a very bubbly, outgoing kid. She was sitting by herself at lunch, so I told her to come sit with me and we've been friends ever since."
"But I just don't want to narrow it down to two or three people," Herr made certain to clarify. "Because everybody on the team was a friend in their own way. We have great leadership, especially Kiira Dosdall stepped up in a really big way. That was great to see because she was another person who could see I was nervous and a little uncomfortable because I didn't know people. She started chatting with me and rode the train back into the city with me after practices. Just a real friend and mentor, and made the team that much more welcoming."
The Upcoming 2017-18 NWHL Season
There is a slew of folks in Herr's corner hoping to see her get into more league play in the upcoming 2017-18 NWHL season. Certainly her aforementioned teammates will be cheerleaders for that cause. Perhaps more especially, the New York Riveters' faithful fans. The upbeat, infectious attitude of Herr can have the NWHL community pumped up for what is ahead. Season 3 shows only positive signs.
"I think it is really huge for the league that it has made it to a third season," Herr discussed. "For example, with a diet. It is always the third day that is the hardest. It is easy to stick to it for day one and day two, but day three is that tipping point of whether you will stay committed. I think that it is really important for the league that it made it a third year and I think it will continue to get better and better. I am excited to be a part of that, and I am excited to be part of the Riveters again. Getting to be with this group of women, it is really just an awesome group coming back."
What Herr Brings to the Riveters' Roster
Herr possesses many great intangibles. They can be found in her style of play on the ice, but also in what she brings to the Riveters' locker room. Herr is capable of gutsy performances and does not shy away from hard work when she plays. Nothing less could be expected of her anyway because giving her all is very much innate in Herr.
"What made me want to come back was not just the opportunity to play hockey for another year. It was the opportunity to play hockey with this specific group of women," she explained. "They are truly an exceptional bunch, and really taught me to be a teammate. I am excited to get to play some hockey, and get to play some hockey with them."
Caring about her teammates as much as she does, Herr is prepared to do whatever it takes for the team to win together. She also does so with a wide smile on her face—one that comes from a pure sense of enjoyment.
"I bring joy. I am a very happy person when I'm playing. Always have been. You can ask my mom," she said very matter-of-factly. "I am a really gritty, hard-working player. I would never say that I am the player with the most beautiful shot. Or the player with the most beautiful stick skills. Or the fastest skater. I will certainly always be the one to outwork you. Absolute hard work, grit and a desire to win, and being happy out there."
Herr's Advice for Others
This time around, Herr is not the new kid. She will be one of the veterans instead. The Riveters, as will all four NWHL teams, will have new faces on their rosters—players who will have that same nervousness and same foreign feeling that Herr once experienced. Advice from Herr can put the new players' minds at ease.
"To just be excited and happy. It is an opportunity of a lifetime," she said enthusiastically. "Even though the league is small and women's hockey is still not as big as men's hockey, there are still hundreds of women that would kill to have the opportunity. Be excited, be happy, and work hard. There are going to be lumps and you're going to have to take them. That's just part of life. Really soak it in and enjoy it. Love what you have. Love the opportunity and embrace it all because one day it is going to be gone."
Herr Embodies Rosie
The opening lines of the 1942 song Rosie the Riveter apply to 'Cheeky' Herr quite nicely. "All the day long, whether rain or shine/ She's a part of the assembly line/ She's making history, working for victory/ Rosie, brrrrrrrrrrr, the riveter." With Rosie herself depicted as the crest of the Rivs' jerseys, it is hard not to think that Herr's style of play and passion are reminiscent of the cultural icon.
Herr said, "I'm a really lucky kid. I'm getting to live my childhood dream and I did it with my mom and dad, and my three siblings sitting there making it happen for me. I got to make some really great friends in the process."
Herr puts in the effort. It is what she does best. She is honored to do so. 'Cheeky' Herr gives every bit of her being to the New York Riveters; all 5 feet and 3 inches of her. She is the kind of player and the kind of person necessary to have a winning team. It will be most enjoyable to see her with more ice time in 2017-18.