Much like Tampa Bay Lightning forward Yanni Gourde's recent two-year contract extension, defenseman Jake Dotchin's recent success has earned him his own two-year, one-way extension. The deal carries an $812,500 average annual value (AAV) meaning that despite his success in 35 games last season, Dotchin will still have to prove himself to get a better payday on his next deal.
We have re-signed Jake Dotchin to a two-year, one-way contract worth an AAV of $812,500. https://t.co/JMvvt59R2F

— Tampa Bay Lightning (@TBLightning) July 5, 2017
Dotchin is a native of Cambridge, Ontario, and was originally acquired by the Lightning with the 161st overall pick in the sixth round of the 2012 NHL Entry Draft. Dotchin was another successful pick from that year as that was the same draft in which the Lightning selected Slater Koekkoek, Cedric Paquette and Andrei Vasilevskiy.
Dotchin's Surprising Success
Dotchin's quick NHL success was unexpected by everyone sans himself but certainly appreciated by the Lightning and their fans. He was a well-regarded, two-way defenseman on the right side during his time playing in the Ontario Hockey League and with the Syracuse Crunch of the American Hockey League. While he had some offensive success in his previous career (his best offensive output came in 2013-14 with 36 points in 63 games for the Barrie Colts), Dotchin really surprised and impressed when he put up 11 assists in 35 NHL games in his first ever season in the league.
Perhaps more impressive than the translation of his playmaking ability was those 35 games themselves. Granted the Lightning were ravaged by injuries through most of the 2016-17 season but Dotchin proved to be more than just another warm body to sit on the bench.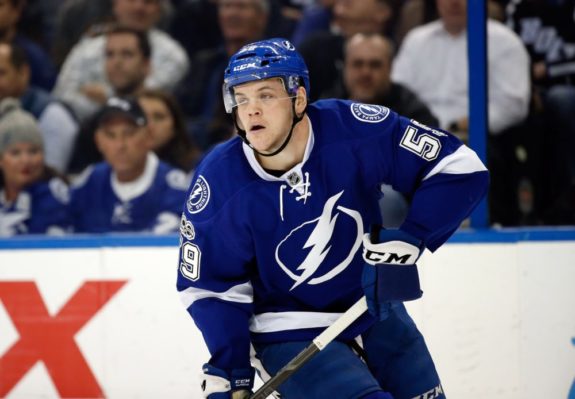 Dotchin played smart in his own end, used his size (6' 3", 210 pounds) well, and recognized his own lack of experience in the NHL which led to his choice to make smart, high-percentage passes as well as playing simple, responsible hockey. The better he played, the more ice time he got until he eventually played himself into a spot on the Lightning's top pairing playing on the right side with Victor Hedman on the left.
Dotchin Is Not Your Average Depth Defenseman
Dotchin's surprisingly strong contribution to the team's defensive efforts provided the Lightning with much-needed depth along the blue line. However, he did not fit the usual definition of a "depth defenseman."
By giving Lightning head coach Jon Cooper the option to slot Dotchin with Hedman, it also allowed him to place Anton Stralman on the second pairing with various partners. Allowing the organization to split up the Swedes and get more minutes out of the two best defenders on the team was key to the team's improved defensive play during the last season playoff push where virtually every game was do or die.
Adding Girardi and Sergachev Means Work for Dotchin
The Lightning seem like they don't want to make things too easy on Dotchin and he'll still have to earn his minutes. The recent acquisition of Mikhail Sergachev from the Montreal Canadiens in addition to the signing of veteran Dan Girardi mean what would have been an already jam-packed defensive depth chart now is even tighter with two more bodies.
https://twitter.com/Dotch94/status/875736848382996480
One thing that will play into Dotchin's favor will be his price tag and relative value to cost if the Lightning were to find themselves in a salary cap crunch. His $812,500 AAV is even lower than Sergachev's $850,000 AAV. But you can rest assured that the driving force behind's Dotchin's effort in training camp and the 2017-18 season as a whole is the same thing that turned him from a projected depth defenseman drafted in the sixth round to NHL contributor: his competitiveness.