From May 1-31 NWHL teams can re-sign players from their 2016-17 roster and their draft picks during the restricted free agency period, and beginning on June 1 any unsigned players left will be free to sign with any team. The third season of the NWHL will begin in October as the Buffalo Beauts begin defense of their Isobel Cup championship, and with up to 12 players unable to participate in the league this season due to their selection for Team USA's 2018 Olympic team, this will be the most competitive season yet.
My colleague Nathaniel Oliver will keep THW readers up to date on Buffalo and Boston's signings throughout the summer, while I post updates on Connecticut and New York. 
Whale & Rivs Kickoff NWHL Signings         Emily Field Back for a Third Season
Whale Ink a Trio, Russo Remains a Riv      Pride Ink Their First Three RFAs
Beauts & Pride Sign Perennial Champions
Rivs Recap
On the first day of unrestricted free agency (June 1), the Riveters re-signed three players from last year's squad – inking defender Kiira Dosdall, who returns for a third season with the franchise, and they also brought back two of their top rookies from last season – forwards Alexa Gruschow and Miye D'Oench. They now have ten players under contract, the most thus far enlisted for season three.
Gruschow earned her first contract after attending a Free Agent Camp last June and became a major player for the Rivs all season as the team's Swiss Army Knife — playing in all situations and winning face-offs at a better than 50% clip (52%). The RPI grad totaled 11 points (2g-9a) in 19 games with New York and finished fourth on the team in blocks (16), first among forwards. She was a must-sign for the Riveters after her brilliant rookie campaign, and as she tweeted the next day (seen below), she is just as excited to be back as the Rivs are to have her back.
All smiles about joining @NYRiveters for another season!! Very excited to be given the opportunity to experience year 3 of the @NWHL ! 💪🏼🔴🔵 pic.twitter.com/8Nd7awkjRp

— Alexa Gruschow (@AlexaGruschow) June 2, 2017
Dosdall, like fellow blueliner Ashley Johnston, will be back for a third season with the Riveters – who have had some of the tallest defenders in the league. The 29-year-old had played in the CWHL and in a pro league in Austria before joining the NWHL. She had five points this season and seven points in the inaugural season, but her true value is stifling the other team's top scorers and blocking shots with her length and savvy skill.
D'Oench was originally a draft pick of Boston, but the Riveters acquired the Harvard grad's rights in a swap for Alex Carpenter's rights last offseason. She had three multi-point games and finished the season with 15 points (5g-10a) while also leading the Rivs with 53 shots on goal (tenth overall in the NWHL). "October can't come fast enough," exclaimed D'Oench in a text, looking forward to the 2017-18 season.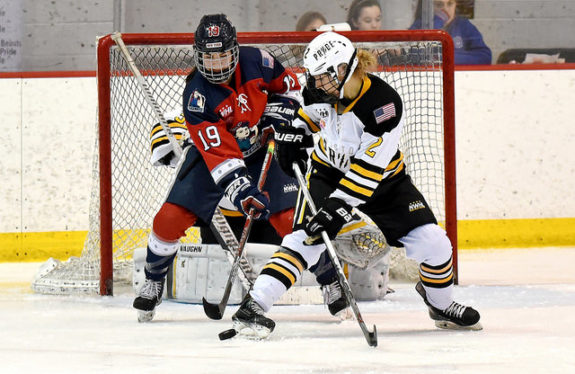 Whale Watch
On June 2 Connecticut agreed to terms with Anya Battaglino, who currently also serves as the Director of the NWHLPA. A practice player for the past two seasons Battaglino only skated in 16 total games, but she now has earned a regular spot on the Whale blueline alongside Shannon Doyle, Cydney Roesler, and Elena Orlando. The only downside in all of this is that we don't get to hear her voice as an analyst during NWHL broadcasts anymore, but it's wonderful to see her hard work on and off the ice pay dividends.
"Signing a season three contract with the Whale is one of the proudest moments of my NWHL career," said Battaglino in a press release. "I am a full contract player now after working hard as a practice player. I am so happy to have earned the full-time spot with the Whale."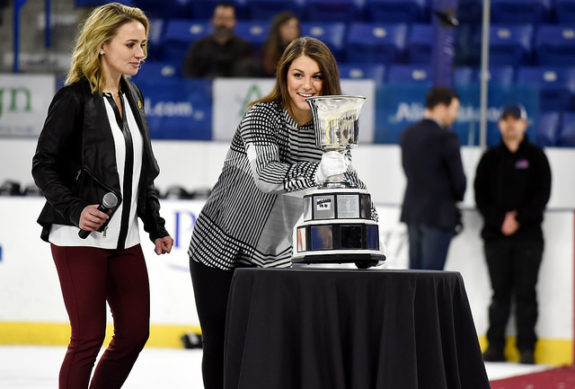 "I am so inspired to continue to pave the way for the betterment of women in power positions. We are changing the world and season three for the NWHL is just proof of that."