There are certain teams that some players love facing, and then there are other squads that players would really rather never see again. Sometimes these preferences are created because of matchups, and in other cases, there's no rhyme or reason to it.
For Nashville Predators goaltender Pekka Rinne, the team he would love to never play again is the Pittsburgh Penguins. Ironically, that's exactly who Nashville drew in its first Stanley Cup appearance.
With the amount of skill the Penguins possess, there aren't too many goaltenders lining up to face Pittsburgh. But in Rinne's case, he entered the series with poor numbers versus the Penguins, and they've only gotten worse through the first two games.
Penguin Nightmares
It's safe to say if Rinne ever dreams about the Penguins, it's a nightmare. In eight regular season appearances versus Pittsburgh, the 34-year-old goaltender is 1-5-2 with a .880 save percentage and 3.57 GAA. His only win came in a relief appearance back in 2008-09.
A lot of these historic stats usually mean very little once a series begins. Who really cares what Rinne did versus Pittsburgh during the regular season or last year or the year before, etc? Well, the first two games may have proved facing the Penguins just isn't Rinne's cup of tea.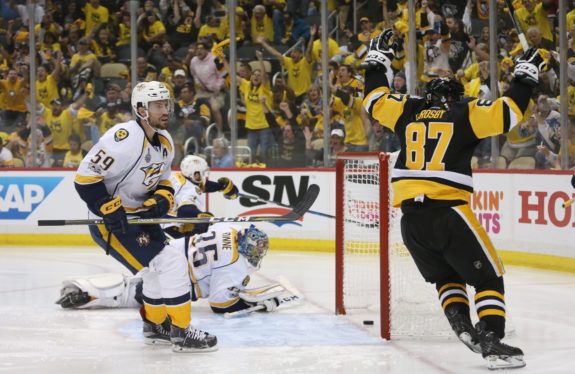 At PPG Paints Arena, the Conn Smythe candidate allowed eight goals on 36 shots in just over five periods. That's bad enough for a .778 save percentage. He's yielded four goals in each of the last four times he's faced the Penguins.
With now a sample size of 10 games, even though those contests span over more than a decade, it's hard not to say the Penguins simply own Rinne.
Defensive Lapses
To be fair to the Predators goaltender though, the bounces aren't going his way either. Two of those eight goals deflected off his own defenders and went into the net. Another score he allowed came in a 5-on-3 situation.
By no means has Rinne been sharp, but his defense let him down on some other occasions too. As Jeff Yerger argued in his column, the Predators defense has let their goaltender out to dry on several goals. Jake Guentzel was wide open on both of his scores in Game 2, and Evgeni Malkin's tally was a 2-on-1.
Mike Fisher on Pekka Rinne: "It's not his fault by any means. We need to be better in front of him." #Preds #StanleyCup

— Brooks Bratten (@brooksbratten) June 1, 2017
Nashville needs Rinne to make those saves if they are going to win the series, but to blame solely the goaltender would be wrong. That fact likely means Rinne remains in net for Game 3.
There Are Two Teams on the Ice
At this time of year, the "what's wrong with player X?" narrative pops up on a near daily basis – Rinne is just the latest example. Often times, there really isn't anything wrong with them. It's the playoffs, so the players are facing elite competition.
Rinne has never done well versus Pittsburgh, and now he's facing perhaps the best Penguins team of his career. He isn't the first elite goaltender to look average against Pittsburgh this postseason.
Or it could be the Pens are really good. 🤔 pic.twitter.com/A9QuJjcZx8

— Michael Tuttle (@TuttleMJ3) June 2, 2017
Many didn't believe (myself included) that the Penguins would be able to maintain their ridiculously high shooting percentage throughout the entire playoffs. It came back down to earth a bit in the first three games of the Eastern Conference Finals, but Pittsburgh still owns a 10.9 shooting percent this postseason.
Penguins wing Jake Guentzel came into the Stanley Cup Final with a insanely high 23.7 shooting percentage, and it's only gone up to 28.6 in the last two games. Guentzel posted a 19.8 shooting percentage in 40 regular season contests.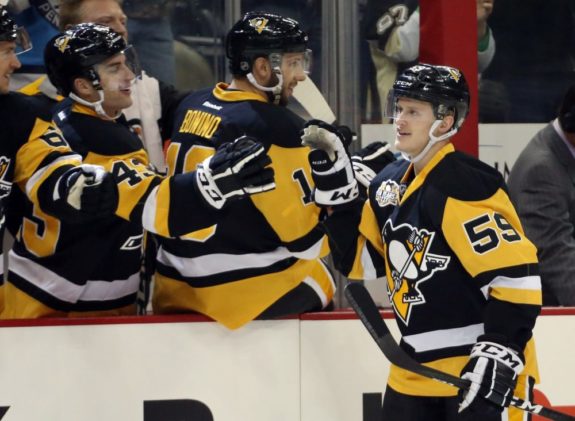 With the elite shooters the Penguins have, it's more important the Predators don't give up high-quality chances rather than pure volume. Pittsburgh has proven time and again this postseason to be able to do a lot with very few opportunities.
Given this fact, it's not very likely backup rookie goaltender Juuse Saros will fare any better if Pittsburgh continues to receive dangerous chances. Therefore, Rinne should absolutely start Game 3.
In order to win, though, the Predators must clean up their defense, remain disciplined and get some quality goaltending. If Rinne doesn't reverse his numbers against Pittsburgh quickly, Nashville is in serious trouble.
Dave Holcomb is excited to join The Hockey Writers team, covering the Pittsburgh Penguins. Holcomb began his NHL work as a fantasy columnist at The Sports Network. In 2015, Holcomb joined the fantasy NHL team at FanRag Sports, where he eventually worked into a beat writer position, covering both the New York Islanders and Pittsburgh Penguins. He continues to cover the Metropolitan division, along with the NFL and Syracuse basketball, for FanRag Sports. To find more of his work, follow Holcomb on Twitter at @dmholcomb.