Smashville has to feel duped. For the first two games of the franchise's first Stanley Cup Final appearance, the Nashville Predators have looked nothing like the team they were a month ago. Up until now, the story was about Nashville getting hot at the right time, but after a disheartening 4 – 1 loss in Game 2, the Preds have now gone cold at the worst possible time.
It's easy to forget, but the Predators were not considered a true Cup contender back in April. Yes, they were probably the hottest and most talked about team entering the Stanley Cup Final, but you'd be kidding yourself if you thought they were the best team left. Now, the Preds are in a 2-0 series hole against a patient, determined, and above all, experienced Pittsburgh Penguins team.
Defensive Disappearing Act
Let's get this out of the way right now: Pekka Rinne will and should be the starting goaltender in Game 3.
He's been the Predators' most important player in the postseason, and it would be silly of Peter Laviolette to throw backup Juuse Saros onto a fast-moving train. While Rinne has let in some admittedly soft goals recently, he's only as good as the defense in front of him. Any goaltender will tell you that.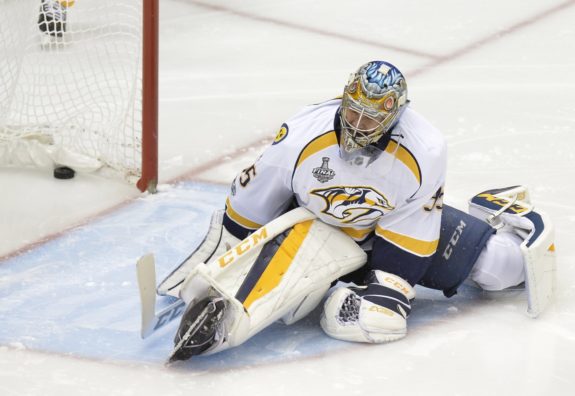 "He's the reason why we're here," captain Mike Fisher told the media after the game. "It's not his fault by any means. We need to be better in front of him."
It's been a schizophrenic series so far for the Predators. For good portions of this series, they've been dominant, as they were for most of Game 2.  Yet, when the game clock reset for the final 20 minutes of regulation on Wednesday night, everything that was clicking and generating offense – the defense, the goaltending, the catfish – suddenly disappeared.
It doesn't take much for the Penguins to be lethal. If you give them an inch, they'll take a mile. At crucial points on Wednesday night, the Predators defense gave the Penguins acres, especially in front of the net.
Did the Predators forget that Jake Guentzel has been stellar for the Penguins this postseason? On his first goal, Guentzel had all day to force that puck through Rinne. Then to open the third period, nobody on the Predators defense even thought about Guentzel, who buried a juicy Rinne rebound for his 12th goal of playoffs.
While Rinne needs to have better rebound control there, maybe that goal wouldn't have happened if both defensemen didn't cover Bryan Rust. Instead, they went after the puck like bugs to a light, and in turn, left Rinne out to dry.
Later in the game, with Saros in net, former-Predator Patric Hornqvist found himself all alone in front of the crease, much like Guentzel was earlier. For the Predators defense, it is unacceptable to give a guy like Hornqvist that much space to work with. Ironically, his goal was waved off due to the play being correctly deemed offside.
In order for Rinne to find his game and succeed, the defense needs to tighten up. No goaltender in the world is going to do well with a defense playing like that.
The Smarter, The Better
You're going to read a lot about the Predators "coming down to Earth," or that they need to lose in order to be humbled a little bit. Maybe there's some truth there, but for the last two months, we've seen the Predators beat three Stanley Cup-worthy teams in convincing fashion. The Penguins, although defending champions, isn't a harder match-up. It's not as if they've outplayed the Preds through the first two games.
Throughout the night, the Predators dictated the play. They sent 38 shots towards Penguins goaltender Matt Murray, but were only able to beat him on a gorgeous goal by Pontus Aberg. You could argue that if it wasn't for Murray, who has been spectacular, the Penguins wouldn't be winning these games. The major difference this time around is that the Penguins have been smarter.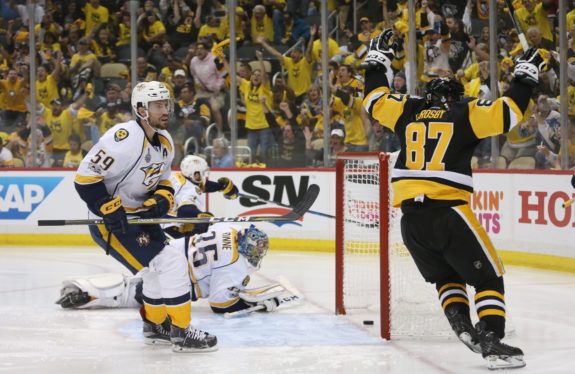 "[Pittsburgh's] a championship team in there," P.K. Subban said. "They know how to win. At the end of the day you have to work hard to get bounces. They work hard and get bounces. You have to give them credit. They capitalized on mistakes. We've got guys in here who are learning. We're going to learn from our mistakes and get better."
As the game grew increasingly chippy, the Predators began to lose their composure. They took seven penalties in the game, which is far too many against any team, let alone the defending Stanley Cup champions. Although the Pens never cashed in on any of their power plays, the Predators have to know better. It's like playing with fire in a dynamite shed. In fact, they're lucky they didn't get called for more. The inconsistent referees missed multiple retaliatory slashes by the Predators all night, including one by defenseman Mattias Ekholm after he was upended by grizzled Penguins veteran Matt Cullen.
Cullen lights up Ekholm & Ekholm responds with a heavy slash to Cullen's knee. pic.twitter.com/mLqueuNch9

— Cristiano Simonetta (@CMS_74_) June 1, 2017
The two were going after each other all night, but only Ekholm became frustrated. If the Predators want to play physical against the Penguins, they're going to have to keep their poise. In the past, teams have been successful in getting Pittsburgh off their game by playing that way, but under Coach Mike Sullivan, they've remained patient and disciplined.
The Predators should continue to play physical and try to get Murray off his game (so far, they haven't don't that) but they have to be smart about it. The Penguins know better, and the Predators still have to learn.
Smashville – Home Sweet Home
If there's any good news for the Preds, is that they're headed back to Nashville to play in front of what will be an extremely hyped-up crowd. It's going to be fun to watch, but if you're the Predators, you can't let your adrenaline backfire on you.
As we've seen in the first two games of this series, the Penguins are going to be patient. They're going to try to slow the game down and take the crowd out of it. The Predators should think about making some lineup changes that will increase their speed.
In the end, for the Predators to come back in this series, they are going to have to be perfect. No more defensive lapses, no more undisciplined penalties and no more soft goals. There is little room for error, and no time to waste.