TSN senior hockey reporter Frank Seravalli reported on Wednesday that the Chicago Blackhawks are closing in on an agreement that would send Trevor van Riemsdyk and Marcus Kruger to the Vegas Golden Knights as part of the expansion draft process. Seravalli stated an agreement is likely to materialize, but nothing has been finalized at this juncture.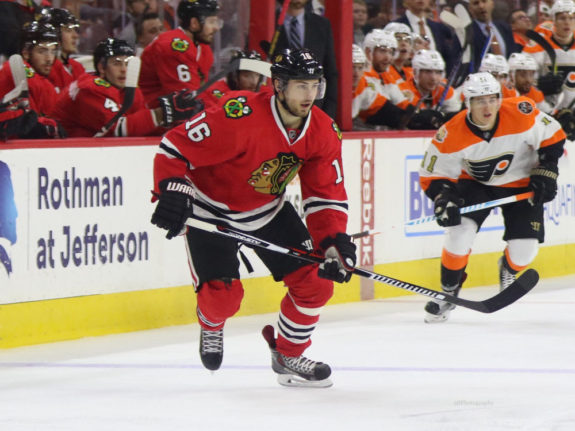 The news doesn't come as a surprise to those following Chicago's salary cap situation. It does, though, begin to substantiate that moving Marcus Kruger is part of the Blackhawks' plan to manage their preliminary cap overage of $4.52 million. That cap overage could change depending on the agreement that the NHL and NHLPA reach with regards to any potential escalator and escrow issues.
Trevor van Riemsdyk: Odd Man Out
As discussed in an expansion draft column a few days ago, the Blackhawks' prioritization of van Riemsdyk and Ryan Hartman was expected to dictate how the organization approaches the draft. With TSN's report, it appears increasingly likely that van Riemsdyk will be the odd man out.
Absent the expansion draft, it is probable that van Riemsdyk would be a member of the 2017-18 Blackhawks. While he fits best as a third-pairing defenseman for legitimate Stanley Cup contenders, he is a proven and competent player in the NHL. Not only that, he's 25 years old and cost-controlled with a 2017-18 cap hit of $825,000. He'll be a restricted free agent after the upcoming season.
There's enough to like about van Riemsdyk that, if exposed in the draft, it's very plausible to think that he will be the Golden Knights' draft choice from Chicago's roster. If that is, in fact, Vegas' sentiment, Stan Bowman and his staff appear to be close to making the best of an undesirable situation. That is, leveraging van Riemsdyk's value to move Kruger and his cap hit ($3.08 million).
Key Components of Potential Deal
From my perspective, there are a few elements of this potential transaction to consider.
One element of uncertainty is that, as reported by capfriendly.com, Kruger has a modified no-trade clause (MNTC) that is stated to take effect for the 2017-18 season. Per the collective bargaining agreement language I've read and publicly-available information on Kruger's contract, it is unclear to me as to when exactly that no-trade clause becomes applicable. If effective for the purpose of this potential deal, Kruger would have the right to name seven teams to which he cannot be traded.
If Kruger's MNTC is in effect, he could force the deal to transpire in a manner that would entail Kruger being drafted by Vegas and van Riemsdyk being traded. If not, the draft/trade structure could reverse.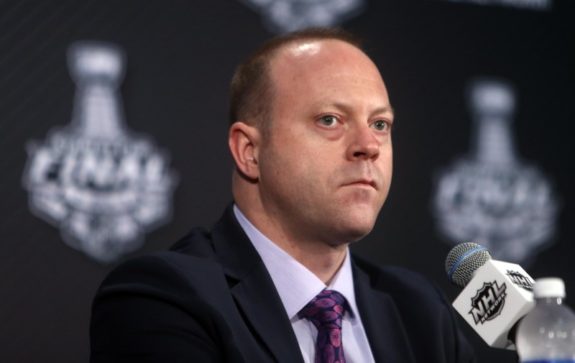 The wise approach for Bowman may be to ask Vegas to draft Kruger and agree to trade van Riemsdyk to them only with the certainty of Vegas' selection of Kruger. That would ensure Kruger's salary would be off the Blackhawks' books for the upcoming season while giving Vegas the player they want from Chicago's roster (van Riemsdyk).
van Riemsdyk is Bowman's leverage thanks to Chicago's February re-signing of Michal Rozsival. If Vegas decides they do not want to commit to taking Kruger, Bowman could trade van Riemsdyk elsewhere. Further, if the Blackhawks could then sign one of their two restricted free agent forwards (Dennis Rasmussen and Tomas Jurco), they could leave Vegas with the option of drafting Kruger, Jordan Tootoo, Rozsival or Jeff Glass. Not a great set of options for the Golden Knights. It's a scenario in which Vegas might be inclined to take Kruger anyways.
Essentially, the reported transaction would seem to make sense for both parties.
Replacing van Riemsdyk
For Chicago, the concern with losing van Riemsdyk would be that defensive depth is not currently considered to be one of the Blackhawks' organizational strengths. Chicago's defensive options after the trio of Duncan Keith, Brent Seabrook and Niklas Hjalmarsson entail quite a bit of uncertainty. Without visibility on additional trades, let's consider what the team's options may be absent van Riemsdyk.
Jan Rutta
Jan Rutta, the 26-year-old Czech defenseman, has been coveted by a number of NHL teams over recent weeks, including the Blackhawks. While Rutta and his agent have not made a decision public, signing Rutta could potentially go a long way towards replacing van Riemsdyk.
Hearing #Czech Dman Jan Rutta is strongly leaning towards signing with the Chicago #Blackhawks…has been chased my multiple teams #NHL

— Andy Strickland (@andystrickland) May 27, 2017
No, Rutta is not established in the NHL and will likely have a learning curve relative to van Riemsdyk's game. He does bring a right-handed shot, which van Riemsdyk provides and the Blackhawks do not otherwise have on their NHL roster outside of Seabrook and Rozsival.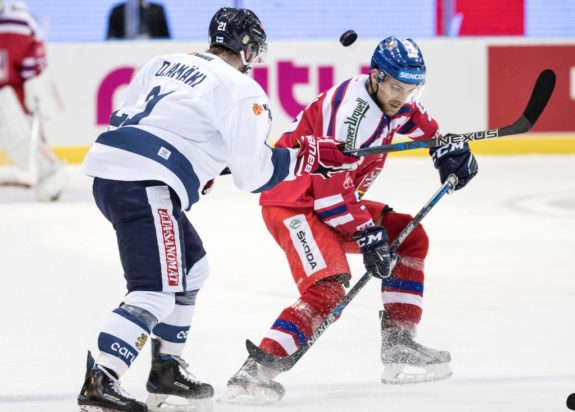 While there is uncertainty as to whether his game will transition to the NHL, I'm inclined to believe that the NHL teams pursuing Rutta envision that he will quickly translate to a depth defenseman in the league.
"He's a steady defenseman with size, and he had strong finish of the season," one NHL scout said. "He was very good in the playoffs and played his best at the Worlds."

Another NHL scout said, "He looks like a late bloomer. He became a big player the last couple of years. He's a big guy, a right-handed shot who can skate for a big guy. He sees the ice well. He's pretty good on the power play in the Czech league at every level. He's got a pretty good shot. I think he can play in the NHL depending on what team it is. I will say most teams will use him a depth defenseman." – Scott Powers of The Athletic
Michal Kempny
Kempny, coincidentally another 26-year-old Czech defenseman, looks to factor into the Blackhawks 2017-18 defensive group regardless of the team's decision on van Riemsdyk. His role, though, could become increasingly important in van Riemsdyk's absence.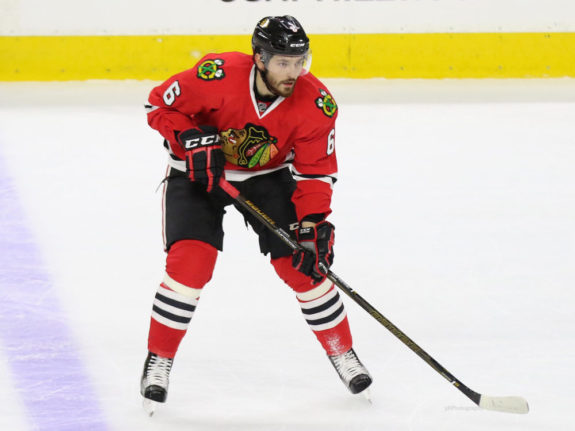 Kempny logged significant playing time during the 2016-17 season, averaging 14:58 of ice time over the course of 50 regular season games. He tallied eight points (two goals, six assists) with a plus-one rating. His playing time later in the season was reduced as a product of Johnny Oduya's unsuccessful second stint with the Blackhawks.
"Michal's style of play is an asset to our defense," general manager Stan Bowman said in a statement. "He is the type of player who will continue to improve now that he has transitioned to the National Hockey League. We look forward to his continued development on the ice for the Blackhawks." – Chicago Tribune
He'll likely compete to be a mainstay on Chicago's third defensive pairing in 2017-18.
Gustav Forsling
Forsling, at 20 years of age, likely has the most upside among the Blackhawks' defensive prospects that are close to making an impact in the NHL. Forsling split time between Chicago and the Rockford IceHogs last season, playing 38 games in the NHL and another 30 in the AHL. He tallied five points and a plus-3 rating with Chicago and eight points and a minus-13 rating with Rockford.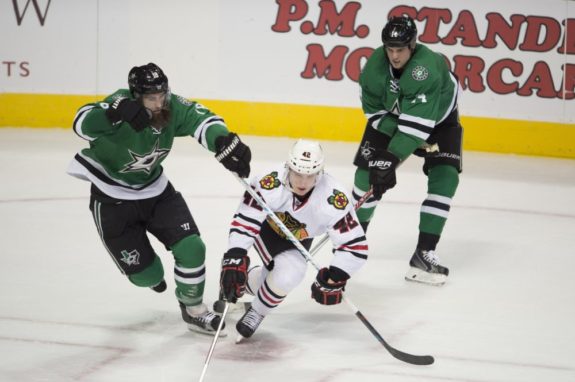 Chicago is likely to give Forsling every chance to compete for a roster spot as the 2017-18 season nears. Forsling's development would be a real boost to the Blackhawks group of defensemen both in terms of getting younger and managing the salary cap situation. Blackhawks head coach Joel Quenneville and former Rockford head coach Ted Dent offered some insight during last season as to what they were looking for from Forsling as he bounced between the two clubs:
"Certainly [he was] playing in all situations. The more ice time you get the better you feel. The more situations you see your instincts get a little bit quicker. But that's what our intensions were, to get him playing and feeling all situations, and we trust he can do the same up here as well," Quenneville said. "He has a lot of upside to his game that we want to see and hopefully we get to see it quickly here." – CSN Chicago

"Just a presence of poise for us back there as far as with the puck, being able to make plays under pressure, not panic and really generate offense and join the rush off the back end," Dent said. "He's smart enough and sees the ice well where he can make plays quick, which you have to at this and the NHL level. He also realizes the AHL isn't that big of a step down. The higher end players at this level can compete in the NHL for the most part; they're just looking for the opportunity. He said it's a fast league down here, and that's good. Because we want him to play at a fast pace so when he goes back up, he's at a high level." – CSN Chicago
Dark Horses
There are some other names in the Blackhawks' system that could be considered dark horses to contribute to the NHL club during 2017-18. Those include Viktor Svedberg, Ville Pokka (if re-signed; currently an RFA), Luke Snuggerud and Carl Dahlstrom. These players may warrant further discussion towards the beginning of next season if they appear to have made significant progress this offseason. For the time being, I would not count on these players as near-term replacements should van Riemsdyk's absence materialize.