Despite a Game 5 loss, the Nashville Predators are still leading their second-round series with the St. Louis Blues. Heading back to Smashville for Game 6 this afternoon, the Preds would like nothing more than to close out the perennial contender Blues on home ice, thereby situating themselves four wins away from the Stanley Cup Final.
A Shaky Season
Throughout much of the regular season, such lofty heights might – quite reasonably – have been thought of as unattainable for this Nashville team. They won only 41 of their 82 games, with a season-high win streak of just four games (twice). Though 11th in the National Hockey League in goals for, they also finished 15th in goals against. They had the league's 16th-ranked power play, and the 15th-ranked penalty kill. The 2016-17 Nashville Predators were inconsistent, at best.
On some nights, the Predators looked like the polished, united squad that can shred teams with straight-line speed and that breaks up counterattacks before they begin. And some nights they looked like an American Hockey League team playing together for the first time. You wouldn't know it from his play thus far, but there were even questions as to whether Pekka Rinne should start for the Preds in the playoffs.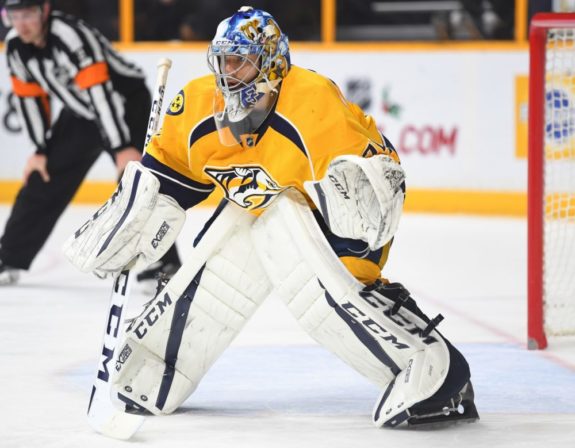 It was this inconsistency, along with losing five of seven to end the regular season, that saw Nashville fall backwards into the playoffs, secure in the second wild card spot only due to the ineptitude of the rest of the Western Conference.
Defensive Dividends
However, here we are in early May and Nashville is nearly halfway to a Stanley Cup championship.
Much of this success has to do with the way the Predators are playing defense. It is well-documented that Nashville has perhaps the best defense corps in the NHL; they certainly have the best top four.
The Predators' defense – the whole team, really – has committed to an attacking, straight-line style of play. However, when the opposition picks up the puck, the Preds clog up the neutral zone, often disrupting or outright intercepting their opponent's attack.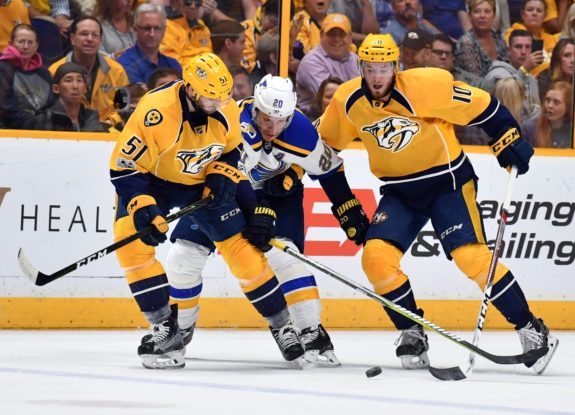 Even when the other team does manage to weave their way through this gauntlet of gold, they are generally slowed so much that any rush chances are nixed due to a lack of speed upon zone entry. While setting up, opponents are kept to the outside, with Nashville players collapsing into a defensive shell, taking away the shooting lanes. The Predators are so effective at doing this that the team even ranks second-last in blocked shots in the playoffs. Teams just can't find anywhere to shoot.
Regular Season Results
But why is this sterling defensive play only revealing itself now? What's changed since the regular season?
Well, of the 86 goaltenders that played in the NHL during the regular season, Pekka Rinne faced the fifth-most low-danger and the fifth-most medium-danger shots against, a stat not surprising considering he is a starting goaltender. However, he ranks all the way down in 20th in terms of high-danger shots faced.
Assuming most of the 30 NHL teams has a designated starting goalie, this ranking is still within normal boundaries. However, it does appear from shot categorisation metrics that Nashville strictly limited bona fide scoring opportunities against, a notion backed up by the fact that Nashville gave up the fifth-fewest scoring chances per 60 minutes during the regular season.
On a more specific level, in terms of shot types divided by time on ice, Rinne faced abnormally high levels of low-danger, average levels of medium-danger and abnormally low levels of high-danger shots against. This was a good thing for the Predators, as Rinne has the sixth-worst high-danger save percentage of all goaltenders (40 or more games worth of ice time) since 2013-14. His .771 mark is second-worst among starters during that time frame, with only Cam Ward, who has had to tend goal for the lowly Carolina Hurricanes, coming in (.0002 percent) worse.
Playoff Performance
Rinne did post a .780 save percentage in high-danger situations this season, but that was still only good enough for 51st out of 60 goalies with 10 or more games worth of ice time. However, that mark pales in comparison to the spectacular .865 he's come up with so far in this year's playoffs, which is tops among goaltenders whose teams haven't been eliminated (and third overall, behind the two besieged netminders of the Calgary Flames). For reference, the best high-danger save percentage during the regular season (10 or more games worth of ice time) was .857. Unreal.
Pekka Rinne is playing out of his mind. But, as alluded to before, he's also had help. He is facing the fewest high-danger shots per 60 minutes among goaltenders remaining in the playoffs, at 5.6 (only Devan Dubnyk of the first-round casualty Minnesota Wild has faced fewer this postseason). That's compared to a league average of 7.2, Henrik Lundqvist at 8.4 and poor John Gibson at 10.0. Interestingly, Jake Allen of the Blues only faces 6.0 per game, so St. Louis can lock it down nearly as well as the Predators, it seems.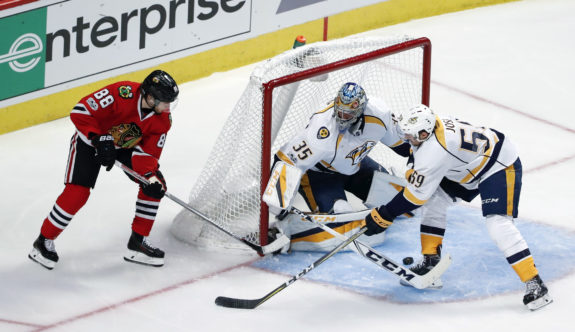 Even if Rinne falters somewhat, the Predators should still be fine, as they greatly limit high-danger shots against, a fact further borne out in their scoring chance numbers: the Preds are allowing the third-fewest in the playoffs, and the second-fewest amongst active teams.
Sustainable Success?
Is the Predators' stinginess sustainable? No, probably not. But half the fun of the playoffs is that they aren't sustainable. Players like Patrick Flatley, Chris Kontos and John Druce become household names. People are actually happy to see Gary Bettman (hand out the Cup). And hockey makes it onto national television in the United States.
That said, structurally at least, the Preds are set up to be more sustainable than most, and the 2016-17 edition just might write Nashville into the annals of hockey history.
(All advanced stats are thanks to Corsica. All metrics are at all strengths and in all situations, unless otherwise specified.)
Peter Ferrell covers the Florida Panthers and Toronto Maple Leafs, with a side of jersey and logo (over)analysis, for The Hockey Writers.