Matthew Strome
2016-17 Team: Hamilton Bulldogs (#18)
Date of Birth: January 6, 1999
Place of Birth: Mississauga, Ontario
Ht: 6'3" Wt: 201 lbs
Shoots: Left
Position: LW
NHL Draft Eligibility: 2017 first-year eligible
Twitter: @mstrome16
Rankings
THW Alternate Rankings: 34th (May)
Future Considerations: 27th (Spring)
Bob McKenzie: 29th (Mid-season)
Craig Button: 26th (March)
Talk about having a tough act to follow. Matthew Strome comes into his draft year following in the footsteps of his older brothers Ryan and Dylan.
Ryan was the fifth-overall pick of the New York Islanders in 2011 while Dylan was the third-overall pick of the Arizona Coyotes in 2015. Many expected Matthew to go as high as his brothers when it was his turn. Turns out Matthew is not like his brothers. He is carving his own path to the league.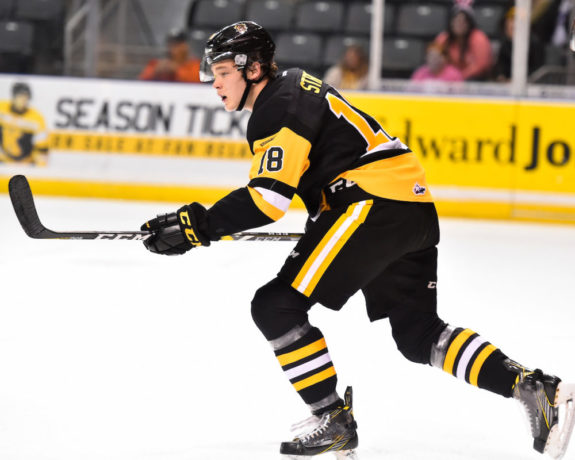 Matthew is the biggest of the three brothers. He already stands 6-foot-3 and is over 200 pounds. Not surprisingly, he plays the most physical game of the three. That's what makes Matthew so intriguing at the next level. He's a bigger version of Ryan and Dylan with the same amount of skill. Matthew finished his draft season with 34 goals and 62 points in 66 games while adding eight points in seven playoff games.
Strome brings many good things to the table. He is a nightmare to play against around the net thanks to his size. He then uses his high hockey IQ and passing ability to make his teammates better. He can also finish when he needs to. But watching the tape, the thing that stands out that needs improvement is his skating. With the direction the NHL is going with speed, many wonder if Matthew can keep up with the pace of the game. It's not often that a certain skill could dictate how someone's career will go. For Matthew, a successful NHL career hinges on how much his skating improves. If that catches up with his skill, look out.
NHL Draft Projection
Strome is most likely one of the first few picks on day two of the draft. I think there's enough concern out there that teams don't want to use their first-round pick on someone who has legitimate skating concerns. That said, he brings size and skill that few can match. The skating thing can certainly be the focus of offseason training and preparation. How he does with the skating will dictate where he could go come draft night. I have him 40th on my list, an early second-round pick.
Quotables
"A big, skilled winger that plays a complete and consistent game. Battles hard for puck possession and is relentless on both the power play and penalty kill. Plays a hard-nosed game and uses his size to establish his presence around the net. Has good hands, an accurate shot, and zero compromise hockey sense. His skating and overall balance off the rush and in-transition is a work in progress that is continuing to get better by the day. That being said, his vision is excellent and his offensive talent is apparent; he is able to play at a fast pace. Being able to keep up is a big part of that, and, moving forward, he has the potential to develop into a strong two-way winger that is hard to play against and can be relied on in all situations." –Elite Prospects

"Matthew is more grittier than his two older brothers. He'll move into the corners, make or take a hit and get to the front of the net for loose pucks. He's a prototypical power forward with good finishing ability. The one knock has been his skating but he's been working extremely hard to improve that area of his game." –Mike Morreale, NHL.com

"The first thing that jumped out to me watching Strome was "Mark Stone"- the ability to score, be a power forward, create havoc out front, and he has a nice edge to his game.  Sure the skating needs work, but he knows that and has already committed to off-season training." -Steve Clark, Niagara Icedogs play-by-play
Statistics
Strengths
Excellent vision.
Good finisher.
Not afraid to use body.
Under Construction (Improvements to Make)
NHL Potential
Strome is an interesting case. When you have someone who brings things that are really good (size and skill) and need improvement (skating), a wide-range of outcomes are possible. If his skating improves over time, he could become a Milan Lucic type player, putting him the top-six conversation. If the skating remains a liability, a third-line role is more reasonable. If he reaches his potential, I see a second-line role for him at the next level.
Risk-Reward Analysis
Risk – 4/5, Reward – 3/5
Fantasy Hockey Potential
Offence – 7/10, Defence – 6.5/10
Awards/Achievements
Matthew Strome does have some championship pedigree in his career to date. He won a GTMBHL Championship in 2012-13. He followed that up in 2014-15 by winning a GTMMHL Championship. He also won an OHL Cup and the OHL Gold Cup that season. He also won the Toronto Marlboros' Buck Houle Award, which is presented annually in recognition of outstanding on ice performance, leadership and loyalty, in the Minor Bantam through Midget age groups.
Interview/Profile Links
Videos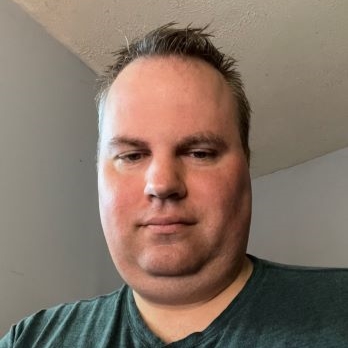 I am a fully credentialed writer who covers the Columbus Blue Jackets, Cleveland Monsters and Erie Otters as well as the Ontario Hockey League and NHL Draft. The 2022-23 season will mark nine seasons with the Hockey Writers. I am also the site's Credentials Manager. Please take note of the updated Twitter handle: @mark_scheig.