No.
How many of you reading this picked the Penguins to win their second rounds series against the Washington Capitals in five games? And for those of you who rely on hockey "experts", how many of them picked the Pens in five? No one predicted a short series. And I doubt people expected the Penguins to have a chance to close the series in Game 5. What I'm saying is…
Penguins Fans, Relax.
You're a hockey fan, you signed up for this. It's the hardest trophy to win for a reason and it's a special game. I hope you aren't an Edmonton fan; did you see what the Ducks did to them on Cinco de Mayo?
"…if you think these guys are going down in three straight to any team, in what would be tantamount to a total collapse, I dare say you haven't been paying attention." – Dejan Kovacevic
The Penguins have yet to play their best game and they still lead the series, and they are playing the Presidents' Trophy winners who are quite good at hockey. And yet, the Penguins have two more chances to close it out, once at home, again.
Yes again, this isn't anything new. A year ago, the Penguins took a 3-1 series lead, traveled to Washington, lost game 5, and Penguins fans began to worry.  We've been here before, and maybe last year, worrying was called for. Pens fans had endured two recent 3-1 series leads only to lose in Game 7 under the reign of Dan Bylsma and the mind-set of "here we go again" started to creep in.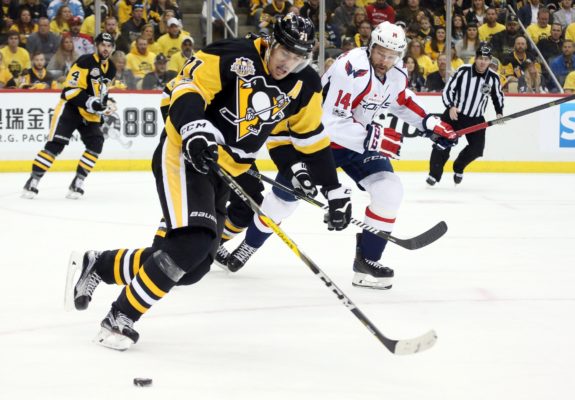 But imagine for a second that your franchise has lost eight of nine series' against another team and hadn't gotten out of the second round of the playoffs since the new millennium. This same team has won the Presidents' Trophy three times in the last decade and they have the game's greatest goal scorer. Every year, they are a favorite to win the Stanley Cup. And yet, it's 2017 and the Capitals are on the brink in another series, in the second round, trailing the Penguins.
Here We Go Again…
The only team that can play that card is the Washington Capitals. And here's why:
Most hockey analysts pointed to one factor that would change the Caps' playoff story in 2017 and see them advance to Alex Ovechkin's first Eastern Conference Final Series: sustained pressure. The Caps have gone above and beyond in this category outshooting the Penguins in every game and controlling puck possession. The Caps are doing everything they possibly can to win this series. But they are still behind.
For the Penguins, they have yet to put three periods together. They need to play with speed in front of Marc-Andre Fleury and give him more support. The Caps struggled versus the Maple Leafs because the Leafs were the faster team. The Penguins have great depth, especially with Crosby and Sheary back, and are a much faster team than the Caps. They've taken advantage of their chances, few as they have been, which is why they have a series lead. But the Penguins can be better, and they will be.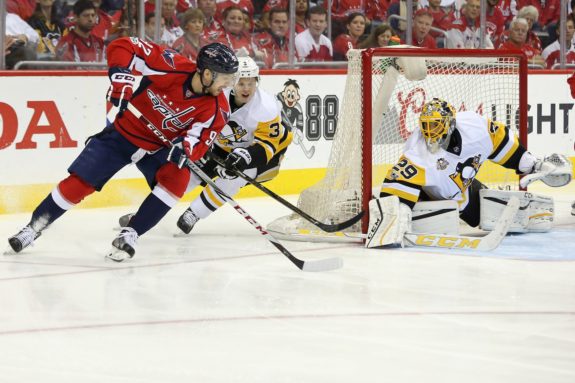 The X Factor: Flower Power
It should come as no surprise that the glaring reason the Penguins still find themselves ahead in this series is Fleury. He's been sensational and basically put up a brick wall. He's been consistent. Repeat that last word again: consistent. This word alone should give you comfort in why the Penguins, despite no real moral wins in Game 5, should feel great about their chances in Game 6.
Braden Holtby has been everything but consistent. He was ousted in their Game 2 loss and was bad in Game 4. He's looked nothing like his Vezina Trophy profile would suggest he can play and statistically, he's having his worse postseason to date. He's still an elite goaltender and he was bound to make a few timely saves. Aren't you glad they came in Game 5 and not Game 7?
Ovechkin was bound to score an Ovechkin goal, and Backstrom was bound to make a game changing play… game changing, not series changing. There's only one Cap who's been consistent and Kuznetsov played well, too. But well enough to spark an offense that can't beat Fleury (again)  and who's power play has looked JV?
No.
Not even sure I can say whole team collapsed. Played too conservative. Couple lazy backchecks and Caps surged. https://t.co/fRW6pYy8C8

— Mike Necciai (@Michael29Angelo) May 7, 2017
The Penguins played too conservative, they left backchecking out of the third-period surge, and the Caps (finally) made them pay for it. That being said, I ask you to scroll up and re-read the quote… this Penguins team is resilient. This team has leadership and, on Monday night, they will have 18,000+ fans who want to see a handshake line.
Six games are just enough to get your heart rate up without having to make a trip to the doctor's office for blood pressure medication. It's even better when you've enjoyed a series lead since Game 1. Therefore, I say, relax Penguins fans… it is NOT the time to worry.
Is it time to hope the Penguins give their best effort and focus in on closing the series Monday night? Yes.
Smith works full time with Rise Against Hunger, a non-profit set on ending world hunger by 2030. He's a hockey enthusiast living in Pittsburgh, PA and formerly covered the Pittsburgh Penguins for THW.
Follow him on twitter @BSmithWV