Matthew Strome is the final Strome in a trio of brothers that have been or will be drafted into the NHL. Matthew is eligible for the 2017 NHL draft and is projected to go in the first round in mock drafts all over the internet; including our very own Christopher Ralph who has Matthew slated as the 18th overall pick in his 2017 NHL Mock Draft.
The Strome Pedigree
The Strome brothers are gaining ground on some of the NHL's finest families. Although they are not quite the Staal's who had four brothers drafted into the NHL (Marc, Eric, Jordan and Jared) the Strome name will soon have three members in the NHL brotherhood.
The first Strome to be drafted was Ryan who went fifth overall in the 2011 NHL draft to the New York Islanders. It has taken Ryan some time to establish himself as an NHL player for the Islanders but it seems he has figured it out this season. Ryan is a playmaker, he is very good with the puck and his skating ability is the best of the three.
The second Strome to be drafted was Dylan who was drafted third overall in 2015 by the Arizona Coyotes. Dylan was highly touted by scouts going into the draft, and as a teammate of the number one pick (Connor McDavid) he put up an astonishing 129 points in 68 games during the 2014-15 season with the Erie Otters of the OHL.
Similar to Ryan, Dylan struggled during his one stint with the Coyotes this season, where in seven games he only managed a single assist. Dylan is the most offensively gifted of the three brothers. Once he adjusts to the NHL game, expect to see him make some noise alongside the other young guns on the Coyotes roster.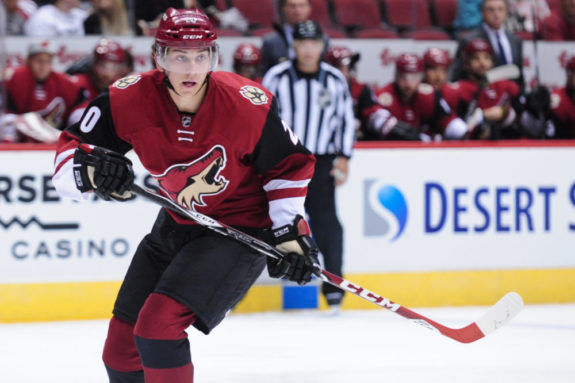 Strome 3.0
Matthew Strome stands at 6′ 3" and 200 pounds. He is the largest of the three Stromes to enter the NHL. Matthew plays a very sound two-way game. He is a gifted offensive player who uses his big body to his advantage around the net. He is one of the better possession players in Major Junior hockey and his ability translates into a fluent three-zone game. Matthew can be actively involved on the power play and the penalty kill.
During the power play, he can park himself in front of the net and work a screen on the goaltender while waiting to see a shot come through for a possible redirection. His Ontario Hockey League (OHL) team, the Hamilton Bulldogs, utilize him this way and it has led to success. Matthew has 9 power play goals along with 9 power play assists.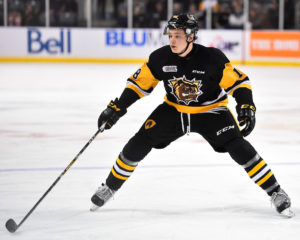 Matthew's defensive ability is well developed. He is very good at maintaining his positioning in the defensive end. He keeps an active stick in passing lanes. He lays the body in all three zones and blocks shots often.
There is a weakness in Matthew's game; his skating ability. Watching his game tapes, you notice that his skating isn't as smooth as you would expect from a top prospect. He has a short choppy stride when he needs to get going. It is very noticeable in start-and-stop scenarios. Again, he is 18 and will continue to develop all areas of his game; but the flaw in Matthew's skating looks to be from technique and not from growth.
Report Card
Offensive Ability: Matthew plays a very different game from that of his brothers. Comparisons to Ryan and Dylan aren't a new thing to him, but Matthew will have to play and show his different style. If he can get chances around the net he can score at the next level. B/B+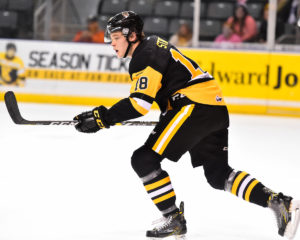 Defensive Ability: Although he is not known for his defense, Matthew plays a very strong defensive game. He is far from a liability in the defensive zone and his smarts help his game. B-/B
Potential: Understandably so, the Strome brothers haven't had the easiest time adjusting to full-time NHL play. Don't expect Matthew to be a first-year NHL player. He has another year of eligibility for the Hamilton Bulldogs so expect him to play another year and develop his weaknesses. His skating ability hurts him and he may be as strong an offensive player as he will ever be in his career. B-
Overall: Matthew Strome will have to be surrounded by players that aid him if he is to become a functional NHL player. He will spend an extra year in Major Junior and possibly some time in the AHL before proving that he is ready for NHL play. B- and a B at best
Draft Projection: Late first round.
Best Fit: Anaheim Ducks
High-End NHL Comparison: Milan Lucic
Low-End NHL Comparison: Chris Stewart
Journalism student at Boston University. Deep passion for the game of hockey. Very active on Twitter, join the debate!