Just a few short years ago, Milan Lucic was one of the most coveted players in the NHL. He was tough, he was mean, and he could score. But after the Bruins traded him, and the Kings elected not to keep him, many wondered if the Lucic model had reached it's expiration date.
The Edmonton Oilers believed he was exactly the kind of guy they needed, and signed him to a big free agent contract. Half a season into that contract, and the fans remain divided on the actual worth, and the effectiveness, of big number 27.
The Salary Problem
Lucic makes $6 million against the cap, and an actual $8 million in salary. That's for the next seven years. He's 28 years old, which should put him in the prime of his career. But the fear was his style of play, and the toll that has on his body. His propensity for big hits and the occasional fight have aged him beyond what his birth certificate says, and may force him to change the way he plays.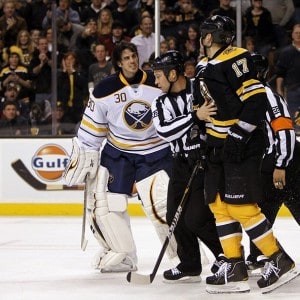 The Lucic that helped the Bruins to a Stanley Cup in 2011, and another final in 2013 isn't exactly the Lucic you see today. For those who believe the game has passed him by in terms of speed, there's merit there. He was never the swiftest of skaters, but the Bruins were built on size and grit, and he fit in perfectly with their system.
The Oilers are a bit of both, or at least trying to be. They have their speed guys (mainly Connor McDavid), but they want to be hard to play against. Lucic has certainly provided in that area. There is a case to be made that the smaller Oiler forwards are playing a little bigger knowing that they have Lucic on their side.
Unfortunately, the plan to have him on McDavid's line was short-lived because he simply couldn't keep up. Maybe that was a big cause for disappointment and the subsequent displeasure with his performance. The idea of Lucic being McDavid's wingman was a great one. But Connor looks capable of holding his own, and Lucic is just one jump over the boards when needed.
Milan Lucic has fewer 5v5 points than Winnik, Cullen, Kassian, Boyle, Korpikoski, Jarnkrok and Wilson, among many others, this season.

— Todd Cordell (@ToddCordell) February 20, 2017

The question is, is a $6 million cap hit too much for a guy to pitch in some goals and be a physical presence? If you don't believe it's money well spent, consider this. Lucic putting up big points at this stage of his career should be considered gravy compared to the rest of what he provides (or should provide). The problem is that he has looked lost on many nights, and unnoticeable in many games.
I have one fewer even strength goal than Milan Lucic does when playing without Connor McDavid this season.

— Dimitri Filipovic (@DimFilipovic) February 17, 2017
[irp]
The Oilers expect their free-agent prize to be a force in the lineup. On some nights, he is. When he's playing his game, Lucic is effective. And frankly, if you look at some other guys in his salary range, you'll see players who provide nothing else if they aren't scoring. You could look no further than some of his teammates.
Jordan Eberle (12 goals)
Ryan Nugent-Hopkins (12 goals)
David Backes (12 goals)
Loui Eriksson (11 goals)
Tomas Plekanec (7 goals)
The Production Problem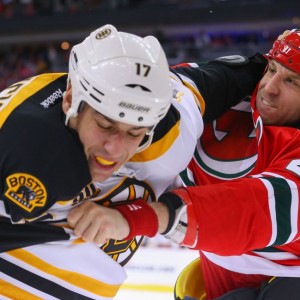 Lucic has 12 goals on the season. That would put him right in the range of other players who make his salary. There are two players who count for the same against the cap who are out-producing Lucic. Joe Pavelski (20 goals), and Kyle Okposo (18 goals). Pavelski is considered to be one of the better forwards in the league, and Okposo isn't what you would call an intimidating physical player.
When looking at comparables based solely on salary, Lucic is exactly where he should be. Make no mistake, just because other players aren't producing enough, that doesn't excuse Lucic. If more is expected of him, it shouldn't matter what his peers are doing. But when using the argument that he's overpaid, well that seems to be the going rate for guys who have around 12 goals on the season.
Over the course of his career, Lucic has scored 30 goals just once. His next best season was 26. If he reaches 20 goals, that's a good season. He may get there this year, he may not. Lucic is also very durable. He's played essentially a full season the last six years. Let's put things into an even bigger perspective. Going into action tonight, Lucic equals, or bests the following players in terms of goals.
Daniel and Henrik Sedin (12 goals each, $7 million cap hit each)
Nathan MacKinnon (12 goals, $6.3 million cap hit)
Jonathan Toews (12 goals, $10.5 million cap hit)
Claude Giroux (12 goals, $8.2 million cap hit)
Bobby Ryan (12 goals, $7.2 million cap hit)
Jordan Staal (11 goals, $6 million cap hit)
Jaromir Jagr (11 goals, $4 million cap hit)
Johnny Gaudreau (11 goals, $6.7 million cap hit)
Corey Perry (11 goals, $8.6 million cap hit)
Ryan Getzlaf (11 goals, $8.25 million cap hit)
Anze Kopitar (6 goals, $10 million cap hit)
[irp]
That is some pretty elusive company. And a lot of coin is being spent on those players. Some much more than what Lucic makes. It's amazing what a little dose of reality can do. Of course every fan wants their players to produce and be great, especially the ones making a lot of money. But there are plenty of guys in the league not quite living up to their contracts.
In the case of the Oilers, their lack of secondary scoring does put a little bit more focus on a guy like Lucic, (especially considering his struggles at even strength). But he's carrying his weight in terms of his salary and production. He's making the Oilers better. (Yes, McDavid and Cam Talbot have a lot to do with that as well). It may not always seem that way, but the Oilers without Lucic? We all know how they performed.