The National Hockey League season is drawing to a close and, barring a surge of supernatural proportions by the Los Angeles Kings, the Nashville Predators will make the playoffs for the third consecutive spring. The team is looking better than it perhaps ever has; 10th in goals for, sixth in Corsi For percentage, the best defense corps in the entire NHL and a top line that has left nothing but smoldering wreckage in its wake.
"Just Okay"
What about goaltending? That's where it gets tricky. Pekka Rinne has been about average this season. Bad? No. Good? No. Just average. Or, in Randy Carlyle parlance, "just okay". Rinne's .916 save percentage is only the 14th-best amongst NHL goaltenders this season (10 or more games played), but it is not disastrous by any means. It is certainly better than the .908 he threw up last season. So what's the problem?
Well, Pekka Rinne has the worst high-danger save percentage (all situations) of all starting goalies since the beginning of the 2013-14 season. Taking all goaltenders (with at least 40 games worth of ice time) into account, starter or otherwise, he is still a dismal fifth-to-last (only Jonas Gustavsson, Ray Emery, Jeff Zatkoff and Anders Lindback have been poorer).
Using the same criteria for inclusion, Rinne is an astounding third-to-last in goals saved above replacement, ahead of only Anttii Niemi and Cam Ward, and behind such stalwarts as Karri Ramo, Alex Stalock and Anton Khudobin. Yikes.
Now, it's not all bad news; Rinne is middle-of-the-pack in medium-danger save percentage, and near the top in low-danger save percentage. That said, for a goalie who is constantly referred to as being among the NHL's elite, one would expect Rinne to be near the top of all – or nearly all – statistical categories.
Pattern of Puzzlement
This middling performance seems to be borne out, last year and this year especially, in the Preds' place in the standings. Last season, Rinne posted a .908 save percentage over 66 games. While .908 generally won't keep a goalie in the league for very long, it is not unheard of. That said, .908 from your starter is downright unacceptable (unless you're the Dallas Stars).
The Predators made the playoffs in 2015-16 as the first wild card seed, crossing over to the Pacific Division to play the Anaheim Ducks in the first round. After finishing the regular season with the 12th-highest goals for in the league – fifth-highest in the conference, it can be reasoned that the Preds made the playoffs despite Rinne, not because of him.
Equally puzzling are his playoff performances: Again, last season, the Predators seemed to make the impressive run they did – to the seventh game of the second round, losing to the eventual Stanley Cup finalist San Jose Sharks – in spite of shaky goaltending (Rinne was a .906 goalie over Nashville's 14-game run). For his career, he has posted a .912 save percentage over 48 playoff games, though he has only reached .912 or better in one of his five playoff runs.
So why the discrepancy between public perception and actual performance? Well, Rinne's inconsistency has, so far, not really cost his team. Yes, both this season and last, his regular season play has no doubt dragged down the Predators' playoff seeding to a certain degree. But hey, they're still making the playoffs; they even won a round last spring, against the heavily favoured Ducks, no less.
Impressive Body of Work
It's not as though Rinne chokes in tough situations either; far from it. The Predators were heartily outplayed in game seven against the Ducks – as they were for much of the series, but Rinne stopped 36 of 37 shots in a hostile building against a team with no shortage of offensive threats.
And let's not forget the fact Rinne has been nominated for the Vezina Trophy on three occasions (2011, 2012 and 2015). Putting together three full seasons of being one of the three best goaltenders in the NHL is no mean feat. In 2011, he was even named to one of the NHL's season-end all-star teams. To add to his league-wide accolades, he tops the Predators' all-time list in every goaltending category of note. Not too shabby!
Despite the impressive body of work though, one has to question if 2016-17 Pekka Rinne is the Preds' best option going into the playoffs. Rinne is frequently brilliant, but remarkably inconsistent for a goaltender generally regarded as one of the best in the game. To be fair, he has shown flashes of this inconsistency throughout his career. However, advancing age, along with the lack of a defensive system and accompanying defensemen that play to his strengths, have noticeably exacerbated things.
Preds' Time Is Now
Meanwhile, the Predators' window to win has arrived. The oldest member of their vaunted defense corps is Matt Irwin at 29. Their top line of Filip Forsberg (22), Ryan Johansen (24) and Viktor Arvidsson (23) is on fire. Powerhouse Central Division opponents – the Dallas Stars and St. Louis Blues – have come down to Earth, while the Winnipeg Jets and Colorado Avalanche are at bay – for now. This year and next are crucial for the Preds.
Play the Understudy?
It is this urgency that necessitates the team starting the goaltender that gives them the best chance of taking advantage of this window of opportunity. Juuse Saros has thoroughly outplayed Rinne for most of the season, leading him in low, medium and high-danger save percentage, not to mention Saros' over 10-goal advantage in goals saved above replacement. Even if one only looks at the more easily digestible total save percentage, Saros is still spanking Rinne, with a sparkling .928 to Rinne's middling .916.
Playing the understudy might also give the Preds an advantage, given that, of all the teams the Predators could conceivable play in the West's playoff picture, only the Sharks, Blues, Calgary Flames and Chicago Blackhawks have seen him in action. Of those, only Calgary has played him more than once (Saros played half of a second game against the Flames).
Usurping an established starting goaltender will not be an easy thing for Nashville to do, but it may well be necessary. They know what they have in Pekka Rinne: an elite talent who is consistently inconsistent. Juuse Saros, though wholly untested in the playoffs, has been brilliant for the Predators all season long. And hey, if the Preds start Saros and, later on, a switch needs to be made, Rinne is sure to be motivated to re-establish ownership of the crease.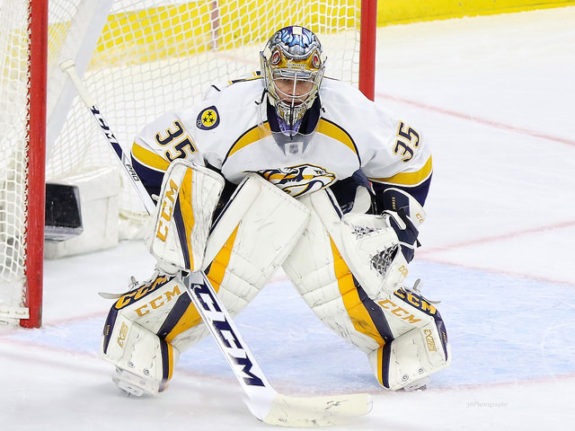 Make no mistake, whichever way the team decides to go, the potential for hurt feelings is real. But the Nashville Predators' ultimate goal is to win the Stanley Cup. So who starts in game one? The choice seems pretty clear.
(All advanced stats are thanks to Corsica.)