What a difference a year makes.
Last year, the Dallas Stars exploded out of the starting gate and never looked back, galloping across the regular-season finish line first in the Western Conference with 50 wins and 109 points.
This season has been different in almost every way imaginable. With 24 games remaining, the Stars sit six points out of the second Wild Card spot, which is occupied by the Los Angeles Kings. The Kings are on pace for 90 points, which means the Stars, with 54 points heading into Thursday's game against Minnesota, would need to finish the season 16-4-4 or so to catch them.
Can the Stars do it? In theory, yes. Realistically, though? That's asking a team which has managed only one three-game and two two-game win streaks this season to string together back-to-back victories eight more times over the final 24 contests, at a minimum. It's no surprise the Stars' Stanley Cup odds have fallen to 50 to 1 or worse in Las Vegas.
What caused the precipitous fall of the team former St. Louis Blues coach Ken Hitchcock called "the future of the NHL" just last spring? From players to coaches to management, everyone bears a share of responsibility. With apologies to The Bard, at each level, there's a fault in these Stars.
Forwards
Stars skaters have battled injuries since before training camp, with the forward corps hardest hit. Only Tyler Seguin and Devin Shore have played every game this season. At the opposite end of the spectrum, Ales Hemsky has a single game to his credit, which is one more than Mattias Janmark.
As general manager Jim Nill said recently, the injuries are an explanation, not an excuse. Multiple forwards either missing or playing through injuries have seriously impacted the Stars. Mike Heika, Stars beat writer for The Dallas Morning News, said recently that Janmark's absence has been most painful for the club, and he's right.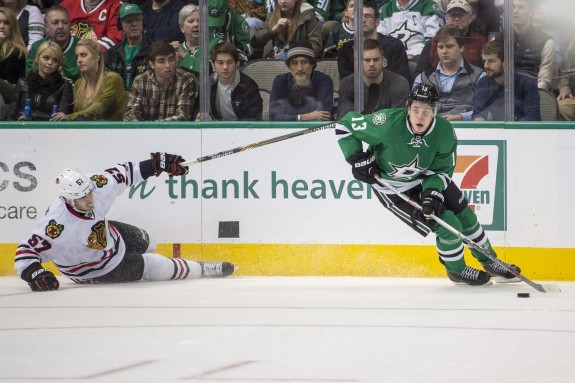 Last season, Janmark was the defensive yin to Jason Spezza's offensive yang. Without the young Swede, the veteran has bounced from his natural center position to wing and back again. Spezza, who scored 33 goals in 2015-16, is on pace for 12 this season.
Spezza's far from the only forward whose numbers are off in 2016-17: Stars captain Jamie Benn's performance through the fall and into the new year inspired much speculation about his health. Despite his strong play of late (he's tallied seven goals and seven assists in his last ten games), Benn is on pace for 27 goals, down from 41 last year. Patrick Sharp's battle with concussion-related issues has the Cup-winning winger on target for 12 goals, his lowest total since 2012-13, when he played only 28 games. And Cody Eakin, who lit the lamp 16 times last year, has just one goal in 36 games this season.
Injuries forced a team built for speed to slow down and play a more deliberate, defense-oriented game. The Stars' forward corps wasn't designed to do that, and it shows.
Defense
The Stars parted company with UFAs Alex Goligoski, Jason Demers and Kris Russell last summer, seemingly clearing out the eight-defender logjam that stalled the development of Patrik Nemeth and Jamie Oleksiak in 2015-16. For a brief, shining moment, 2016-17 was set to be The Year the Kids Got to Play. That lasted little more than an hour into the July 1 "Free Agent Frenzy," when GM Nill inked veteran blueliner Dan Hamhuis to a two-year deal.
Signing Hamhuis, combined with the long-expected promotion of rookie Esa Lindell to the NHL, gave the Stars eight defensemen yet again. Of the octet, only Lindell and Stephen Johns could be sent to the minors without passing through waivers, and both belong in the NHL.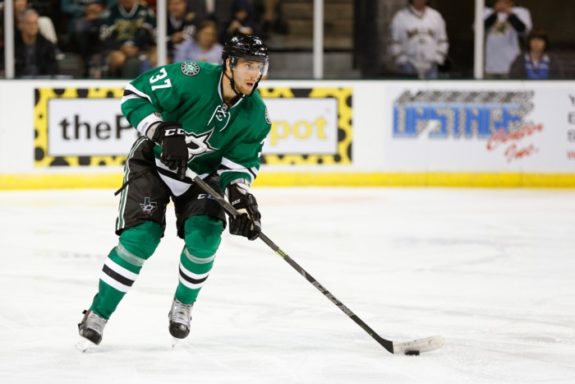 Management hoped Nemeth and Oleksiak would play their way into the top six, outperforming veterans Johnny Oduya and Jordie Benn. Coach Lindy Ruff's primary focus is on winning games, however, and rightly so. Night after night, Ruff dresses the six defensemen he feels give the Stars the best shot at victory.
There's little margin for error when eight players compete for six spots, but some players have a shorter leash than others. Until Oduya's ankle injury, Johns, Nemeth and Oleksiak seemed to be stuck in a "play until you make a mistake, then sit until someone else screws up" rotation.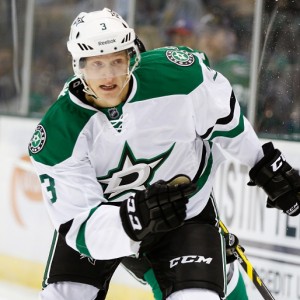 The flaw in such a system is that young defensemen make mistakes. It's part of the learning process. Adjusting to the NHL is tough enough; if a player also has to worry that his next mistake could get him benched, the added concern can impact his confidence and decision-making on the ice. The aforementioned trio have all been impacted in this manner.
For John Klingberg, on the other hand, the pressure has been largely external. Opposing clubs have studied the offensive defenseman and exploited his weaknesses. Like his teammates, the young Swede's confidence has also taken a hit. Klingberg is learning, adjusting and otherwise battling through, however. In the long run, he should be just fine. Here and now, the Stars are feeling the effects of their talented young defender's growing pains.
If the 2016-17 season has proven anything, it's that "Eight is Enough" might've been a good TV show, but it's no way to run a defensive unit.
Goalies
Plain and simple, the Stars' two-headed goalie experiment has failed. To be fair, Nill inherited Kari Lehtonen's contract…and to be fair to Nill's predecessor, the Finnish netminder was coming off a season in which he posted a 2.33 GAA and .922 save percentage on a Stars team which missed the playoffs by six points when Joe Nieuwendyk signed him to that deal.
For the last three seasons, Lehtonen has recorded save percentages of .903, .906 and .902, while his goals-against average has been closer to 3.00 than 2.50. His performance has been uneven, to say the least.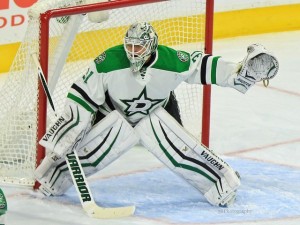 Nill tried to remedy the situation by bringing in a goalie who would push Lehtonen for starts, rather than another backup. Unable to get Cam Talbot from the New York Rangers, the Stars' GM landed Antti Niemi instead.
Almost two years into the two-goalie system, Niemi still hasn't adjusted. His save percentage dropped from .905 last season to .899 now, while his goals-against average ballooned from 2.67 to 3.19.
Earlier this season, Ruff said advanced statistics can tell you a lot about a team, but they can't account for the goalie's impact. A team's confidence begins in the crease and radiates outward from there. A hot goalie can make his entire team look good.
The opposite is also true, and the 2016-17 Stars are living proof.
Coaching
As coach, Lindy Ruff can't control injuries, the number of defensemen on the roster or the goalies he's been given. What he can control is how the players he's been given are employed, and that's an area open to criticism.
With Janmark out, Ruff has been reluctant to play both Spezza and Tyler Seguin at center in the same game. While the coach cites statistics to support his position, other numbers raise questions. To give just one example: According to Corsica.hockey, one of the Stars' most effective lines, in terms of both generating and suppressing shot attempts, is the combination of Lauri Korpikoski, Spezza and Jiri Hudler. Why, then, has that trio skated together just 25 minutes at even-strength this season?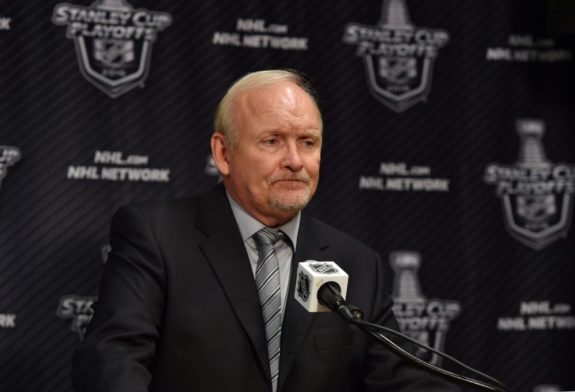 The merits of line "Ruffling" can be debated ad nauseum. Ruff has often chosen the psychological "jolt" players sometimes get from switching lines mid-game over the chemistry of static lines. This season, at least, it hasn't worked, and it's fair to question whether the coach has gone to that well too often.
There are always two sides to every story, and nowhere is that more apparent than the Stars' unsettled (and unsettling) goalie tandem. In Ruff's defense, neither goalie has demonstrated the ability to seize the starting job. As Marty Turco pointed out recently, however, the knowledge that one off night means taking a seat has impacted the Stars' netminders.
Marty Turco: How Stars are handling goalies isn't a 'great conducive environment for confidence' https://t.co/k2TeXj45Fe pic.twitter.com/sSeU1ZxNfy

— SportsDay Stars (@dmn_stars) February 16, 2017
The Stars' special teams are a disaster. The middle-of-the-pack power play has allowed a league-worst 10 shorthanded goals, while the penalty kill, absent last season's key players Vernon Fiddler, Colton Sceviour, Alex Goligoski and Jason Demers, sits at the bottom of the NHL.
Some, but not all, of the PK problems can be blamed on personnel turnover. The Stars leading the league in shorthanded goals against for the second year in a row, though? If the man-advantage is merely "average" and has allowed a league-high 25 shorties in less than two seasons, and the coaching staff can't convince players to execute the power play as designed, either the players or coaches need to change.
Last, but not least, the team has rarely put forth a solid, 60-minute effort this season. Injuries and player turnover aside, inconsistency of effort has been the most consistent aspect of the 2016-17 Dallas Stars. For a team to drop from first to 12th in the Western Conference in just one year is alarming, and the entire coaching staff must shoulder some of the blame.
Management
The acquisition of Niemi simply didn't pan out, but GM Nill deserves credit for trying to improve the Stars' goalie situation. It's hard to heap criticism on Nill, due simply to the sheer volume of unknowns. After the GM was unable to secure Cam Talbot's services, was Niemi really the next-best goalie available, or just the best available at the price the Stars were willing to pay?
As for letting so many key players walk last summer…Fiddler is clearly missed in the room and on the penalty kill, and wanted to stay in Dallas. Sceviour, too, is missed. Based on the contracts those players signed with New Jersey and Florida, respectively, the Stars could've retained their services for a combined annual cap hit of $2.2 million. Essentially, they were replaced by Lauri Korpikoski and Adam Cracknell, who have a combined cap hit of $1.6 million. While Korpikoski has been fine and Cracknell a pleasant surprise, neither represents an upgrade over Fiddler or Sceviour.
Vernon Fiddler reunites with biggest fan https://t.co/eQuBSYrYN0 via @NHL

— Sean Shapiro (@seanshapiro) November 15, 2016
There's plenty of room for second-guessing on the blue line, as well: Carrying eight defensemen for two years running has proven counter-productive, particularly for Nemeth and Oleksiak. Nill knew either player would be claimed if he exposed them to waivers in order to send them to the AHL, so they've remained in Dallas and largely in limbo for two years.
Only the GM knows the true trade value of those young defensemen, but it obviously wasn't enough to persuade him to make a deal. It's a safe bet, however, that their stock would be higher if Nill hadn't signed Dan Hamhuis last summer.
Make no mistake: Hamhuis has been a solid addition to the blue line. By signing the free agent, however, Nill demonstrated a lack of confidence in his younger defenders. At the end of 2015-16, Esa Lindell was expected to make the jump to the NHL this season. Without Hamhuis, the Stars' defense might've looked like this:
Lindell – Klingberg
Oduya – Nemeth
Oleksiak – Johns
Jordie Benn
Given the way this season has unfolded, would that lineup have been so bad? Instead, Nill hedged his bets on the "let the kids play" plan by signing Hamhuis, ensuring another year of one-too-many defensemen and, given Ruff's understandable bias toward veteran blueliners, another year of stunted growth for Nemeth and Oleksiak.
The 2016-17 Stars have many faults. While some are the product of fate, others are man-made. As general manager, the onus is on Jim Nill to fix his club and give them every chance at success. It's going to be a busy summer.