The Toronto Maple Leafs hold the final wild card spot in the Eastern Conference with just 25 games left to play in the 2016-17 regular season — putting them in a unique situation as they approach the league's trade deadline on March 1.
Are they a buyer or are they a seller? Calling them one or the other may not be accurate, but they could be a "potential major player," according to Sportsnet's Chris Johnston.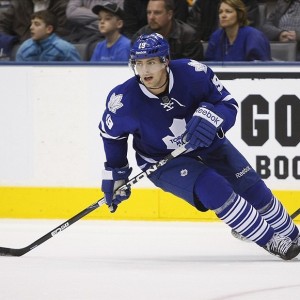 The Maple Leafs are just $750,000 below the NHL's salary cap and may owe rookie players like Auston Matthews and Mitch Marner as much as $5.6 million in performance bonuses at season's end, according to Johnston.
However, Maple Leafs general manager Lou Lamoriello and his staff have creatively used the long-term injured reserve to their advantage, placing players like Nathan Horton, Joffrey Lupul and Stephane Robidas on that list and giving themselves the opportunity to spend $15 million over the NHL's salary cap for the rest of the year.
According to Johnston, the Maple Leafs have more of it than any team in the league "not restricted by an internal spending budget."
In their current situation, the Leafs are set to be over the NHL's salary cap in 2017-18 — which is anticipated to rise only minimally over this year's $73 million level.
Johnston made an interesting point in his article, 'NHL Trade Deadline Team Needs: Toronto Maple Leafs', when he wrote the following about the club: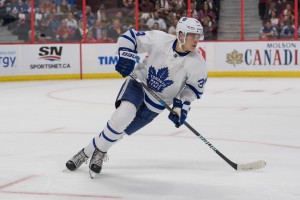 "They're facing a significant 2017–18 overage either way and the $750,000 extra hit they'd take for going above the cap now could theoretically be offset by what they get in exchange for doing it. 
At this stage, adding an $800,000 depth player in a deadline trade would have the same long-term impact on Toronto's cap picture as acquiring someone who makes $4.25 million or even $7 million. They could even fit in all three of those hypothetical players, assuming each is on an expiring deal.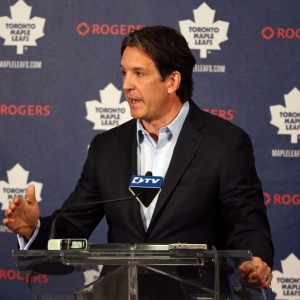 That puts the Leafs in position to take a problem contract off another team's books – for a handling fee, of course. It's a similar strategy to the one they employed last season when they added picks and prospects while assuming the unwanted contracts of Brooks Laich, Milan Michalek, Colin Greening and Raffi Torres.
It makes them both buyer and seller — a luxury they won't enjoy for much longer."
With the team sitting 26-19-11 with 63 points and in fourth place in the Atlantic Division, they could use a veteran forward and some help on the blue line, but what does future hold between now and March 1 for the club?
With that sort of cap room available, a lot could happen between now and then with the Maple Leafs, but only time will tell.
Therrien's Statement to Habs Fans & Organization
Michel Therrien was replaced by Claude Julien as head coach of the Montreal Canadiens on Tuesday in a move that rocked the hockey world — even if it was the same thing that happened just over 14 years before.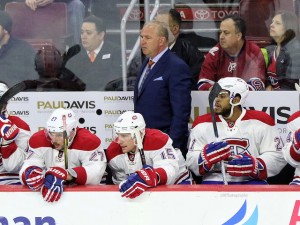 Therrien, 53, coached the Canadiens to 271 wins over the course of two separate stints with the organization — fourth in team history behind Toe Blake, Dick Irvin and Scotty Bowman.
The Canadiens were in first place in the Atlantic Division at the time Therrien was relieved of his duties on Tuesday, despite having dropped six of their previous seven contests.
On Thursday, Therrien released a statement via a press release, thanking the city of Montreal, the organization and their fans, while also wishing the team and Julien the best of luck moving forward.
Here is the statement, in its entirety:
Former #Habs coach Michel Therrien releases a statement. Here is English version, courtesy of @RDSca: pic.twitter.com/sszkwv2kYQ

— Frank Seravalli (@frank_seravalli) February 16, 2017
Melnyk: Sens 'all in' on Outdoor Game in December 2017
The Ottawa Senators have an agreement to play an outdoor game in the city in December 2017, according to team owner Eugene Melnyk on Thursday.
Eugene Melnyk tells PTS the Senators have an agreement for an outdoor game in Ottawa in December of 2017.

— John Shannon (@JShannonhl) February 16, 2017
Melnyk is hopeful that an announcement about an outdoor game will be forthcoming sometime in the future.
"We're done as far as the Senators are concerned, we're all in," he said, according to the Canadian Press. "We've made our deals. I think all the other parties, which includes the city, OSEG (Ottawa Sports and Entertainment Group), the NHL they have to do their deal. That's the only reason. We're done. We're in. I want to do it. I'm excited about it."
Odds and Ends
— The Winnipeg Jets will be without defenseman Tobias Enstrom for the next two-to-three weeks after he underwent surgery on a lower-body injury, Paul Maurice said on Thursday.
Maurice gives injury updates, talks Laine and Crosby, and the challenges the Penguins present the #NHLJets. pic.twitter.com/G9HxZdjpzp

— Winnipeg Jets (@NHLJets) February 16, 2017
— The Calgary Flames have signed defenseman Matt Bartkowski to a two-year, two-way contract that runs through the end of the 2017-18 season. The 28-year-old blueliner has skated in 211 career NHL regular season games, tallying 42 points and 127 penalty minutes, along with three points in 15 postseason contests.
#Flames TV checked in with defenceman Matt Barkowski after he signed a two-year deal with the team! pic.twitter.com/t2poN6SlQD

— Calgary Flames (@NHLFlames) February 16, 2017
— Is tonight the night Pittsburgh Penguins forward Sidney Crosby scores his 1000th career point? The 29-year-old has 999 points and will be skating in the 757th game of his NHL career when the Penguins host the Winnipeg Jets on Thursday.
— Erie Otters forward Dylan Strome scored a goal with an opponent's stick during the team's 5-1 victory over the London Knights on Wednesday night. Turn up the volume on your computer's speakers and watch one of the more unique sequences you will ever see!