On Wednesday, Notre Dame goaltender and 2013 fifth-round Buffalo Sabres draft pick Cal Petersen announced he will leave school to turn pro. The decision gives the Sabres and new GM Jason Botterill 30 days to sign Petersen before he becomes an unrestricted free agent, a la Jimmy Vesey.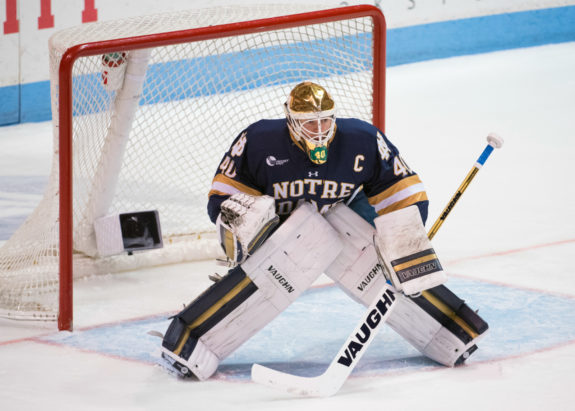 Starting Friday, June 30, Petersen will become a free agent and can sign with any NHL team. Unfortunately for Sabres fans, he has little incentive to sign now and has leverage. You can't blame him for waiting it out and exercising his rights.
Petersen's Impressive Numbers
The 22-year-old standout goalie prospect will have many suitors given the great numbers he put up as the captain of the Notre Dame squad over the past few seasons. The workhorse goalie helped lead the Fighting Irish to their third Frozen Four in school history, starting in an unheard of 90 straight games, finishing with a career .924 save percentage, 2.30 goals against average and 55 wins.
Should Petersen sign, he'd likely be the starter in Rochester next season.
Congrats to captain Cal Petersen, who announced he will turn pro this summer as he looks towards an @NHL career! https://t.co/tHNTqzMKov pic.twitter.com/lHzWEQ3nnc

— Notre Dame Hockey (@NDHockey) May 31, 2017
Petersen is a quick, athletic goalie who models his game after Tuukka Rask. The full right netminder (he catches with his right hand) controls rebounds well and does not get scored on often down low because of his quick feet. The heavy workload he's seen in college suggests he's better prepared than most to face the rigors of professional hockey.
The Sales Pitch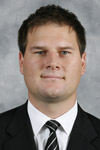 With Robin Lehner and Linus Ullmark already ahead of Peterson in the queue for the Sabres' crease, it'll be up to the freshly-inked general manager Botterill to convince Petersen that he has a chance to eventually get NHL playing time in Buffalo. Botterill has stated several times how drafting and properly filling out a team of prospects in Rochester are priorities to making the system work. Losing a goalie like Petersen would be a blow to the organization's goalie depth.
While playing in the world championship, Sabres franchise center Jack Eichel gave Petersen the low-down on the organization and what it's like to be in Buffalo. The sales pitch didn't work for Vesey last summer as he signed with the New York Rangers.
Not a Sure Bet
Prospect goalies, like any other position, are hit or miss propositions. Matt O'Connor, Boston University's standout goalie, was heavily recruited. He chose to forego his senior year at Boston and signed a two-year contract with the Ottawa Senators in May 2015.
After an injury to Ottawa goalie Andrew Hammond, O'Connor stayed with the team and made his NHL debut in October that year. It's too early to tell what kind of player he'll become, but the natives in Ottawa have become a little restless as their rookie goaltender has been less than stellar so far. He has a 24-28-4 record with the Binghamton Senators, sporting a 3.26 goals against average and a .895 save percentage.
Johansson Inked
The Sabres also announced this week they've signed 21-year-old Swedish netminder Jonas Johansson to a three-year, entry-level contract. The 6'4" netminder was drafted by Buffalo in the third round in 2014.
After playing in Sweden's Allsvenskan league, Johansson played in a few games for the Amerks towards the end of the season.
Lehner's Future Unknown
Robin Lehner, brought in by former general manager Tim Murray, is currently a restricted free agent. His upcoming contract will send a message about what Botterill thinks of him.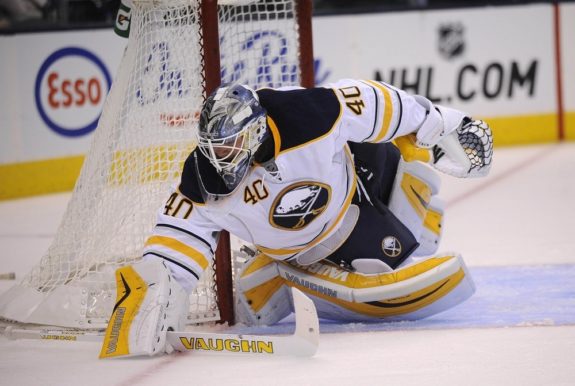 The hot-tempered goalie was not the reason the Sabres failed to qualify for the playoffs, putting up respectable numbers (not counting shootouts) with a questionable-at-best defense in front of him. He appeared in 59 games, with a 23-26-8 record, .920 save percentage, 2.68 goals against average.
While his durability continues to be a question mark, his leadership style and no-nonsense remarks are admirable. At the right price, he's worth keeping in the system. He'll likely command a salary range of $3.5-$4.5 million per year.
Buffalo's Crowded Crease
With Linus Ullmark expected to stake his claim to the Sabres' backup role, Johansson should get some playing time in Rochester next season.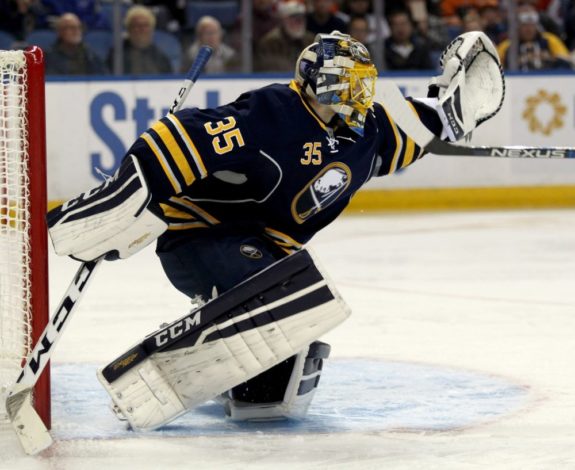 Playing a few years in the AHL, while developing his game and adjusting to the pace may be the smart move for Petersen. He would battle with Johansson for the starting role.
Last season's backup, Anders Nilsson, is a pending unrestricted free agent. It's uncertain if the Swede will return.
Jason Kasdorf, a sixth-round pick in the 2011 draft by the Winnipeg Jets, is also under contract. He went winless in three games last season for the Rochester Americans.
Assuming the Vegas Golden Knights pass on Linus Ullmark, who do you see as the two goalies in Buffalo and two in Rochester next season? Leave your comments below.