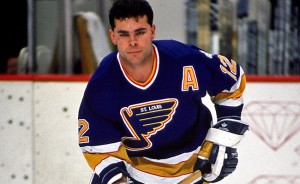 The St. Louis Blues are enjoying their best season in a long time, having climbed to the number one rank in the National Hockey League.  Led by topflight goaltending, rock-solid defense, and a balanced scoring attack, the Blues are rocking.  They are looking like a serious threat for the Stanley Cup.
Today we take a look back at one of the Blues' biggest stars of the early 1990s, the prolific playmaker Adam Oates.
Adam Oates made his debut with the Detroit Red Wings, coming aboard as an undrafted free agent.  Oates was deemed the Wings' second line center, as the Wings had a young Steve Yzerman in his prime centering the first line.  Still, Oates began building a reputation of being a solid playmaker, his assist totals almost averaging an assist per game.
Oates got his big break when he was traded after the 1988-89 season.  The destination?  The St. Louis Blues.  Who awaited his arrival?  Superstar sniper Brett Hull.  With Oates dishing him the puck, Hull soared to goalscoring greatness, recording three seasons of 70-plus goals.  His finest moment came in 1990-91, as he scored 86 goals en route to a Hart Trophy season as League MVP.
Oates went largely ignored, but his assist totals were among the finest in the league.  In 1990-91, he missed 19 games, yet still notched 90 assists and 115 points.  If those numbers were spread over an entire 80 game season, he would have reached 118 assists.  Those are Wayne Gretzky-esque assist totals!
Oates would go on to play for the Bruins, Capitals, Mighty Ducks, and Oilers in his career, but he will be best remembered for his days as part of the "Hull and Oates" duo, a scoring duo that raised scoring in St. Louis to new heights.
Now Adam Oates is an assistant coach for the New Jersey Devils.  The young centers in New Jersey would do well to listen to Oates as he guides them.  After all, he does know something about passing the puck.
Born in the Annapolis Valley of Nova Scotia, and living in Port Williams, Nova Scotia, Justin has been involved with hockey for over 15 years. He has written for local newspapers from 1994-2009. He brings a combination of passion and humor to his articles that frame his love of hockey. His style includes opinion pieces and historical fact. He finds game reviews "boring on their own" and aims to bring each piece to life in its own way. He currently owns www.openingfaceoff.net, and is looking forward to contributing regularly to thehockeywriters.com.