There are players on every hockey team who seem to overcome significant adversity in order to achieve their goals.  These players easily become fan favourites, mostly because of their fearless natures, their wills to succeed and the value of inspiration that they bring to the ice every night.  Many of these players are highly respected by their coaching and management, well-protected by their teammates and simply adored by the fans.  Players like this are ones who little kids can admire and can emulate.  This phenomenon is not solely confined to the professional ranks either; even players in junior hockey can have these qualities.
On the Ottawa 67's, there is a player who fits this description to the letter.  Brett Gustavsen has found himself from being a late-round draft pick to a full-time OHL player in the span of two calendar years.  A native of Scarborough, Gustavsen played minor midget hockey for the Mississauga Rebels, who, in 2010, upset the much-favoured Toronto Marlboros 2-1 to win the OHL Cup, thanks to a game-winning goal by Rebels then-captain Sean Monahan, who was later chosen 16th overall by the 67's in the 2010 OHL Priority Selection.  Gustavsen found himself having a solid OHL Cup tournament in his own right, tallying eight points (three goals, five assists) in seven games.  The 67's also took notice of the 5'7″, 170-pound winger and they selected him in the ninth round of that same OHL Priority Selection, 176th overall, and he set out to prove that he was a true diamond in the rough.
Late-round draft picks making good are nothing new to the 67's and former general manager Brian Kilrea.  Between 2003 and 2009, several players chosen in the depths of the OHL Priority Selection emerged becoming full-time members of the team.  Current 67's forward Remy Giftopoulos was also chosen in the ninth round, 176th overall, but in the 2009 OHL Priority Selection; he scored his first OHL career goal in his second game during a three-game callup in January of 2010.  Former 67's captain Derek Joslin was chosen in the tenth round of the 2003 OHL Priority Selection, 200th overall, and he ended his OHL career with a reputation of being one of the team's and league's most reliable stay-at-home defencemen in recent history.  And, most astoundingly, in the fifteenth round of the 2005 OHL Priority Selection, with the 292nd overall pick, Ottawa chose Julien Demers, who later became one of the better offensive threats from the blueline for the 67's, scoring 109 points, including 19 goals, in 211 career games.  With this history, especially with the notoriety of Kilrea's genius and insight, it seemed only wise to assume that Gustavsen was another late-round gem for the Ottawa 67's.
In 2010-11, Gustavsen's first chance to make the 67's roster out of training camp, the depth of talent up front in Ottawa made it too competitive.  Even his good friend Sean Monahan had to make his way up to the top two lines, starting on the fourth line and ending the season in the middle of two overagers, then-team captain Thomas Nesbitt and underrated winger Cody Lindsay.  Gustavsen found himself lucky, though; he was assigned to the OJHL's Pickering Panthers, whose general manager at the time was Rob Toffoli, the father of 67's scoring star and Los Angeles Kings draft pick Tyler Toffoli.  Gustavsen appeared in 36 regular season games for the Panthers in 2010-11, scoring his first goal and assist in only his sixth game, a 5-3 loss against the Trenton Golden Hawks.  During his tenure with the Panthers, however, it became obvious that Gustavsen was not going to be an offensive force.  What he was to really be well-known for was his physical play.  In his first six games with Pickering, he accumulated 17 penalty minutes, including a fight with Golden Hawks forward Taylor Pernerowski.  Despite going pointless in the next ten games after scoring his first goal and assist, Gustavsen worked on his truculence, hitting anyone in an opposing uniform.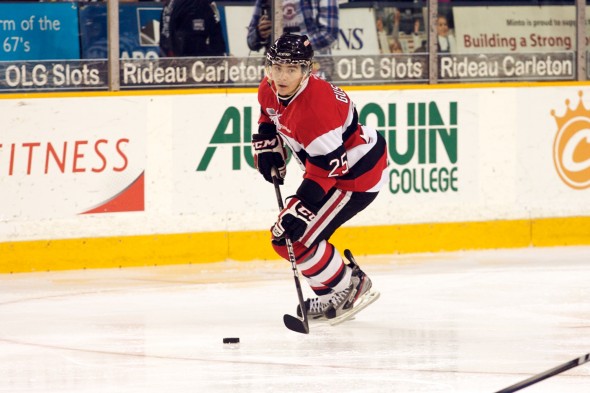 On December 4, 2010, due to Toffoli and Edmonton Oilers prospect Ryan Martindale being at Canada's World Junior camp, Gustavsen made his OHL debut against the Bulls in Belleville.  The next day, the 67's hosted Kingston and he showed his sandpapery style as he leveled Frontenacs captain Taylor Doherty with a hipcheck along the boards; to add, Doherty stands 6'8″, thirteen inches taller than Gustavsen, and weighing 230 pounds, 60 more than his diminutive antagonist.  He played four more games until Toffoli and Martindale returned, upon which he was sent back to Pickering.  Gustavsen played in the rest of the OJHL regular season with the Panthers, finishing the season with 12 points (five goals, seven assists) and 78 penalty minutes in 36 games, despite missing time with a wrist injury.
The Panthers missed the OJHL playoffs and Gustavsen was called back up to Ottawa.  He went pointless in four games upon his return to the 67's but his hard work was rewarded on February 26, 2011, in Saginaw; he managed to score his first OHL career goal and assist in that game at the Dow Event Center, garnering him second star honours.  In March, he did not look out of place at all, scoring one goal and five assists, as well as eight penalty minutes, in eight games.  He also appeared in three of Ottawa's playoff games, going pointless, as injuries caught up to the 67's and they were swept in four straight games by the Sudbury Wolves.
Going into 2011-12, Gustavsen found himself vying yet again for a position on the Ottawa 67's roster.  With Martindale, Nesbitt and Lindsay all graduated, as well as Cosimo Fontana being assigned to the Pickering Panthers, Gustavsen garnered a full-time forward position; considering that he appeared in less than 20 games, he would go into this season as a rookie.  In the first game of the 2011-12 season, against the Belleville Bulls, he got into a fight with Brett Mackie; in the next game, against Kingston, he scored his first goal of the season.  Additionally, on October 1, 2011, another game at the Dow Event Center in Saginaw, he scored one goal and two assists, proving that the Spirit were, yet again, a team he enjoyed playing against.  Playing on the 67's top line with Toffoli and Monahan, Gustavsen finished October with seven points (three goals, four assists) and 17 penalty minutes in 11 games.  As well, in November, he had three points (two goals, one assist) and eight penalty minutes in eight contests.
While Gustavsen's point production trailed off in December and January, which had him get only one assist in 19 games during those two months, his fearlessness and physicality truly shone through.  Those two months had him accumulate 31 penalty minutes, including three fighting majors, mostly around players his own size, the biggest being 6′ tall Peterborough Petes rookie Stephen Pierog.  In February, Gustavsen finally found himself on the scoresheet again.  On February 12, 2012, he broke a 27-game goalless drought that dated back to November 18, 2011, tallying his seventh goal of the season against Belleville, the second goal of three in nine minutes that chased Malcolm Subban from the Bulls net.  Going into the playoffs, Gustavsen scored a total of 15 points and accumulated 73 penalty minutes while playing nearly a full season.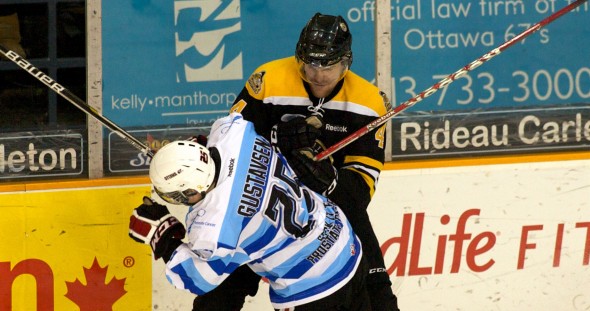 There is another element of Gustavsen's game that did, however, seem to get overlooked amid his sporadic goal scoring and his apparent physical play.  In his first full season in the OHL, Gustavsen became one of not just Ottawa's best, but the league's best, in the shootout.  He found himself second on the 67's (only Dalton Smith was better) and tied with eight other players for third in OHL shootout accuracy, scoring twice on three attempts.
So what can be expected from Gustavsen in his second full season in the OHL?  One can only listen to the roar of the home crowd in Ottawa when he gets into a fight at the Rona Centre.  The cheers that come when he snipes a big goal or delivers in the shootout.  Undeniably, 2012-13 will be a season of rebuilding the offence for the Ottawa 67's, since Toffoli, Smith and Shane Prince will all be graduating; that being said, it appears that the diminutive pepperpot can be penciled into one of the top two lines for Chris Byrne's squad, expected to possibly crack double-digit goal totals.  Fans can relate to him due to him being the little guy who does not let his size get him down; he plays without fear and with his heart on his sleeve.  He also shows kids that it does not matter how tall a player is that determines success or warrants ice time; it is the amount of drive and desire put into each shift, never taking a night off and giving all one has got.
No matter what happens, watching Brett Gustavsen's progression from a ninth-round OHL draft pick to one of the league's most sandpapery players has been nothing less than amazing.
AUTHOR'S NOTE: Brett Gustavsen scored the series-clinching goal of Ottawa's second-round playoff series against the Barrie Colts, an unassisted marker at 2:09 of the first overtime in Game 7.