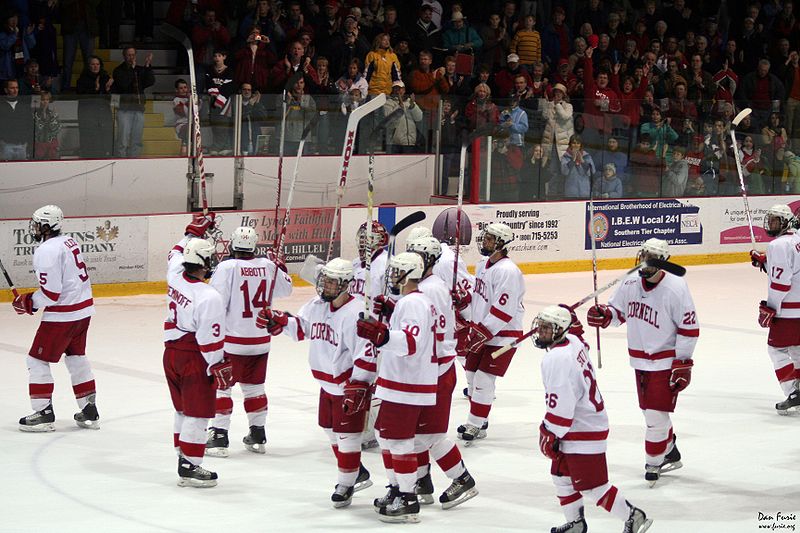 I've been going to NHL games for about fifteen years now. I have experienced crowds in Philadelphia, New York, Denver, and others. I've attended regular season games, playoff games, outdoor games, and retirement night games. But for the last two years, most of my time has been spent at Cornell University's Lynah Rink, where, as a member of the Lynah Faithful, I have passionately cheered on the Cornell Big Red with what is considered one of the rowdiest college fan bases in the country.
The atmosphere at a professional game is much different than that of a college game* for several reasons. Here are the top four:
*I will be drawing pretty exclusively from my Cornell experience, which admittedly, is more extreme than most.
1. Chants
The Rangers have "Potvin Sucks" and every team has some version of "Let's Go Flyers," but nothing that NHL Fans do holds weight to the passion and creativity of the college crowd. Whether it's continuously chanting "SIEVE" at the goalie or reminding him that "It's All Your Fault" after he gives up a goal, the entire game is marked by vicious, sometimes personal, cheers. At Cornell, there's even a website that allows new fans to learn the cheers before coming to their first game. Still, it won't prepare them for the news ones that are created every single season. Take a look at the Lynah Faithful's "Sieve, You Suck" chant. (This is also done at several other arenas.)
Before college, I was typically the kind of hockey fan that liked to go to games, take everything in, and watch in stoic silence as the Avalanche blew leads or were stifled offensively. But by participating in 60 minutes worth of chants and rituals, my hockey experience has been enhanced, and I've realized that even in losses, I'm still having fun on Friday and Saturday nights. I may still refrain from participating in a "That Guy Sucks" chant if the Red are down one and on the power play, but overall, I've made fan goon-ery part of my repertoire.
2. Music
This one won't take long. Professional games blast ridiculous music and utilize absurd "make some noise" animations. College teams have pep bands. And even the band kids are able to take on a persona that becomes larger than the game itself. Take Cornell's "Cymbal Guy" as the prime example:
'Enough said.
3. Solidarity 
I'm not saying that NHL fans aren't united at the arena, but nothing quite compares to rooting on your alma mater with a few thousand drunk kids who just want to have a good time and don't have any kids to get home to later in the evening. NHL crowds are marked by divisions. You sit with the people that you came with, and maybe you high five a stranger after a goal, or maybe you don't. But at the college game, everyone is a peer, which means everyone is a potential friend. Most of the fans in attendance are season ticket holders, which allows for longer-term relationships to flourish. Obviously, this is true for NHL season ticket holders, too, but those interactions are generally restricted to the arena.
Also contributing to crowd solidarity is the lack of opposition. As Adrian Dater noted a couple weeks ago, opposing fans are free to invade other NHL arenas and at most games, there's at least some semblance of another team's fan base present. College students, on the other hand, aren't so keen on traveling to other schools, which results in extremely uniform showings. There are exceptions, as some teams do travel quite well and may even bring their own bands. But the home fans take care of this problem, mercilessly booing every time the band plays and shouting insults and jeers toward the brave visitors. With this hate, comes yet even more solidarity.
4. Food
Here's an area where the professional game is finally  clearly superior. At Madison Square Garden last night, I was treated to delectable, albeit EXPENSIVE!, chicken tenders and fries, gourmet hot dogs, and a refreshing coke. At the college level? Candy, a crappy pretzel, and maybe some popcorn if the machine isn't broken. The prices at professional games may be inflated, but the food is heads and shoulders above the college ranks.
_ _
This article seemingly has a significant bias toward the college fan experience, but I'm not saying I favor one over the other. I simply believe that there is more at stake when one attends a professional game, especially given the high price paid for the tickets and the relative inconvenience of making it to the stadium each and every night.
Overall, to each his own. Which experience do you prefer?