The 2017 National Hockey League draft was a mixture of good and bad news for the Western Hockey League. While the most prominent player in the WHL's 2017 draft class, Nolan Patrick, slipped from projections of going first overall to being taken second by the Philadelphia Flyers, the event was generally a good news story for the Dub.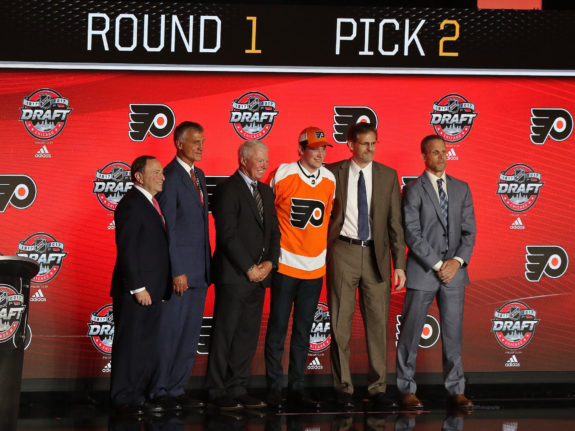 A Stacked First Round
The WHL saw seven players selected in the first round in the form of Patrick (2nd), Cody Glass (6th), Michael Rasmussen (9th), Cal Foote (14th), Juuso Valimaki (16th), Kailer Yamamoto (22nd) and Henri Jokiharju (29th). It was the first time that the two Alberta NHL teams that own WHL clubs – the Calgary Flames and Edmonton Oilers – have both made first round selections from the WHL since 2011, and just the fourth time it's ever happened. (For the curious, there has never been a time when the three western Canadian clubs all drafted WHL players in the first round.)
The seven first round picks is the most from the WHL since nine were taken in 2014. All-told, 12 players were selected from the WHL in the first two rounds of the draft.
Balanced Representation
33 players were selected from the WHL, the fewest since the same number were taken in 2013. That said, 17 clubs saw at least one player drafted – with nine clubs seeing multiple players drafted, three of which were from the WHL's United States Division. Portland and Tri-City led the way with four players drafted each, combined representing a third of the WHLers drafted. On the flip side, five teams saw nobody taken during the seven round draft: Calgary, Edmonton, Everett, Saskatoon and Vancouver. All-told, the numbers reflect a rather top-heavy WHL class.
If anything else, the showing from the WHL in the 2017 Draft is arguably more impressive than usual given this weaker-than-usual crop of draftees from the league's larger markets. In most draft years you could reasonably expect between one and three players to be selected from the likes of Calgary, Edmonton, Saskatoon and Vancouver. However, the shutting-out of these markets this year coincided with a lot of picks from traditionally quieter WHL cities – perhaps an indication from the scouting community that WHL talent is more evenly-distributed than it has been in the past.
A Look Ahead
It's still very early, but the 2018 NHL Draft class from the WHL seems to reflect the same balance that characterized the 2017 class. Prominent 2018 prospects include players from traditional WHL powers such as Moose Jaw's Jett Woo, Kamloop's Luke Zazula and Saskatoon's Chase Wouters, as well as emerging powers such as Seattle's Carl Stankowski and Spokane's Ty Smith. Only time will tell how the full 2018 picture will develop, but early indications are that we'll likely see a similar crop of talent.