Junior A hockey has gotten a bad rap in drafting circles. Seemingly a casualty of the ongoing "war" between the collegiate leagues and the Canadian major junior circuit, leagues like the Alberta Junior Hockey League, British Columbia Hockey League and their eastern counterparts have been somewhat looked down upon by talent evaluators – the reason being that junior A seems to be a mixture of youngsters maintaining their college eligibility and older players keep their flickering hockey dreams alive, so the level of competition has been considered questionable.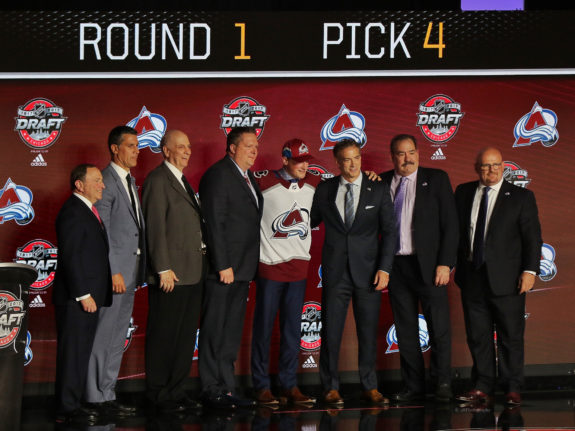 History Made
At the 2017 NHL Draft, junior A hockey hit a high mark when Cale Makar was selected by the Colorado Avalanche. At fourth overall, it was the highest selection of an AJHL player in the league's history and the second highest junior A pick since Kyle Turris went third overall in 2007. Speaking to the media after his selection, a beaming Makar seemed well-aware of the history he had made.
"It's pretty special," said Makar. "I'm going to a team that [drafted] Joe Colborne, he was the other AJHL pick way back when, so it's pretty special, and it's very humbling to think about, for sure."
Strong Junior A Representation
Seven players were selected from Canada's various junior A leagues at the 2017 draft: Makar, Ian Mitchell (AJHL), Parker Foo (AJHL), Kale Howarth (BCHL), Cameron Crotty (CCHL), Bryce Misley (OJHL) and Nick Campoli (OJHL). All but Howarth were drafted in their first year of eligibility, and all but Howarth are headed directly to the NCAA next season – Howarth heads to the University of Connecticut in 2018-19.
Makar is the third AJHLer selected in the first round in the last decade, following Colborne (16th overall) in 2008 and Dylan Olsen (28th overall) in 2009. He'll be headed to the University of Massachusetts in the fall. He shared his excitement with the assembled media at the draft, noting that the college route will give him a chance to grow physically and round out his game.
"I think they brought in the new coaches with [Greg] Carvel, [Jared] DeMichiel and [Ben] Barr there, and they're going to be exceptional," said Makar. "I think we're bringing in pretty much 11 new freshmen, and it's going to be a whole new culture there, and I'm just excited for the challenge and to get started with something new."